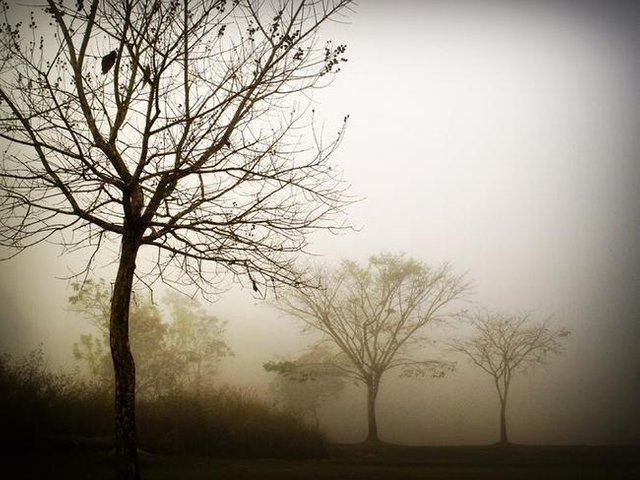 Source
ABOUT THE OTHERNESS IN FOG OF UNAMUNO
I am interested in sharing in this blog part of my work on the philosophical and literary issue of the 'other' (otredad) present in works by the Spanish writer Miguel de Unamuno, author of great relevance in Spanish culture and literature. In the last post (see here) I dealt with some aspects of his essay book Del sentimiento trágico de la vida. This time I will briefly address the subject in his novel Fog, and it will be pending for the next post his novel How to make a novel.

In Niebla -a novel published in 1914-, narrators and characters are reflected and confused as in a game of mirrors. The author disguises himself as a narrator (understood as the instance he relates in the novel) and as a character. This is a way of manifesting otherness, as the identity of one and the other becomes unstable and is exchanged. The presentation and the prologue, which usually do not form part of the novels, in this one, although their writers appear to be outside of it, nevertheless, they are integrated into it.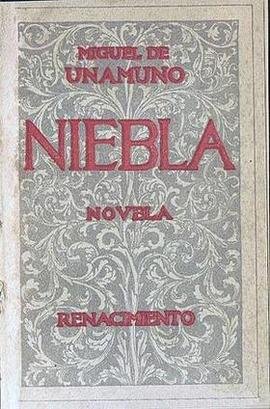 Cover of the first edition of Fog (1914) Source
Reality discovers its double: fiction, and vice versa. What is within reality is revealed to us as fiction, and it behaves as reality. Unamuno tells us: "Fiction entity? Reality entity? Reality of fiction, which is fiction of reality". We must recognize that in this Unamuno, on the one hand, takes up again the contribution intelligently introduced in the universal novel by Cervantes with his *Don Quixote de la Mancha, and on the other hand, enriches and drives this feature -the (with)fusion between reality and fiction, one of the elements of what is theoretically called metafiction-) that has become a component widely used by contemporary narrative, with which Unamuno advances in time to what will come later in the twentieth century and even the twenty-first.
Recalling the final dialogue of Augusto Pérez -main character of Fog- with the author (also presented as a character, fictionalised author), Unamuno - in a text entitled "Historia de Niebla", or "History of Fog" incorporated into the 1935 reprint- makes the following very insinuating comment: "O otro? ¿Cómo me ha perseguido y me persigue ese otro?" or "Or another? How has that other pursued me and persecuted me".
It crystallizes in this novel the conception that Unamuno has exposed in The tragic feeling of life, to which I referred in my previous post. This time not as "philosophical" discourse, but as form and content of the narration. The author creates his fictitious beings, his characters. They are the reality of his dreams. The dreamed being is aware of his condition as such, and wants to wake up from the dream: he rebels against his author, against his creator, and coils to this his character of being fictitious also, because he is a being dreamed by God, his creator.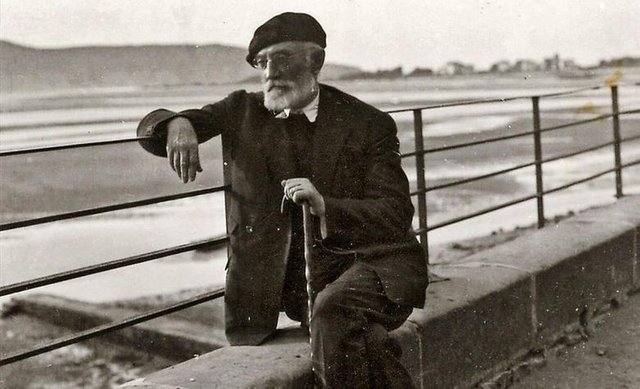 Miguel de Unamuno in Madrid Source
Let's read some fragments.
In chapter XVII, one of the most important dialogues of the protagonist of Niebla, Augusto Pérez, takes place with his friend Víctor Goti (by the way author of *Prólogo" of the novel); this one tells him (we will identify the speakers with the acronyms VG and AP):
VG: -Look, one of these days I didn't know what to eat, but I was eager to do something, a very intimate itch, a fantasy beetle, I said to myself: I'm going to write a novel, but I'm going to write it the way it's lived, without knowing what's coming. I sat down, took a few pages and began the first thing that occurred to me, without knowing what would follow, without any plan. My characters will be made as they act and speak, especially as they speak; their character will be formed little by little. And sometimes their character will be that of not having it.
AP: -Yes, like mine.
VG: -I don't know. It will come out. I let myself go.
(…)
VG: -Yes, it is the complacency of man in speech, and in living speech... And above all, it seems that the author doesn't say things by himself, he doesn't bother us with his personality, with his satanic ego. Although, of course, everything my characters say, I say...
AP: -That to a certain extent...
VG: -How to a certain extent?
AP: -Yes, you'll start by believing that you're carrying them, by the hand, and it's easy for you to end up convincing yourself that they're the ones carrying you. It is very frequent that an author ends up being a toy of his fictions...
(…)
When Victor and Augustus separated from each other, they said to each other: "And this is my life, is it a novel, is it level or what is it? Is not all this a dream of God or of whoever, which will vanish as soon as He wakes up, and so we pray to Him and elevate hymns to Him, to numb Him, to cradle His dream? Is not the liturgy of all religions a way of brewing God's dream and that He does not wake up and stop dreaming of us? (…)
It appears here, in a particularly striking way, the self-reflection of the novel Fog (of course, through its author who speaks for his characters), which speaks of or about itself. We notice how the main character, Augusto Pérez, introduces the doubt about his condition of being real and begins to see himself as a character, that is, a fictional entity.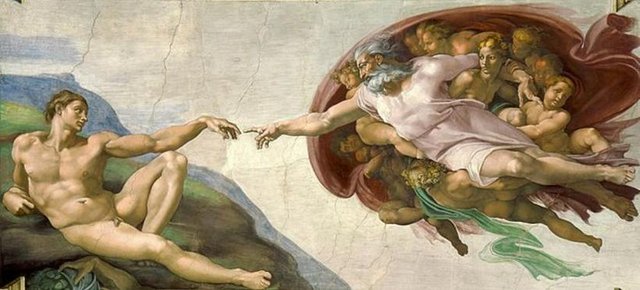 Michelangelo - Creation of Adam (cropped) Source
Later, at the end of chapter XXV, after the dialogue in another encounter between Augustus and Victor, the writer of the novel introduces himself and declares (The text appears in italics in the original edition):
While Augusto and Victor were holding this level conversation, I, the author of this level, which you hold, reader, in your hand and you are reading, was smiling enigmatically when I saw that my level characters were advocating for me and justifying my procedures, and I said to myself: "How far will these unhappy people be from thinking that they are doing nothing but trying to justify what I am doing with them! So when one looks for reasons to justify oneself, one does not rigorously do anything else but justify God. And I am the God of these two poor nivolous devils."
This is one of the most revealing moments of the novel and of the fictional and playful conception that drives it: the author, who is supposed to be Unamuno, is introduced into his novel, is fictionalised, becomes a fiction entity. And in his inner monologue, he lets part of the vision we are holding in this article slip through.
Approaching the outcome of the novel, in chapter XXXI, we can read in leaps and bounds:
That tempest of Augustus' soul ended, as if in terrible calm, in a decision to commit suicide. He wanted to end himself, who was the source of his own misfortunes. But before carrying out his purpose, as the shipwrecked man clinging to a weak board, it occurred to him to consult with me, with the author of all this story. By then Augusto had read an essay of mine in which, although in passing, he spoke of suicide, and such an impression seemed to make him, as well as other things I had read about him, that he did not want to leave this world without having met me and talked for a while with me. So he set out on a journey here to
Salamanca, where I have lived for more than twenty years, to visit me.
When their visit was announced to me, I smiled enigmatically and sent him to my office-bookstore. He entered it like a ghost, looked at a portrait of me in oil that presides over the books in my bookshop there, and at a sign of mine he sat down in front of me.
He started talking to me about my literary and more or less philosophical works, proving to know them quite well, which he did not leave, of course, to flatter me, and then he began to tell me about his life and his misfortunes. I cut him off by telling him to save himself that work, for I knew as much about the vicissitudes of his life as he did, and I proved it to him by quoting the most intimate details and those he believed to be the most secret. He looked at me with eyes of real terror and as if looking at an incredible being; I thought I noticed that he was altered the color and trace of the semblant and even trembled.

Source
It reinforces and consolidates what was said in the previous quotation, with all the irony that characterized Unamuno as a writer. And in an unusual way, we are going to attend a meeting between the writer and his creature.
U: -Well, the truth is, dear Augustus - I told him with the sweetest of my voices - that you cannot kill yourself because you are not alive, and that you are not alive, nor dead, because you do not exist....
AP: -What do you mean I don't exist? -he exclaimed.
U: -No, you only exist as a fictional entity; you are not, poor Augustus, more than a product of my fantasy and those of my readers who read the story that I have written about your feigned adventures and misadventures; you are nothing more than a novel character, or a nivola character, or whatever you want to call it. You know, then, your secret.
Breaking with conventions, Unamuno - the empirical, factual, real writer - becomes an entity of fiction and argues with his created entity (although he is also one in his own novel). The debate between Unamuno and his creature continues, and this is precisely what Augustus tells him at the end of the chapter: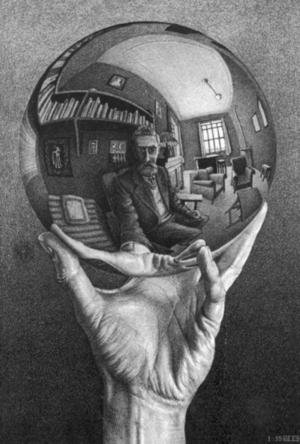 Hand with Reflecting Sphere (1935), by M.C. Escher
Source
U: - It can't be, Augustus, it can't be. Your time has come. It's already written and I can't go back. You will die. For what life has to be worth to you...
AP: -But... for God's sake...
U: -There's no God, but they're not worth it. Go away!
AP: -No, huh? --He said to me, "No, isn't it? You don't want to let me be me, come out of the fog, live, see me, hear me, touch me, feel me, hurt me, be me: So you don't want it? So I have to die in fiction? Well, my Creator Don Miguel, you too will die, you too, and you will return to the nothingness from which you came...! God will stop dreaming of you! You will die, yes, you will die, even if you don't want to; you will die, and all those who read my story will die, all of them, all of them, all of them without being one! Before fiction like me; the same as me! They will all die, all of them, all of them. I tell you, Augusto Perez, a fictitious entity like you, I nivolesco the same as you. Because you, my creator, my Don Miguel, are nothing more than another entity, and your readers, the same as I, as Augusto Pérez, as your victim...
U: -Victim? -I exclaimed.
AP: "Victim, yes! Believe me to let me die, you too will die! Whoever believes will believe and whoever believes will die. You will die, Don Miguel, you will die, and all those who think of me will die! (…)
This is the climax of the novel. Not only has the unreality of fiction been called into question, but also the authenticity of reality, even the very existence of the "author" (Unamuno also anticipates a very contemporary issue dealt with by philosophers and theoreticians: "the death of the author"), and more, the readers -we who read the novel- are also fictionalised.
(The novel continues two more chapters, but I will not refer to them, in case any of the readers of my article would like to read it. I have not accessed the digital version in English; if you are interested in Spanish, you can go to this link).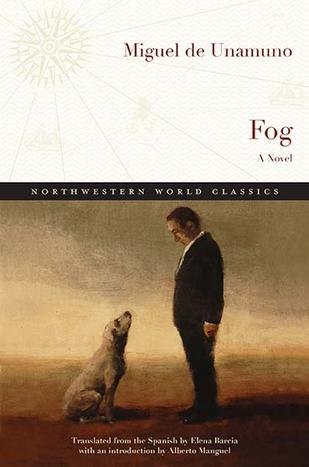 Cover of an edition of Fog in English Source
This marvellous specular, playful and ironic game brings us back to the sense of otherness mentioned above: creature/creator, author/ser of fiction, and introduces us to another central obsession of Unamuno: life as a novel, the novel as life. This will be the point of this complex and fascinating subject that we will address in our next post.
Bibliographic references
Unamuno, Miguel de (1984). *Fog. Colombia: Edit. The Black Sheep.
Click on the coin to join our Discord Chat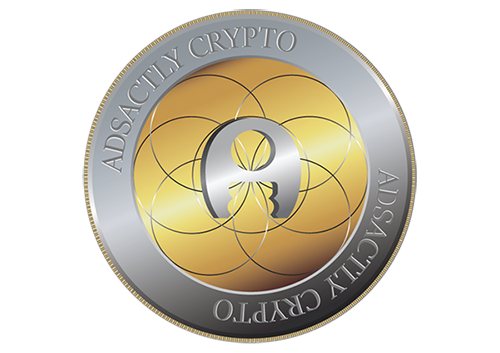 ---
Vote @adsactly-witness for Steem witness!
Witness proposal is here:



Go To Steem Witness Page
In the bottom of the page type: adsactly-witness and press vote.



Use small letters and no "@" sign. Or, click here to vote directly!
Thank you!

---