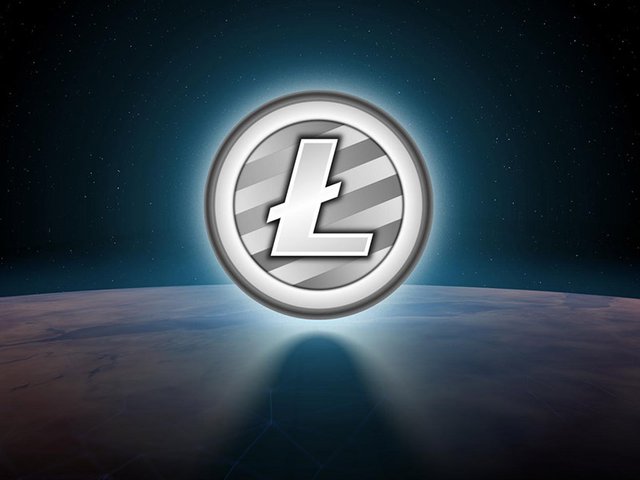 The world of cryptocurrencies is pretty complicated for newcomers and it's perhaps the decentralization that puzzles most people. Unlike traditional banking services, you actually get to choose which applications you use and you're in charge of your own coins to the extent that you can become your own bank. All of this is pretty confusing at first and it takes a while to understand what it is that you've bought, how you can use it, and why it's a piece of the world's future economy.
Thankfully, we have people like @ecurrencyhodler to write insightful books about some of the fundamental concepts of cryptocurrencies. As stated in the introduction of "Understanding Litecoin", the 60 pages of tips and instructions may have been written with Litecoin in mind, but the principles are universal across all cryptocurrencies and there's a lot to learn about all of Bitcoin's children.
The book is structured in five important chapters: the first one explains all about Litecoin wallets from principles to practical advice, the second one is dedicated to explaining the fundamental concepts of blockchain technology, the third one replies to the very essential idea "Where do I buy Litecoin?", the fourth chapter is a useful guide on how you can accept Litecoin payments for your business (though the principle is applicable for all coins compatible with the Aliant Payments, and the list includes Bitcoin and Ethereum), and the final chapter presents some conclusions and offers useful community resources, as well as nifty tips.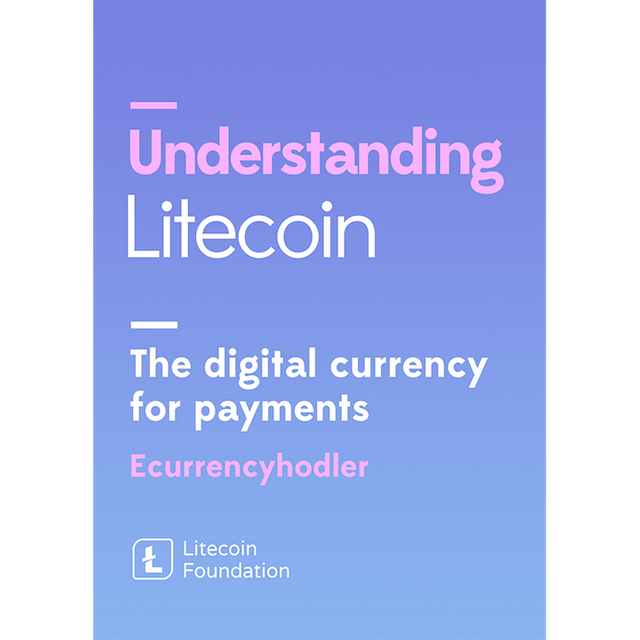 Perhaps the main selling point of this book is the practical approach to the issues presented. @ecurrencyhodler, who insisted to maintain his pseudonym even while achieving the impressive goal of writing a book, doesn't use advanced philosophical methods in order to present his points. Instead, he provides cryptocurrency newcomers an essential resource to understand what it is that they're investing in, how they can protect their assets, and how they can put these digital coins to great use.
"Understanding Litecoin" is more of a "How To" and less of a "What If?", it doesn't stress existential questions about the crypto space and has a rather positive and pragmatic view on the events. You cannot deny the emergence of cryptocurrencies, Litecoin is one of the biggest and most valuable digital assets in the world, and since you have become interested in this technology, then it might be a good idea to learn the fundamentals about it. The selling point isn't some revolutionary thought-provoking perspective, but rather the useful step by step guides which help you set up a secure wallet, purchase cryptocurrencies from reliable sources, understand how the blockchain works, support the adoption by enabling Litecoin payments, and know useful information about the market and the nature of this bourgeoning branch of technology.
It's also a pretty light reading, as you don't need a high degree of focus or a meditative mindset to be able to grasp the information contained. It does make sense for the Litecoin Foundation to release, promote, and sell a light reading, eh?
The book is endorsed by the Litecoin Foundation, contains a foreword by the Litecoin Founder Charlie Lee, and can be bought for the fiat or crypto equivalent of $4.99 (personally, I've paid 0.03 LTC and used my iOS LoafWallet to make the transaction). If you haven't used your Bitcoin or Litecoin for payments until this point, this can also be a pretty educational experience, as you see how the QR scanning works, check the network's transaction fees and speed, and have a first-hand immersion into the future of payments.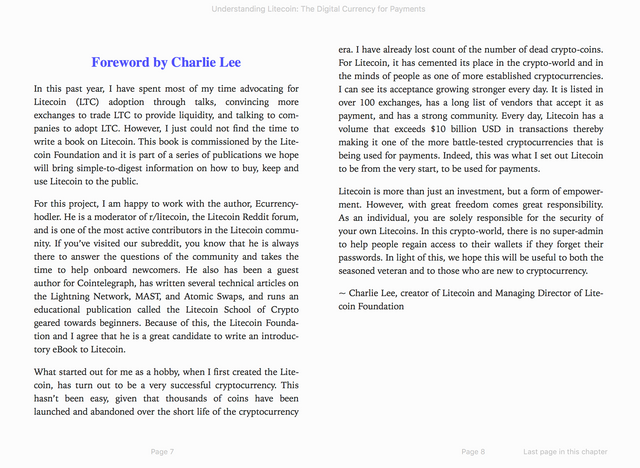 My purchase has been validated in about 2 minutes, had a fee of 0.00090481 litecoins (0.09 lites, which is about 15 cents) and I could download the book from the Litecoin Foundation's website within 10 minutes. It took more for the databases to synchronise than it took for the transaction to be validated, which is always a great sign and an encouragement for this new way of making online payments.
Now let's focus on the bad parts of the book: first of all, the chapters aren't numbered and there is no table of contents to ease your navigation. Whenever you open the book, you will have to scroll to that section that you're interested in, and this can be an inconvenience. The other problem is the fact that the book is only available in an epub format and you can't get a hard copy unless you decide to print it. If the project proves to be successful, it's very likely that there will be a second revised edition to include chapter numbers, a proper table of contents, and an informational update to include more data on SegWit wallet addresses and the Lightning Network. Also, a hard copy would be nice to hold in our libraries, but that can easily become a DIY project for those who still like obsolete tangible resources.
Overall, it's a nice read and a must-have for every cryptocurrency beginner who bought some Litecoin from Coinbase and wants to find out more about storing it securely, spending it in transactions, and hodling it without fear of a hegemonic Leviathan who rises from the depths of the Earth and scrounges for currencies that don't appeal to his despotic views.
You may purchase the book at the following address: https://litecoin-foundation.org/product/understanding-litecoin-the-digital-currency-for-payments/