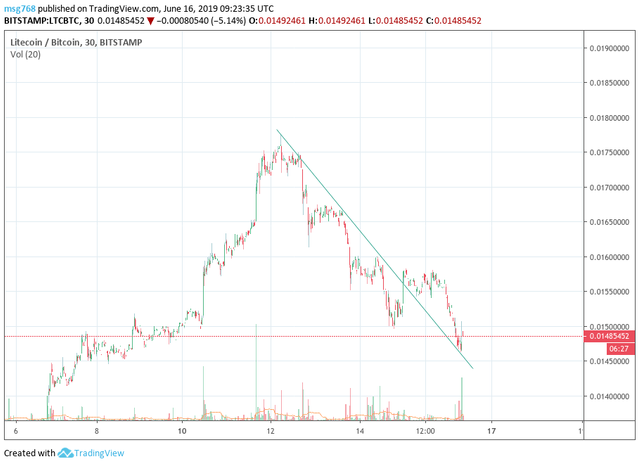 Litecoin has had a massive rally in 2019 and halving is going to take place in about six weeks. LTC/BTC however is the pair that I'm interested in. From its most recent top at 0.0177 BTC, it has dipped to as low as 0.0146 BTC today. But the chart I have above shows that it's already broken out of the short-term bearish momentum and it's now retouching and bouncing off the short-term bearish trend from the other side.
I wrote a post the other day about Bitcoin/Dollar and was expecting Bitcoin to dump due to a head and soulders pattern on the chart, which got invalidated today and totally caught me by surprise. However, it seems to me that now, we could have a double top forming with Bitcoin/Dollar.
Whether Bitcoin/Dollar dumps or not, I'm still going to remain bullish on LTC/BTC. Litecoin has kept most of its gains in 2019 against the Dollar so far and it seems to be ready for a rally against Bitcoin now. A sharp decline in Bitcoin vs. Dollar can indeed help the charts as it would result in a sharp increase in Litecoin against Bitcoin and also a slight decrease in Litecoin against the Dollar to consolidate the LTC/USD chart.
As I pointed out in my previous post, Litecoin is almost as old and as liquid as Bitcoin, and with its supply being only 4 times that of Bitcoin, it technically makes it worth about 0.25 BTC. But this technical worth may not reach its potential anytime soon. However, once FOMO sparks around cryptos, moving towards that target can become a lot easier. Just yesterday for example, Bloomberg Crypto published a post about the best-performing cryptocurrency in 2019 and how it's not Bitcoin! And you guessed it right. It was indeed Litecoin!
This is not financial advice but rather only my personal opinion. Trading cryptocurrencies is extremely dangerous and can result in the loss of a lot of your capital. Be cautious and do your own research!
Mine SwiftCash on Your Phone