The Benefits Of Using A Limited Palette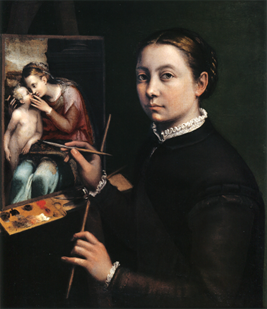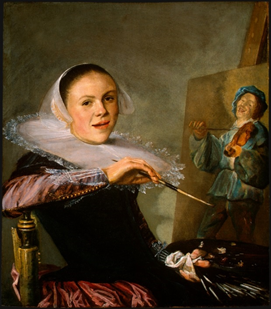 The use of a deliberately restricted color palette, known as the Limited Palette, is a practice that goes back centuries. Palettes appear in many paintings, especially self-portrait, and they reveal something about the artist's thinking and working process. (Above, left to right: Sofonisba Anguissola, Self Portrait 1532 and Judith Leyster, Self Portrait, 1630.)
The choice to use a Limited Palette was not just a matter of economy but was made for specific pictorial and practical reason:
Using good quality paints on a consistent basis but limiting to specific pigments from known sources (e.g. Yellow Ochre from Tuscany vs. French Ochre), allows artists to develop color memory and visual acuity to accurately predict how colors behave when mixed with other colors. Artists made the most from the least, taking full advantage of what each color paint could produce. Experience and consistency are key in successful color mixing.
One of the most effective methods to harmonize the colors in a painting is to produce these colors using a Limited Palette. When a painting is made using a small set of colors, the color scheme is unified and colors are instantly more harmonious.
Working with a Limited Palette is more efficient. Using less colors simplifies mixing, improves consistency, allowing the artist to gain greater control over the color mixing process.
Artists working with a limited palette learn how to use greys and lower chroma paints to mix tones and chroma scales without the need to buy more colors, leading to a palette arrangement known as the Controlled Palette.
The Controlled Palette is a 'rationally laid-out' palette which simplifies color mixing and navigation through the color spectrum.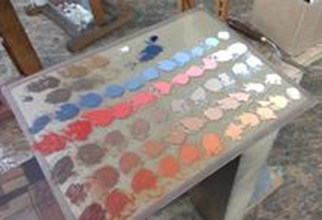 OLD MASTERS' PALETTE
Old Masters' paintings showcase a limited selection of pigments: lead white, bone black, with a handful of natural ochres and umbers. Other paints were available and used for specific needs, but these were the main staples. A full palette consisted of the following pigments:
Lead-tin yellow, Yellow ochre and/or Brown ochre
Raw umber, Burnt umber and/or Cassel earth
Red ochre, Vermilion, Madder lake and/or Carmine lake
Verdigris and/or Malachite
Azurite and Lapis Lazuli (Ultramarine Blue)
Lead white and Bone or Carbon black
Most paint manufactures today produce over 100 different paints, a daunting number for any artist to choose from. The 'full palette' I have adopted follows the classical tradition, consisting of roughly 12 artists' grade oil paints, including black and white. This palette is made using carefully selected pigments, from both historical and modern pigments, capable to reproduce the full color spectrum without the need to resort to additional paints. Every time I start a new project, I squeeze out all my paints on the palette, in search for a reduced set of paints. Using investigative mixing I start eliminating paints until I'm left with a handful of them, usually less than 6. These paints will make up the Limited Palette I will consistently be using throughout the painting process.
HAPPY PAINTING
RAFFAELE ART STUDIOS, www.raffaeleabbate.com, [email protected]