Locked and Loaded for Travel - Departure on the 17th for Vietnam!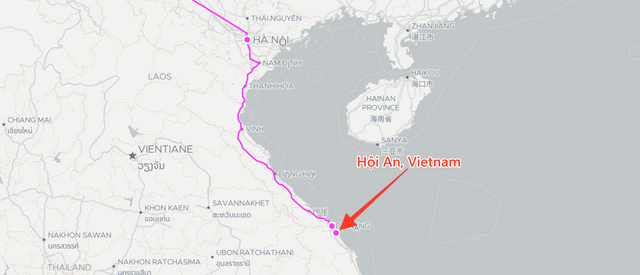 What an exciting day. Finished fixing up my parents home a bit... by finished mean, I started to resand, and paint our living room, and dining room, and chainsawed down a bunch of trees and weed-whacked weeds like you WOULD NOT BELIEVE! Anywho - 3 weeks later, that is done (ish). Still, I have no funds but I sold a Concertina I played while walking on stilts in the circus ( https://en.wikipedia.org/wiki/Concertina ) and used that money for a ticket to Vietnam. Sweet music to my ears.
The current plan:
Departure New York JFK Airport (JFK), USA (12.5 hr flight) 9:00 PM, TUE, SEP 17
Layover in Doha Airport (DOH), Qatar (4.5 hrs) departure 8:20 PM, WED, SEP 18
Fly to Hanoi, Vietnam (7.5 hrs) arriving at 7:35 AM, THU, SEP 19
Spend the 19 in Hanoi, then on the 20th get the overnight train to Da Nang, Vietnam.
When I arrive, somehow get to Hội An, Vietnam where I will before the first 3 weeks.
All said and done I will be moving my body about 10,649 miles / 17,138 kilometres if not more.
Costs incurred to date:
One way flight from JFK: $410.80
Three-month single-entry visa Vietnam: $25
The estimated cost of hostile 1 night in Hanoi with food: $15
The estimated cost of an overnight train: $47
The estimated cost of transport from Da Nang to Hoi An : $15
Combined/estimated total: $512 (or $550 ish)
I will be in Hoi An for 3 weeks exchanging content writing for room and food at a local hostel.
The goal is posting unique photos of this AMAZING city during this trip here on Steem! You guys are my online family of estranged people I've never met.
After this stop... I am not sure what will be happening. I hope to have that sorted out before the 3 weeks is up... I also hope to have some additional income somehow during that time. (*OH Steem, please moon lol)
My thoughts post up at a local coffee shop and offer conversational English time for $5 or $10 per 30 min. Not sure if it will work, but just thinking. The other idea is stock photos.
As of today, the current bank account is at $168. I don't have all the gear I need, don't have a safety net, but my blood is boiling for adventure. It is boiling at its very core to venture to the world, you hear me world, feel my boiling core! It boils for you, such boiling... SUCH BOILING!!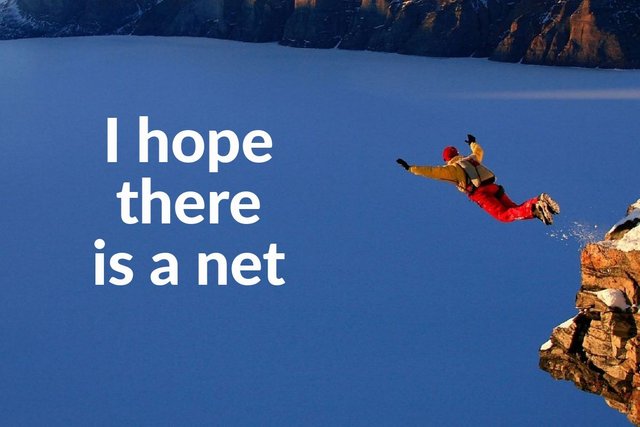 They say you have to sometimes, leap off the cliff and trust a net will appear. I did this a few times with being an entrepreneur. Took a leap off the cliff and trusted that will it will be sorted out... on the way down. When I started my own circus company I arrived in the city two suitcases after getting off tour with Cirque du Soleil. Crashed at a friend's house got a job and built up the company. I hope stepping forth in this venture, striking out into the unknown with little more than passion and a dream will pay off, or at the very least, not leave me a bum playing the ukulele on street corners for beer money... HAHAHAHA.
Some say that this is a reckless and foolish thing to do (My mom said this to me), Some say that this is an exciting passionate way to live (my dad said this to me), some may say that this is an un-respectable way to travel, some may say that when you don't have any money is the best time to travel... whatever the case, whatever they say, you only have one life you have to live it the best way you can.
I'm going to try to keep a daily journal online here of the adventures as they unfold.
on a separate note I watched this video it's great,
It is all an egg... an egg that I will hard BOIL IN MY SOUL!
Till tomorrow and another post, live with passion friends. :D
---

Thanks for reading my post, you inspire me to keep posting!
If you enjoyed this post, please consider leaving an Upvote, or a crypto Tip in support:
Bitcoin: 1MJqeYGwyven7h4noB4z5qPry9FgsDErcD
Ethereum: 0xdf617bc628cae0393779e487695e4fad5a724370
litecoin: LYxRHK6UVAozNH38uW8boPpBxSdtx67Cgt
Or if you want to see other things I do, you can...
Follow me on Instagram:
https://www.instagram.com/roamingsparrow/
Check out my webpage:
https://roamingsparrow.com/
Buy some of my stock photos here:
https://www.shutterstock.com

Thank you for your support!