DIESEL Only-The-Brave®️ | Why It Was Okay To Wait 25 Years For This Shirt
You can't have everything you want, but you can have the things that really matter to you. And thinking that way empowers you to work really hard long period of time. - Marissa Mayer, former President and CEO Yahoo
I couldn't agree more, Marissa.
This is probably one of the most important lessons in life, and thanks to my parents I already learned it at a very early stage.
Everybody in school suddenly started to wear them. It was back in 1993 and there was literally nobody not having one of those DIESEL Only-The-Brave®️ shirts and sweaters.
That iroquois somehow became a secret label among the coolest, a distinction everybody wanted to possess.
Of course I told my mom I urgently needed one of those pieces, but she was so NOT willing to pay $80 for only one sweater. So I tried to convince my dad, but his reaction wasn't the one I hoped for either:
Who would want to wear such an idiot in front of their chests?
Oh, daddy... I honestly didn't know how to reply to that one.
In theory, my parents absolutely had a point. The monetary value of that piece of clothing was surely far below $80. Yet to me the ideological value would've legitimated the purchase still.
One year later nobody was talking about those sweaters anymore and I suddenly realized that I had probably been overestimating the hype.
In the end that situation taught me something incredibly important: Life is full of temptations and there will always be many things you want to have in it.
Yet, the fact that you can't always instantly get what you desire, may be contributive to your own value system in the long run.
Thank you for the great lesson, mom and dad :-)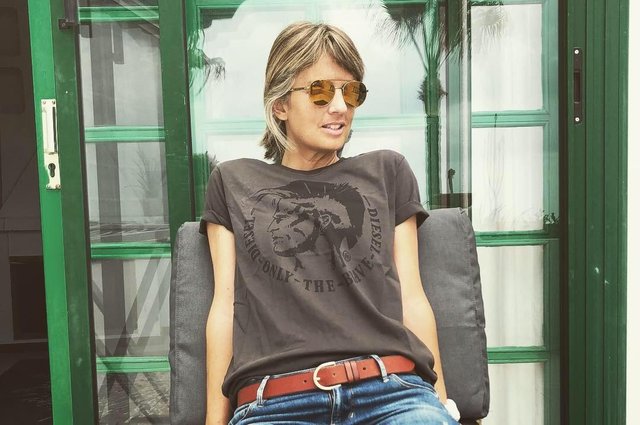 @surfermarly finally being part of the brave ones
The idea of waiting for something makes it more exciting. - Andy Warhol
To be precise I waited 25 years until finally becoming part of the cool gang.
I wonder what my friends from school would say if they saw me wearing one of these now. They probably wouldn't even remember the brand - since they were always wearing the expensive ones and it wasn't anything special to them.
To me in fact it's always been.
I'm pretty sure that the way I was educated has a huge stake in my today's behavior. I'm grateful for the life I'm able to live, but I also know that I've been working hard to get here.
Few things in life come for free, and the certainty that you worked hard for something makes it become even more valuable to you.
My mission: work hard for your dreams and indulge yourself once you accomplished the goal.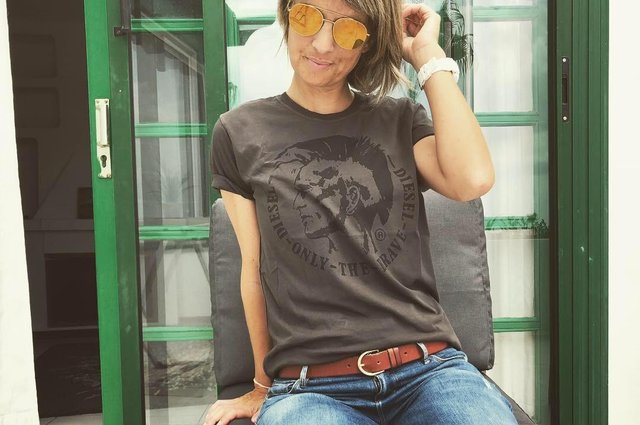 I really believe I've been brave enough lately to finally deserve the label :-)
A couple of days ago I accidentally came across the shirt in an online fashion store, and I immediately knew what I had to do.
When I opened the parcel today's morning, suddenly all the memories from school evoked and I smiled back at them.
Big times.
Best,
Marley -
.
.
EDIT: DIESEL just liked this on Twitter (reach: 177K followers) :-)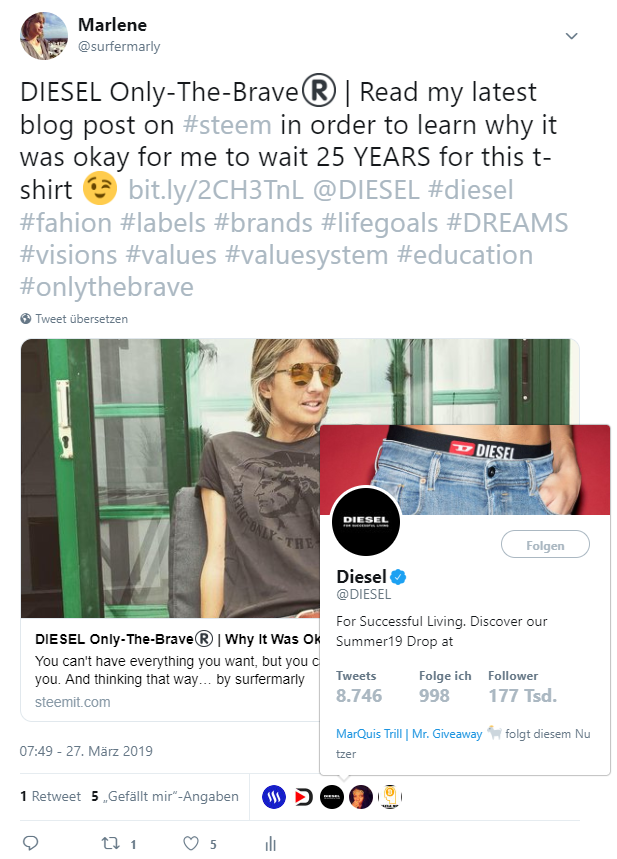 .
.
.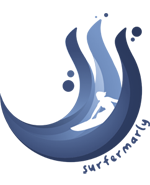 This blog was created in July 2016, aiming to provide thought-provoking content for open-minded people who go on adventure, step out of comfort zones and embrace the new.
Thanks for being part of the journey!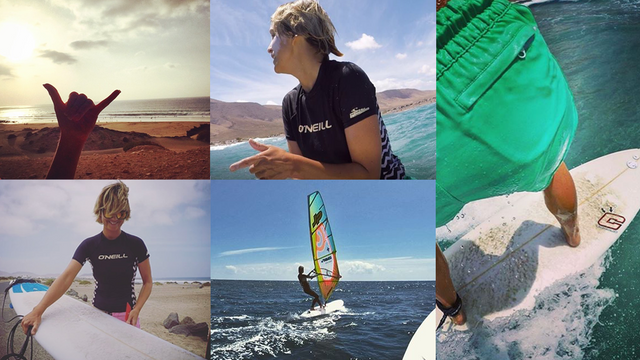 PS: All my blog posts are created and submitted via eSteem Surfer - my favorite Steem desktop client that was developed by @good-karma's @esteemapp team. Check out their account for more information.
Original content.