For the Love of Birds — Video & Original Poem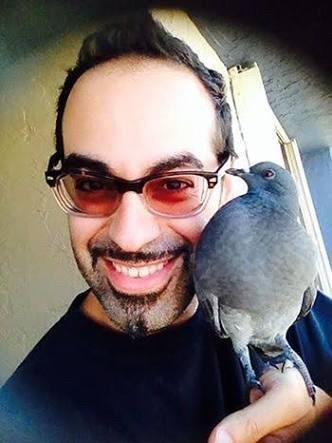 Ever since a pigeon laid an egg in a flower pot on my balcony, I've become inordinately fond of birds.
Since then I've had many heartwarming adventures with these gentle, winged creatures - including helping them make their nest, feeding and raising their young.
The picture above, for example, is with a young pigeon who lost his dad before he could teach him how to fly - so I became especially close to him.
Eventually, when the little guy did learn to fly he would return to my balcony every evening, at 5pm, to groom my beard (and nose hairs!) as a kind of appreciation.
Here's a video of me feeding one of my pigeons, after she laid 2 eggs:
Pigeons take parenting very seriously, with mama shouldering the bulk of the burden - sitting on the eggs from 5pm - 10am when papa shows up, like clockwork, for his sitting duty.
I hope you enjoy my poem, below:
What the Sunset Said
Something happened as the light was dying
it wasn't just post-coital exhalation
where the once-possessed body is used up
and all that remains is bodiless trance
Rather, it seemed they were mirroring
a preternatural stillness,
two spiritual sentinels
transfixed and somehow Other
Science calls it "twilight calibrated magnetic compass"
yet it appeared beyond mere direction-finding
more a kind of existential orientation
consolidating all they knew, and listening
with their entire being, participating
silently, in a universal hymn
until they were pulled, as out of a viscous substance,
by the hungry cry of their nearby young
to become two feral pigeons, again
with this-world considerations
parenting, foraging, keeping alive
and, dazed, they consented to their stations.