I was supposed to narrate this story In my memoir yesterday. But I didn't write it as that post had stretched a little too long.
Frankly, I never thought that I'd be writing this piece today. Who pays attention to someone's personal stuff anyway! But my assumption that nobody is reading my stuff here was proven wrong.
Thank you guys for your interest!
So let me try to complete this story today.
As I told you, I was staying at Dehradun in those days. Just 35 km away from Dehradun, there is a small but very popular hill station called Mussoorie. It's located at an altitude of 6000 feet (though its highest point, Lal Tibba, is at 7000 feet from Mean Sea Level). But my parents had never been to that place.
Since I was very busy, I couldn't go to Mussoorie. So one fine day, my parents decided to visit to Mussoorie on their own. Fortunately or unfortunately, that day, it snowed heavily at Mussoorie. Many people from Dehradun rushed towards Mussoorie to enjoy the snow fall. Narrow road bands leading to Mussoorie soon got occupied with several cars and led to a severe traffic jam. Further, it's difficult to drive on slippery roads during snow and rain.
My parents were still few kilometers away from Mussoorie and were caught in this traffic jam. The small hill station has a very limited parking space but vehicles were queuing up on the road. My father noticed that traffic jam was increasing with the passage of time. So he decided to take a U-turn and came back to home.
Despite reaching very close, they couldn't visit Mussoorie. So I told them that there is a holiday a few days later on the occasion of Maha Shivratri. We all can go there then. So the day was decided.
On Maha Shivaratri, weather was clear and very pleasant too. So we all started towards Mussoorie. On half way to Mussoorie, came the same Shiva temple, I was referring to you yesterday. We halted at that temple, went for darshan and received the bhang infused thandai and pakoras as prasad.
All of us consumed that delicious prasad. I told my parents that they mix some bhang in this prasad. My father reacted like, "May be, they mix up some bhang in the prasadam as some traditional symbolism. So even if it is, it would be a very small amount." I agreed. My family is strictly a teetotaler and all addictions are condemned in our community. So I was pleased with his somewhat liberal views towards the temple prasad.
But unfortunately, that day, the concentration of bhang was too high for us. But we realized that only later.
We continued our journey to Mussoorie. Since it was a holiday, I saw many vehicles heading to Mussoorie. So I told my father that instead of spending our time in crowd at Mussoorie, we should visit Kempty Fall today. Kempty Fall is a huge and beautiful water fall located around 16 km downhill from Mussoorie.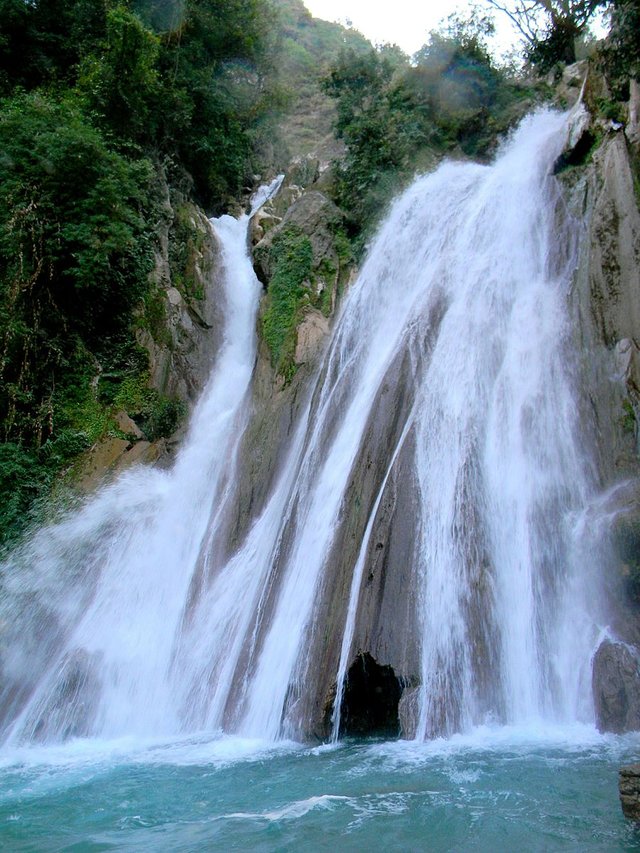 Kempty Fall image under Wikimedia Commons
Therefore, we started moving towards Kempty. The road was uncrowded ...almost deserted. All of us were sitting silently and no one was speaking anything.
After moving a few kilometers, I noticed that we were moving at a very very slow speed. To make it sure, I observed the speedometer and then my father, who was driving the car, for about a couple of minutes. Now I was sure that this slow speed wasn't intentional. But how to communicate him that I see him under the influence of bhang was my difficulty.
I recalled my employee's dialogue under a similar condition last year and repeated the same, "Papa, aapko nahi lagta ki yeh raste chalte hi ja rahe hain aur khatma hi nahi ho rahe?" My father took some time to react and then agreed, Hmm, kuchh gadbad to lag rahi hai." ("Hmm, there seems to be something adrift").
And then asked me, "Could it be because of that bhang?"
I said, "Yes! Looks like, it's showing some effect now."
My father immediately pulled off the road and stopped the car. There was no one on that road except us. On listening to our conversation and seeing the situation, my mother got very tensed.
She worried, "Now what will we do? How long this bhang will take to go? How will we reach home safely?"
I laughed and told her that I too don't know.
My father said that we should wait some time until we regain our sanity.
But my mother was very much frightened. She didn't know what to do now! For the first time in my life, I saw my mother chanting some mantra to relieve herself from this situation.
My father was mumbling while introspecting, "Where did we go wrong? We went to a holy temple ...had a good darshan there, ...got some holy prasadam ....and we ate it! ...there was nothing wrong anywhere!"
Seeing all these, I almost wanted to burst into laughter but seeing my mother's worried face, I couldn't laugh at that time.
We were all good to go after a long break there and were able to continue our journey.
But even today, we all laugh a lot when recounting that incident.
Have you ever got alcohol or bhang (cannabis) as prasad from any temple?
For the record, I first tasted bhang at the above-said Shiva temple, wine at a Church gathering in Delhi, cigarette at Vaishno Devi temple in Jammu.
I wonder, why I'm still not a religious guy!!! 😉