Selecting PTA(Parent-Teacher Association) board members are a headache for many guardians in Japan. The PTA originally started out as a volunteer organization for parents to coordinate with teachers to improve children's educational environment. However, Your Special Mission News Crew has received many letters of agony from readers about forced elections and the burden of excessive activities. What is the current situation of the PTA in Japan?
"I had to take more than 10 days off from work for the activities. They still expect all mothers to be stay-at-home-moms, like it was 40 years ago."
One reader in her forties, who is a high school teacher in Fukuoka City and mother of a second grader, was selected as the PTA regional president through a lottery last year. The lottery was held at 10 A.M. on a weekday. Unable to get a day off from work, she submitted a letter of proxy explaining that she was unable to take on the duty of the president, but she was informed that day that she had been chosen anyway.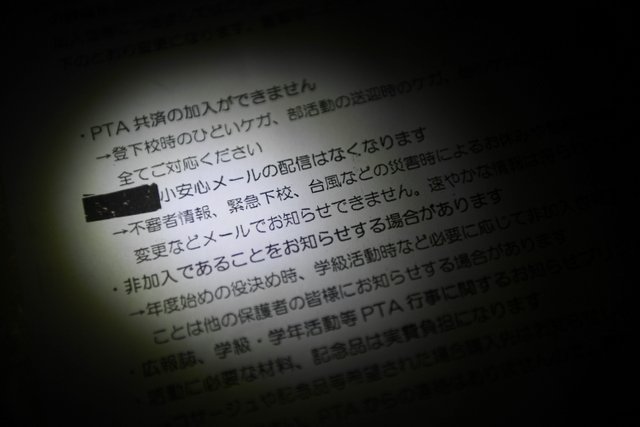 A letter distributed at an elementary school in Kumamoto City, Japan, listed penalties for non-PTA households.
The regional committee is responsible for assisting students on days when they go home in groups after school, and to keep an eye on them during their usual commute walking to and from school. As president, she had to make placards, create and collect surveys, and reach out to other PTA members. In addition, she had to write newsletters almost every month, print it out for 500 households, and put them into envelopes. The manuscript for the newsletters had to be physically stamped by the principle and respective teachers, so e-mail distribution was not permitted. From time to time, she had to sneak out of her workplace during work hours and go to her child's elementary school, which entailed a 40-minute drive. The monthly meeting was held at 3 P.M. on weekdays.
This woman says, "This structure does not reflect current social trends. It needs to be changed, but I couldn't muster up the strength to do it on my own."
■
    
According to the Japanese Ministry of Education, Culture, Sports, Science and Technology, the PTA was brought into the country after WWII from the U.S. and endorsed by the government at the time. The PTA played a role in enhancing school facilities and launching the school-provided lunch system. While its structure or name has changed throughout the years, the PTA still exists in most schools.
Most PTAs consist of executive board members such as the president and treasurer, as well as grade-specific, neighborhood-specific, and PR committees. There also are umbrella bodies for schools, municipalities, prefectures, and regions, as well as a nationwide organization.
As the PTA is a private organization that is not based on law, parents are technically free to join or leave. However, most schools have a compulsory and automatic registration upon admission, which has led to an upsurge in problems.
For instance, an elementary school in Kumamoto City advocates each household to be responsible for one activity each year. One reader, a man in his forties who has a first grader, found this policy questionable and refused to join for the 2017 academic year. The school responded by sending a letter to all students' households in January.
The letter listed penalties for non-PTA households from the 2018 academic year. It indicated that non-members may be unsubscribed from the "reassurance" mailing list that notifies parents of suspicious people in the neighborhood or days when school is canceled due to emergencies. It also implied that the school might inform other parents about who non-members are. The man protests, "This letter implies that non-members will be ostracized." The school explains that it "needed to clarify the activities supported by the PTA, as several other parents have vocalized their unwillingness to participate."
■■
While the PTA has been getting a bad rap in recent years, there are movements for reforms. Ryusei Junior High School in Kitakyushu City has been working since the 2017 academic year to ensure that its PTA is non-compulsory and that all representatives are volunteers.
Last April, the school distributed a membership application form to all students' households. It also put an end to forced elections for board members and called for a one-year volunteer to take the central role in all activities. As a result, 94% of the parents joined PTA and 25 people volunteered to help out.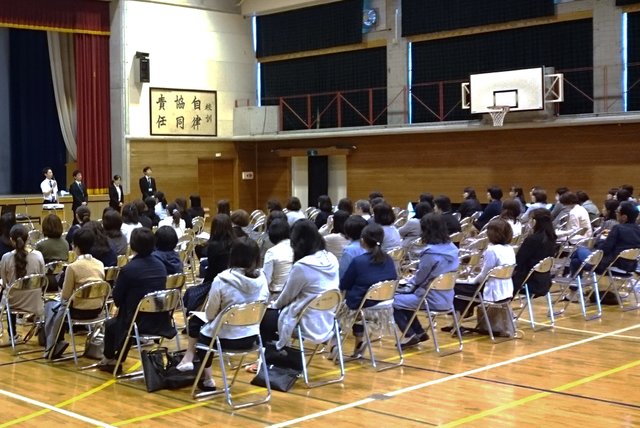 PTA meeting held at Ryusei Junior High School last April. Almost five times as many parents participated than usual. Kitakyushu City.
The school also streamlined its activities. It reduced the publications of its PTA newsletter and outsourced security for school events to a private company. The parents' study session was set on the same day as school-organized lectures, and the PTA board meeting was transformed into a meeting for parents and teachers to hold discussions.
"We are always concerned whether we will get enough volunteers," said the representative, a man in his forties. As part of the reorganization, the number of board members was halved. Still, he believes that the PTA is necessary to keep the school connected with the parents and the district. "We need to think of a way to maintain the PTA, rather than completely getting rid of it," he emphasized.
■■■
In response to the West Japan Daily (The Nishinippon Shimbun) article about a public elementary school in Kumamoto City that distributed a letter indicating that it would penalize non-PTA households, the Kumamoto City Education Board expressed its view to the school that the "(content of the letter) was misleading and not appropriate."
---
多くの保護者の頭を悩ませるのがPTAの役員決めだ。そもそもPTAは、保護者と教職員が連携して子どもたちの教育環境向上を目指すボランティア組織。しかし特命取材班には強制的な役員選考や、過剰な活動負担があるなどとして悲痛な声が寄せられている。PTAの現状とは。
「活動のために取った年休は10日以上。母親は専業主婦という、40年前のままの設定なんです」
小2の子どもがいる福岡市の高校教諭の女性(40代)は昨年、くじ引きでPTAの地域委員長になった。くじ引きがあったのは平日午前10時。仕事を休めず、委員長は無理だと委任状を出したが当日、「委員長決定」の連絡を受けた。
地域委員会は集団下校の手伝いや見守り活動などを担う。委員長となった女性の仕事はプラカード作りや、アンケートの作成と集計、参加者への連絡、調整。加えてほぼ毎月、委員会だよりなどの文書を手掛け、500世帯分を印刷し、封筒入れの作業も。文書は校長や担当教諭らの確認印が必要で電子メールでの送信は禁止。時に職場を抜け出して車で40分かかる小学校に向かう。月1回の役員会は平日午後3時からだ。
女性は言う。「旧態依然のやり方。改善すべきだと思ったけれど、1人で変える気力もなかった」
■
文部科学省によると、日本のPTAは戦後、米国から持ち込まれ、当時の文部省が推奨。学校施設の充実や給食の実施などに役割を果たし、形や名称の変遷はあるが、今もほとんどの学校に置かれているという。
一般的な組織は会長や会計などの本部役員のほか、学年や地域、広報などの委員会で運営。学校単位のほか、市区町村、都道府県、九州などのブロック、全国といった上部団体もある。
法律に基づかない任意団体のため入退会は自由。ただ、入学と同時に自動・強制加入となる学校は多く、入退会を巡るトラブルも目立っている。
熊本市のある公立小が掲げるのは「毎年、1世帯1役割制」。小1の子どものいる男性(40代)は疑問に思い、2017年度の加入を拒否した。すると1月、全児童の世帯に文書が配られた。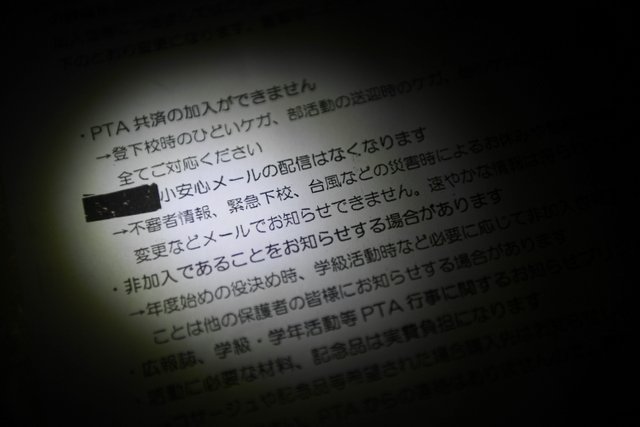 日本の熊本市のある小学校で配られた文書。PTA非加入世帯への「ペナルティー」が記載されていた。
書かれていたのは18年度以降、PTAに入らない世帯への「ペナルティー」。不審者情報、災害時の休校情報を伝える「安心メール」の配信停止や、他の保護者に非加入であることを知らせる可能性がある-との内容だった。男性は「PTAに入らなければ『村八分』にするという言い方だ」と反発する。学校側は「非加入の声が他にも複数出てきており、PTAが支えている活動をきちんと示す必要があった」と言う。
■■
近年、マイナスイメージが絶えないPTAだが、改革の動きもある。北九州市の柳西中PTAは、17年度から「任意加入の徹底、役員の完全ボランティア化」に取り組む。
昨年4月、全生徒宅に「加入届」を配布。強制的な役員決めを廃止して活動の中心を担う「ワンイヤーボランティア」を募った。結果、94%が加入、ボランティアには25人が手を挙げた。
活動もスリム化。PTA新聞の発行を縮小し、イベント警備は民間会社に委託した。保護者の勉強会は学校主催の講演会と一緒にし、役員会は教員との話し合いの場「スクールミーティング」に変えた。
「ボランティアが集まるのかという不安は常にある」と代表の男性(40代)。改革に伴って役員数は半減した。それでも地域と学校、学校と保護者をつなぐPTAは必要との立場で「なくすのではなく、どうやったら残せるのかを考えていくべきだ」と強調した。
■■■
※熊本市のある公立小のPTAが、PTAに入らない世帯への「ペナルティー」文書を配布したと報じた西日本新聞の記事を巡り、熊本市教育委員会は記事掲載後に「(配布文書は)誤解を与える内容で適当ではない」との見解を同校に示した。