FOOTBALL VIEWING CENTRE SAGAS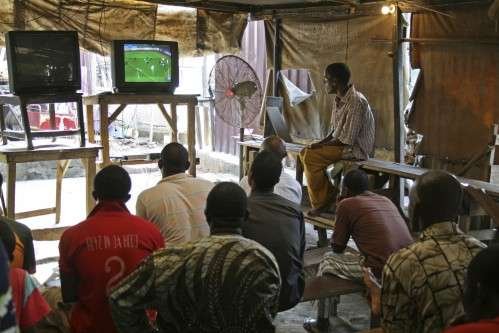 About one year ago..
Location ; A football⚽ viewing centre somewhere in Jk estate, Lekki.
Watching my beloved club💙 play⚽⚽ and can't help but notice how Cahill's confidence level has peaked⬆⬆ and how the sun is so bright. 🌕🌕 by 6pm and how fluid Hazard moves with the............
And then : Costa your mama!!!!😱😱😱😱
Ode!!!😠😠 mumu!!😬😡
Ahh ahh!!! Bros Kilode???😕😕
It just baffles me o... How pple who cannot carry their lopsided feet and ball on a pitch will comman be criticizing a professional player for every little blunder.....
Sm1 cannor even watch and enjoy his ball in peace again..😐😐😐
Tschewww...😞😞..
.
.
.
.
.
.
Lol.. This happened sometimes last year in a viewing centre.. It's quite funny how persons who have no idea about the pragmatic side of football will rain curses on players like they were the ones who hired them..
Plus they make the whole football watching a rather gruelling experience...most times that's why I prefer watching a football match at home.
But in a case where power outage or a runout subscription prevents that..
You have no other option but to endure the noise and rowdiness of a viewing centre. Talk less of the type of air that permeates such space. Sweat is produced, dries up again, produced again and dries up and the cycle is endless. Let's not even go there..
So in the end you either stay at home and follow up your match via livescores.com or you let your passion for the game drive you the dreaded arena.