One of the reasons that I fell in love with crypto and the steem blockchain is that it lets users showcase what makes them special and even become entrepreneurs.
My very close friend (steemit username TBD) has been making bows and selling them to nearly everyone she meets. She has had so many special requests I think she has a reserved parking space at Michael's to run in and buy more ribbon.
I have been pushing her to try Steemit for a while now because I know she will fall in love with the art communities on here.
And them with her.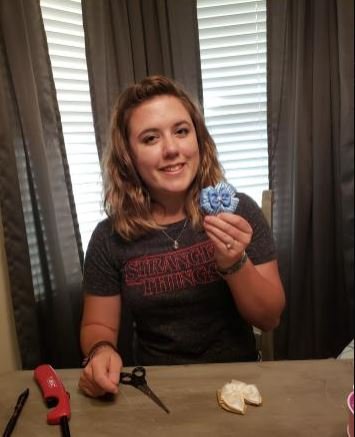 She looks excited doesn't she?
SO. I am going to show her just how amazing her art is to others and watch how people react.
Hell it even makes me look pretty.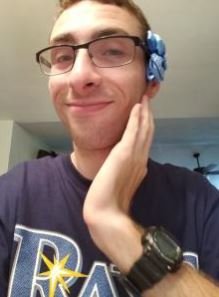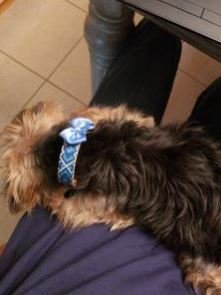 Our doggy model was exhausted.
So in total. We mostly her as I am learning and sucking at how to do this. Have a variety of bows. And plan on selling them right here on Steemit. Currently we are building up an inventory to prepare for orders. I thought I was tough. She will do this 6pm- 4am and LOVES it.
People like her are what this platform needs. Creative people, tough as nails who are proud of their craft.
Everything you see here is something we are selling, except the dog. She doubles as morale support.
We can not ship right away but I am more than happy to take requests and answer any questions in the comment section below or over DM on discord. Prices are not set yet as we focus on building the inventory and driving down the costs.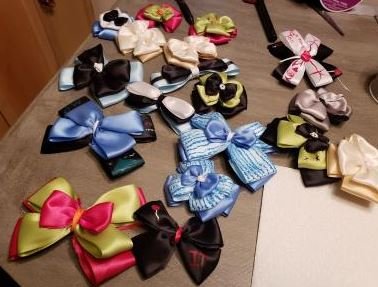 It'll be awesome to know what's popular so we can make more of. As long as I don't my sew fingers together we got you!