This article was inspired by an initiative my son's school is currently running as well as my passion for knitting. It's winter here in the Southern Hemisphere. It's cold! While we are huddled up behind our fireplaces and heaters drinking hot chocolate and munching on comfort food, others are homeless or less privileged and they are left to endure the worst of the weather.
It's this sad state of affairs that encouraged one of the teachers at my kid's school to start up a Knitting Challenge or "drive". The older kids and their parents are currently being challenged to knit blocks which will be sewed and joined together to make blankets. These blankets will in turn be donated to charity or distributed to the homeless.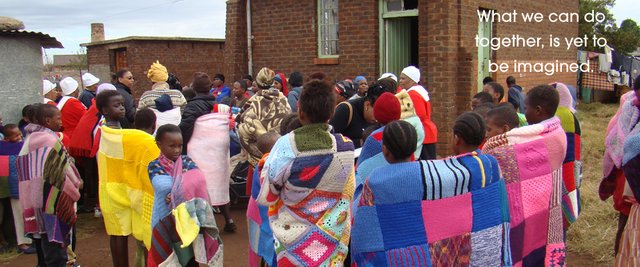 Image Source
What an awesome idea this is, right? Not only is it a way to encourage kids to practice a craft and keep idle fingers busy, it instills a sense of "doing good" in them too! All you need to do is teach your students (or own kids) the basics to knitting and they will in turn help keep their fellow population warm on very icy nights. Plain yarn and needles are very affordable too, so it's one of the simplest and cost-effective ways that you can make a difference in your community.
All it takes is for one teacher or parent to take some time to teach the kids a few basic stitches, and there you have it. Kids can work on their blocks when they have completed their work in class (an awesome way to keep them constructively busy) and they can even be requested to work on some knitted squares as a homework assignment. Spice things up a little and turn it into a competition! The kid who knits and donates the most blocks can win a prize!
Knitting is an art that has been around for yonks, it's a healing craft that helps you to relax, regain your thoughts and simply enjoy the challenge of creating something with your own two hands. If you have never knitted before or perhaps you would like to brush up on your skills, why not follow my knitting series: 
Learn How To Knit With @sweetpea
01 - Learn To Knit: Matching Yarn And Needle Sizes 
02 - Learn To Knit: That First Stitch
03 - Learn To Knit: Casting On The First Row Of Stitches
04 - Learn How To Knit With @sweetpea: The Knit Stitch (Garter Stitch)
05 - Learn How To Knit With @sweetpea: The Purl Stitch (Stocking Stitch)
06 - Learn To Knit With @sweetpea: Decreasing Stitches (SSK)
07 - Learn To Knit With @sweetpea: Increasing Stitches (Inc 1)
08 - Learn To Knit With @sweetpea: Increasing Stitches Purlwise (M1 Pw)
09 - Learn To Knit With Sweetpea: The Yarn Over/Forward Stitch (Used For Button Holes And Lace Patterns)
10 - Learn How To Knit With @sweetpea: Three-Needle Bind-Off
11 - Learn To Knit With @sweetpea: Circular Knitting  
(bringing you original content)

Join us @steemitbloggers
Animation By @zord189