Bad times are just around the corner..........
Yesterday the UK death toll has hit and passed 30,000 with more than 200,000 cases and it was announced that the furlough scheme could be reduced to just 60% of a persons wage as more than half of UK adults are now receiving some sort of funding from the state. We are living in a period which has no true frame of reference and this has forced many to take a closer look at their stability Many people around the world and especially the UK are staying positive and looking forward to 'this being over' and all meeting up for a pint, in fact before the forced closure of pubs and restaurants the British Public en masse decided to go out for one last drink, the consequences be damned.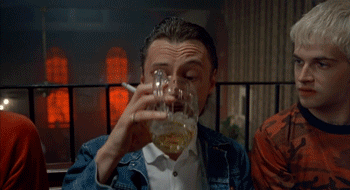 I myself am currently on furlough and from curiosity and from realising I did not understand what was being said on the news have started to look more into the pub and restaurant sector and what has been going on for the past few years. To start with there are four ways of running a pub in the UK....
• In a tenancy a person is self employed and renting the pub from a brewery (you have to sell their products)
• A leasehold is similar to a tenancy but normally for a longer period of time and you are protected under the Landlord & Tenant Act 1954.
• A Freehold means that a person is souly responsible for their pub with no ties.
• A managed premise is where the pub is owned by a brewery or a pub company and they pay the salary of all the workers.
With companies such as Greene King big enough to have tenanted, leasehold and managed premises in their portfolio. In the British Pub Market report from 2019 it stated that
One important factor has been the decision by some pub companies to close unsustainable tenanted pubs, and to switch other leased sites to directly managed formats. Managed groups with the ability to invest in their estates and their branding have found it a little easier to trade through challenging times. With this data in mind and the British people's famous love for drinking it would seem that it will be companies such as Mitchell and Butler's and JD Wetherspoon's operating managed premises who are best suited to weather the Covid 19 Storm followed by individual pubs that have managed to carve out their own share of the market.
The concept of going down 'Spoons' is one that is now very much part of the British physce and many people have posted online about looking forward to this all being over and meeting friends at their local wetherspoons pub. Just this week JD Wetherspoon have announced that they are already planning to hopefully open their pubs back up in July and articles such as this one appear at first to be nothing but positive. Now I've always been quite happy to take my paycheque like a good little worker and took a lot of security in that I worked for a company 'too big' to fail and that I knew each month even in the doldrums of post Christmas what I'd be getting paid. With all this free time I've had due to the lockdown, I have been trying to get my head wrapped around how companies have set about surviving this lockdown. First of all Wetherspoons have raised £141 million pounds ($175 million) through issuing new shares. This seems like a great idea and will hopefully help them to 'ride out' the lockdown, on the flipside though this is also share dilution and can reduce the value of shares in the company and therefore an individuals investment. ( Due to the Covid 19 pandemic their stock has fallen by 40% this year.)
JD Wetherspoons
The company has put a positive spin on the troubles and with a delay in proposed projects, using Government Proposals on property tax relief, wage cuts amongst its senior staff and using credit guarantee facilities they have stated that they have sufficient liquidity to maintain operations at much lower sales. In fact many have stated that
the broad expectation is that JDW is well positioned within the UK pub sector to return to profitability fast when the sector reopens.
So It all seems almost positive given the circumstances and as long as I don't catch the virus then my future pulling pints for people I secretly despise is secure. Yes there's going to be a lot of debt but the numbers are 'too big' for a schmuck like me to pay them any never mind. Even if they don't allow any pubs to reopen and it gets dragged out until the Autumn, I'll still be on furlough and the company will work with the Government to keep my wages topped up and me in my bubble of ignorance. This all seemed plausible until I reread that MSN article and saw the words It has fully drawn down its revolving credit line.
I had no idea what this meant and it was simply added on to the end of the piece almost like a disclaimer in the small print. But with nothing but free time right now I got to searching and part of me wishes I hadn't and found that
Revolving credit refers to a situation where credit replenishes up to the agreed upon threshold, known as the credit limit, as the customer pays off debt. It offers the customer access to money from a financial institution and allows the customer to use the funds when needed. It usually is used for operating purposes and the amount drawn can fluctuate each month depending on the customer's current cash flow needs.
I then moved onto what 'fully drawn down' meant and my optimism began to falter. This phrase means that Wetherspoon's has used all of its credit and will not be offered any more until they have repaid what they have already borrowed. I have now learnt that revolving credit lines are part of the backbone of our economy as it is from these loans that Wetherspoons and many other companies pay their employees wages. If everything is working normally, then each month a company will pay back their credit line and it will be business as usual.
From reading that their revolving credit line was drawn down, it now made sense why they initially refused to pay both their staff and suppliers at the beginning of this crisis. I never knew that such a big company was reliant on credit and debt to keep it afloat. I've never truly thought on how our economy works past the basics and taking things for granted I just assumed that wages were paid by a company from the profits that they made each month (yes with hindsight my choice for at best naivety at worst willing ignorance is embarrassing). Right now though my wages are being paid by the governments furlough scheme, as are nearly everyone else's who works in a UK pub. But the government has said this scheme will be gone by July or at least will reduce payments to 60% of a persons wage. This bailout is keeping me fed but if you put it into the context that wages are prices, essentially the amount a person will sell an hour of their labour for then I am being paid to stay home. This furlough scheme increases wages and for the moment keeps people in their homes but it does not increase wealth. Other Managed pub companies will be in a similar situation to Wetherspoons and stocks in M&B fell accordingly. Even worst off will be those people working from a lease or tenancy as unless they truly offer something special they will loose out to the big pub chains, cheap supermarket booze and the knock on affects of social distancing.
If the Pubs are not able to open up in July or if the sector does not recover as people stay home or more waves of Covid 19 hit the UK prompting further lockdowns, what is going to happen? The UK Government can't simply keep paying people their wages, as funds are not limitless are they?. On the BBC website today the Bank of England has warned that the UK is heading towards it deepest recession on record and the sharpest downturn since 1706.
Shopping at High Street retailers has dropped by 80%, and spending on flights, hotels, restaurants and entertainment has dropped to a fifth of their previous levels. It seems that more and more rational people are just crossing their fingers and ignoring the fact that our debt based economy could very easily fail and nobody has a viable long term solution to this issue. In this period of lockdown I have taken the time to start reading and though I feel better informed now I can honestly say that I am both a thousand time more concerned and confused on what this decade will bring.

We are now in unchartered waters globally never before as anything like this Pandemic and the resulting lockdown occurred. Looking into when the pubs may reopen in the UK was my original start point but this has lead me down a rabbit hole of information which has left me with a lot more questions and no real answers. In the words of Noel Coward Bad times are just around the corner and our leaders will just keep telling us that everything is fine, that soon things will be back to 'normal' and for now just continue baking cakes, making tik-tok videos and observing the two minutes hate/virtue signalling clapping for the NHS every Thursday at 8PM as at best we head into an era of either austerity or higher taxes
---
Image Credits