WWII coins:
---
The coin itself
Slovakia 1940 (KM# 6) 1 KORUNA - Copper-Nickel (5gr) ; mintage - 2,350,000 ; My valuation – 2EUR
Obverse: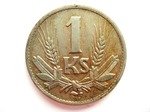 Reverse: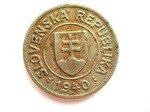 (you may click on the coins to enlarge the image)
A bit of history
It is the time of the Slovakian first republic, created in 1939. The republic fought on the side of the Axis and took part in invading Poland. Their troops also participated on the eastern front.
On the one hand the country gained independence after the German occupation, on the other it was just a puppet state.
The government has been argued to be quite repressive, Jewish citizens were deported to concentration camps.
Czechoslovakia, prior to 1940, was among the only east-central European countries, that was a parliamentary democracy. Due to a vastly large German population it faced minority problems. A significant part sought autonomy for Slovakia.
As most countries, it was time of great depression, on the economic side of things, for Slovakia. The government attempted to industrialized the country, but the efforts were not successful. Much of the decisions made were largely seen as political domination by the Czech government, hence the rise of Tiso.
My thoughts
The country, like many other European, was faced with a mixture of social unrest, political domination and the effect of the economic depression of the 1930's.
All that lead to the formation of the government in place and taking the axis side during the war.
It is only to be contemplated on whether the economic effects or the social unrest caused for the changes in the government. One of the worst things that happened during the war, was the "exchange" (deportation to death camps) of the Jewish citizens for factory workers with the German government.
The coin itself is not cleaned, and like I have mentioned prior to this, I like to leave them in their original state. It is a fairly common coin, with a fairly large mintage. Once again, we can see that coins of this value and time, only rise in price, if they are in a perfect state.
The 6th Slovakian brigade - 1940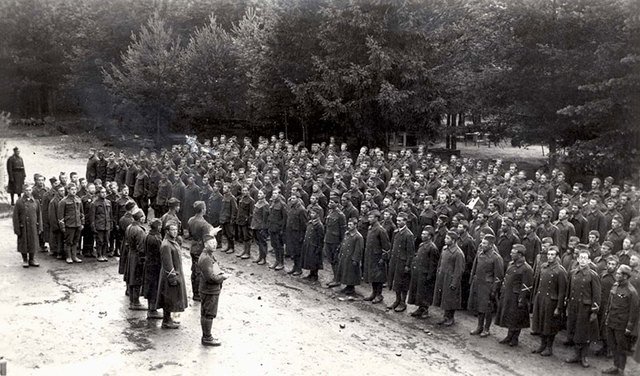 ---
All pictures of coins are from my own collection
Historical Sources - 1 ;