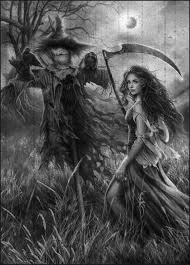 ---
The creation had ceased;
Jumped onto red, without the yellow.
A gallon of ice freezing water
Had been poured over my head.
I battled for sky castles;
I conquered just anguish...
No trust, no emotion,
All perished and died.
Who had that sick sense of humor?
All vanished at once,
Turned into stardust.
The stream had been blocked.
A line of white painted over my heart;
The crows gathered to eat my vegetable love.
What's going on? Is it over?
Yes. It is done!
I am sad, but I am free!
I am angry and happy.
I am flying…
With cut down wings.
Farewell my sweet Lady.
I shall never forget:
Your look and your touch
And your love most of all.
---