@NoNamesLeftToUse likes to mess with your head.
It has always been this way.
What Are You Looking At
Today
 
Rather than telling you where to look, I'll simply point. That part is already finished.
Instead of using some sort of sleight of hand magic trick to distract you away from them, I'll allow you both to have a staring competition.
You will not win. That does not make you a loser by default though, so don't beat yourself up to bad.
There's Nothing to be Afraid Of
 
They're everywhere, inside nearly everything. Hidden in plain sight. They watch you like they watch me.
Those chills you felt didn't hurt. It is not an evil force. They come from a world that is much like looking in a mirror.
You are not afraid of your own reflection.
Evil. Live. Evil. Live. Evil. Live. Evil. Live. Evil. Live. Evil. Live.
Breathe in, breathe out. You're as much alive as they are. Evila doesn't make much sense but we can all drive a racecar.
Those in a power struggle will be afraid once they pull on to the track.
Acting like they are above now while knowing full well we do not go there until later.
They will be in for a surprise when they meet man's best friend.

Credits:
All art and images seen here were produced digitally, by me.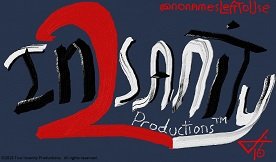 "Thank you for staying on top."
WhonamezuhStudio@gmail.com
© 2018 Two Insanity Productions. All rights reserved.
Follow @NoNamesLeftToUse
(Click the link for previous posts!)