You have to dream before your dreams can come true
A famous quote from the former president of India Dr. APJ Abdul Kalam reads,
"You have to dream before your dreams can come true".
Remember, everything is possible in life if you want. The only thing which stops you is the fear of failure. If you can control your fear then you can do anything that you want. Just stay true to yourself, believe in yourself & always be open to learning. You meet people who will motivate you, and those who will discourage you. It depends on you, which path you want to chose. So always believe in yourself and on your dreams. Never give up.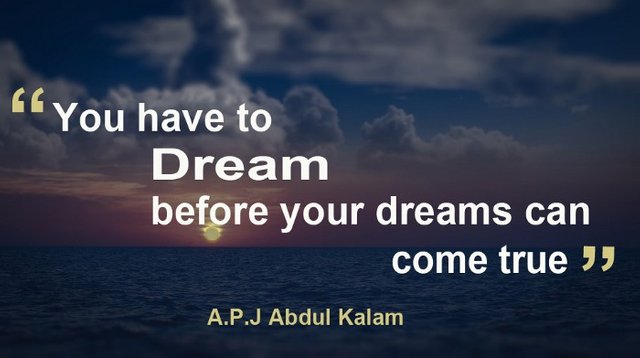 You can not achieve success until or unless you work hard for it. You have to be fully dedicated towards your goal. But before starting your journey you have to select your goal. Then start finding different ways to reach your goal. Find which path brings you closer to your goal.
Once you get success never stop working hard, because success is not permanent and failure is not final.
Dream! Dream! Dream!
Dreams and imaginations are the foundation of success. So never stop dreaming, and never stop pursuing your goals.
Project Rekha
It's a humble request to all for supporting us in this campaign so that we can at least lift one family out of extreme poverty.
Generous Support To Project Rekha From @autonio & @prosperist:

Those who support Project Rekha with their upvotes @autonio will airdrop NIO tokens and @prosperist Xteem tokens proportional to their vote value.
Thank You