A tak dokładniej Stefani Joanne Angelina Germanotta, w pół amerykanka, w pół włoszka. Kończąca dzisiaj 32 lata, mająca 155cm wzrostu wokalistka i autorka tekstów. Dziewiętnastego sierpnia 2008r. wydała swój pierwszy album "The Fame" z debiutującym singlem "Just Dance" (17.06.2008r.) nagranym wraz z Akon'em i Colby O'donis'em.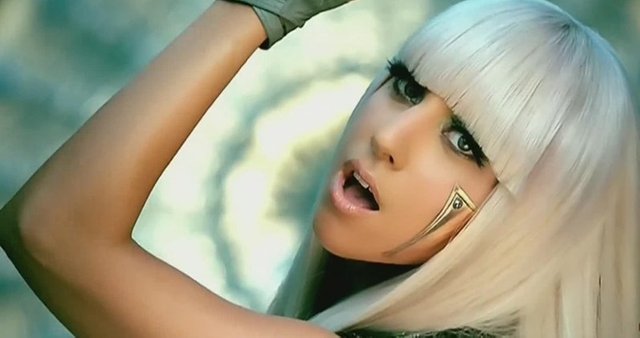 Jej piosenki znają miliony od Poker Face po Bad Romance. Wygrała wiele wspaniałych nagród (Nagroda Grammy, Złoty Glob, BRIT). Do dzisiaj wyszło sześć albumów, w tym jeden "Cheek to Cheek" wraz z Tony'm Bennett'em. Piątego lutego 2017r. zaśpiewała podczas "51. Super Bowl Half-time Show". Zagrała w trzech sezonach "American Horror Story".
---
Moje poruszenie miała piosenka "Poker Face".
Przedziwny jak dla mnie teledysk z piękną i ciekawą wokalistką. Zastanawiałam się, czy jej włosy są prawdziwe, czy to peruka (jak się po latach dowiedziałam, to była peruka). Spodobał mi się jej głos, wygląd, charakteryzacja i pomysł. Obejrzałam kolejne debiutujące teledyski... Dla mnie kosmos! Zakochałam się!! Podobały mi się piosenki, które tworzyła. Zaczęłam przyglądać się jej karierze, piosenkom bliżej. Zakochałam się bardzo mocno, takiej piosenkarki mi brakowało w muzyce, takie piosenki były potrzebne. Ta "miłość" trwa do dzisiaj, choć przyznam, że nie słucham jej ciągle nieprzerwanie od 10 lat.
Ja zawsze określam siebie jako słuchaczka, nie fanka. Nie lubię tego drugiego określenia, bo kojarzy mi się mocno z ludźmi, którzy aż nazbyt lubieją daną osobę itp. Niestety z bólem nie posiadam żadnej jej płyty, żadnych plakatów, nigdy nie byłam na jej koncercie, choć bardzo mocno chciałam i nadal chce... Jest ona moją ulubioną muzą, którą mogę słuchać w kółko i mi się nie znudzi.
---
Moje dwa marzenia, to iść na jej koncert oraz porozmawiać i poznać ją. Może kiedyś.
---
Nie dość, że dzisiaj ma urodziny, to jeszcze w sierpniu minie 10 lat od wydania pierwszej płyty. Mam w sumie małą nadzieję, że w tym roku wyda nową płytę na to dziesięciolecie.
---
Dużo ludzi nie lubie jej ze względu na to, jaki gatunek śpiewa, jak się ubiera i to, że jest kobietą. Niestety nie podając żadnych sensowniejszych argumentów, ale każdy słucha czego chce. Warto dać jej jedną szansę na przesłuchanie paru piosenek.
Stefani nie jest osobą, której każda płyta jest taka sama. Każdy album opowiada i przedstawia inną historię, inne brzmienia, inną "stylówkę". Dlatego też wiele fanów obecnie chce powrotu GaGi z 2008r, czyli słodkiej i innej kobiety. Lata lecą, więc musiała wybrać styl poważny, dorosły, który będzie do jej wieku pasował i widać to od singla "Perfect Illusion" nowej płyty. Krótka koszulka ledwo zakrywająca piersi, różowy komplet z kapeluszem - taki styl został wybrany. Najtrudniejsze dla mnie jest określenie tego pierwotnego jej stylu wzorowanego na zespół "Queen", tego, co właśnie ludzie jak ja pokochali, byli zadziwieni. No cóż, mnie również tej cukierkowości brakuje. Choć mała nadzieja pojawiła się w teledysku "John Wayne"
Jednak żeby nie było kolorowo, nie jest to kobieta bez wad. Nie jest to też osoba bez "mistaken for love". Jak sama GaGa mawia "co wydaję nowy album, tracę osobę, którą kocham". Polecam również obejrzeć film "Gaga:Five Foot Two".
Osobiście bardzo mi jej szkoda. Sława bardzo zaszkodziła jej związkom. Straciła dużo, ale również zyskała. Niedawno odwołała swoją trasę koncertową ze względu na silną chorobę. Znam to uczucie, może nie w takim stopniu jak ona, ale jest bardzo dzielna wytrzymując tak silne bóle i nadal śpiewa. Pomimo tego jaką katorgę jej organizm przeżywa, nie poddaje się i śpiewa pomimo bólu. Trzymam kciuki za chociaż częściowe wyleczenie. Żyj sto lat i jeszcze dłużej! ♥
---
Wiem, że tego nie zobaczysz tego nigdy... Z tego miejsca GaGo, życzę Ci wszystkiego najlepszego. Żebyś w końcu była szczęśliwa z osobą, którą kochasz, aby Twoje życie już nie rozchodziło się w taki bajzel. A chyba przede wszystkim życzę Ci powrotu do zdrowia i spełnienia swoich najskrytszych marzeń. Marzeń o szczęśliwym związku, kochającej rodzinie, wiernych fanach, nowej wspaniałej płycie i śpiewania dla nas - Twoich "Little Monsters".
---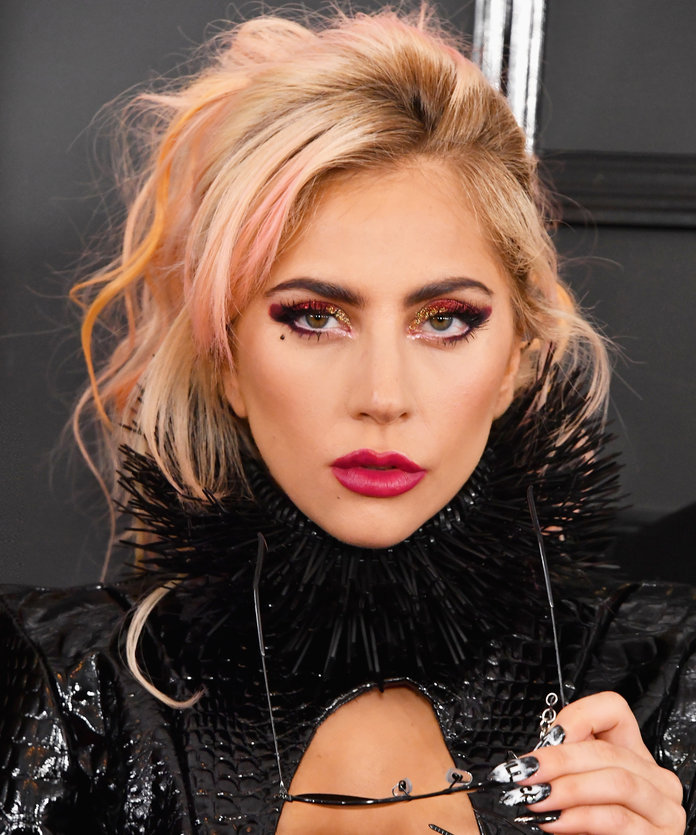 I wanna kiss you
---
Kim dla mnie jest Lady GaGa? Jest ona dla mnie moja dzieciństwem, bo wtedy ją poznałam. Jest moją pierwszą poważną muzyką i określeniem tejże muzyki. Jest osobą, która w moim życiu, a raczej dzięki jej piosenkom nadal mogę egzystować, po której czuję ulgę od tego shitu. Nie znam jej i nie wiem jaka jest w prywatnym życiu, ale wiem jedno... dzięki niej dużo w moim życiu się zmieniło choć jedyne co zrobiła, to wydała parę piosenek. Po prostu #ityle.
Poznałam Cię jako Just Dance, obecnie jesteś dla mnie John'em Wayne'm.
---
Stefani Joanne Angelina Germanotta, half American, half Italian. Today she has 32 years, 155cm of height, singer and songwriter. 19th August 2008 was released her debut album "The Fame" with debut song "Just Dance" (17.06.2008) recorded with Akon and Colby O'donis.
Her song knows millions from Poker Face to Bad Romance. She won a lot of wonderful awards (Grammy Awards, a Golden Globe Award, BRIT). Til today she released six albums, one "Cheek to Cheek" with Tony Bennett. Fifth of February 2017 she sang during 51. Super Bowl Half-Time Show". She played in three seasons of "American Horror Story".
---
I heard "Poker Face".
For me, this was very weird film video z beautiful and interesting singer. I thought her hair are real or artificial (after years, I read this was a wig). I liked her voice, apappearance, makeup and idea. I watched next video films... For me? Fantastic! I fell in love!! I liked her songs, which she create.
I started to watch her career and songs. I fell in love very much, I need her in music, these songs were necessary. This "love" lasts until today, but I'm not listen her over and over from 10 years.
I always think like listener, not like fan. I don't like this second, because for me fan is like person, who likes someone, but very very like etc. Honestly, I don't have any CD's of LG, any posters. I've never been on her concert, though I want this and I always want to be there... She's my favourite singer, I can listen her over and over.
---
I have two dreams, one is to go to her concer, talk with her and meet her. Maybe someday.
---
Not only, today is her birthday, then in August will be 10 years after her first album. Maybe she realase new album for decade.
---
A lot of peole don't like her because she sing this category of music, what she wear and because she's a woman. Unfortunately they don't explain good arguments, but everyone listen what the wants. U should give her a chance to listen few song.
Stefani is not a person which every album is the same. Every album talks and show different story, different category of music and "clothes". So why fans want to return old her from 2008r, sweet and different woman. She had to choose the style, which is serious, adult and will suit her and we can see this in "Perfect Illusion". Short t-shirt, which u can almost see boobs, pink set with hat. The most difficult is calling her style modeled on "Queen". Well, I missed for these years. But small hope was in video film "John Wayne".
She's not a woman without defects, she's not a person without "mistaken for love". As she says "I release new album and I lose person, who I love.
I recommend movie about her "Gaga:Five Foot Two".
Personally, I'm sad. The Fame was very not good for her relationships. She lost lot people, but she also gained. Recently she she canceled her a concert tour, because of her disease. I know that feel, maybe not like this, but she's very dividend, she withstand with pains and she still sing. Despite these shits she didn't give up and sing with very bad pain. Cross finger for treatment. Live 100 years and more! ♥
---
I know that u've never seen this... But GaGa, I wish u everything best. U will be happy with person, who are u loving, Ur life were good without bad things. But I think, I wish U recovery and dreams come true. Dreams about happy life, loved family, good fans, new wonderful album and singin' for us - Yours "Little Monsters".
---
Who is Lady GaGa for me? For me, she's my childhood, because I was see her when I was little. She's my first serious music and everything. She's a person, who in my life done very much, maybe not as person, 'cause I don't know her, but her songs were important for me. Songs are for me big relief. Like I wrote, I don't know her and I don't how is she in private life, but I know one... thanks to her a lot of things changed, only songs, but it's... #thatsit.
I see u like Just Dance, and now, u're John Wayne.
---
Stronki/Media:
♥snapchat - @natissson
♥youtube - @Natison
♥facebook - @Natisson
♥twitch - @Natisson
♥smashcast - @Natison
♥instagram - @nati_natison