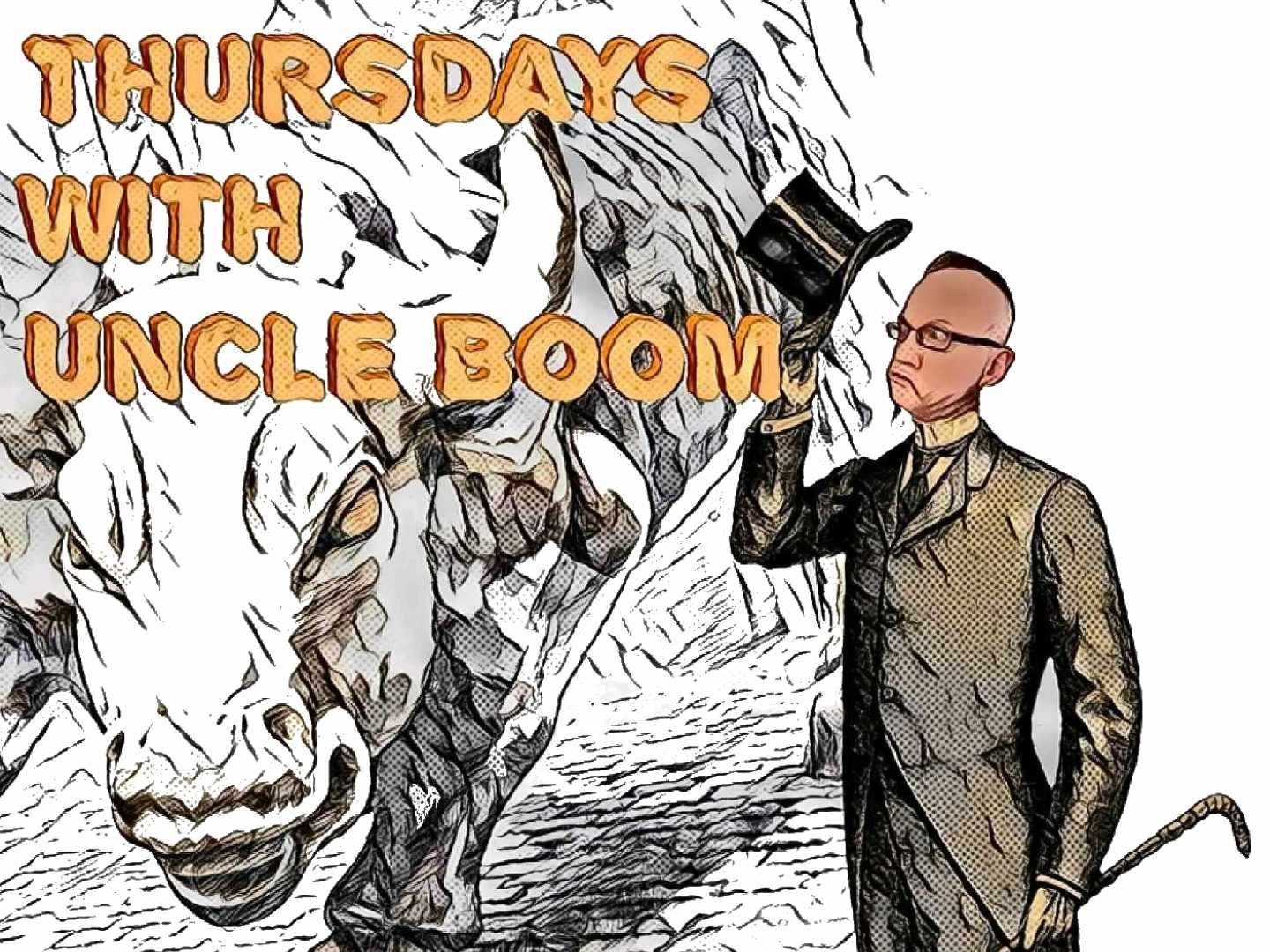 We have been having quite the spate of sunny weather of late and I remarked to my good friend Anulus Kenders whilst we were sipping rum in the club that perhaps we should do something.
Oh, I do like to be beside the seaside!
He responded with childish enthusiasm.
The seaside you say? Hmm. Now there is a thought. Why I dare say we could take our shoes off and paddle in the water!
Oh, magnificent. I love a paddle, I really do!
Exclaimed Anulus.

If he got any more excited I feared he might get the infamous walloper out and start thrashing us with it. I made a calming gesture with my hands.
We shall do it then. Oh and Anulus?
Yes Boomy?
If you are going to persist in wearing shorts like that time in '87, make sure to roll up your purple snarler or something. It scared the daylights out the natives before, hanging down like a snake in the Jungle Book.
He looked a bit sheepish.
Ah yes. Sorry about that.
We gathered our belongings. Jackets, pipes and several bottles of hard liquor to make the journey a little more bearable.

Upon arrival, we set up a blanket right down near the front of the beach. It was a quiet spot, just a man and a boy nearby pottering about with garish plastic spades and buckets.
Once we got our pipes lit, I poured us both a few fingers of rum into some tin mugs. I took a big swallow. The sun was blazing in the sky. I considered taking my jacket off but felt it might be a little unseemly.
I raised my tin mug to Anulus.
Cheers old fellow. A man needs to step out in style in this fucking heat. It's outrageous!
Damn right you old royster doyster! Heres to us! HUZZAH!
Shouted Anulus. His face was bright red from the hot sun and possibly from the bottle of brandy we had shared on the short journey down to the beach.
We downed our drinks. Anulus took his jacket off. I gave in to the blazing heat by unbuttoning my top two buttons. I poured us some more.

Two bottles of brandy later, Anulus was singing his one of his favourite sea shanties, The Arse that Quacked. He got to the best bit, the chorus...
... She was only a penny
said her name was Jenny
She said she would empty my sacks.
So I paid up my money
But it wasn't funny
When I ran cos her arse it did quack!
We both made the required quacks at that point and laughed long and hard.

Excuse me?! Will you give it a rest please, there are bloody children about?
I looked up to see a brawny fellow standing over me holding a young boy's hand. He was in his thirties. Face like a belly wound twitching with maggots.
I peered up at him.
Oh, I am most dreadfully sorry old fellow. Was it the bit about the arse quacking?
The man's face reddened.
It's disgraceful. Look at the pair of you, smoking and drinking and swearing. This is a family beach? Get yourselves away from here or I will call the police.
I pulled myself enthusiastically to my feet and faster than he could blink, whipped my cane out and struck him soundly on the temple. He dropped like a stone. The little boy squawked in horror and ran off screaming for help.
I picked up his discarded spade.
Right Anulus, let's make this quick.

What's going on here then!?
Shouted a large sweaty policeman. He was walking toward us with the young boy in hand.
Myself and Anulus were sitting on a large hump of freshly dug sand.
What's that Officer? Is there a problem?
Yes, there is indeed. This young man says you knocked his father down with a cane?
I gave Anulus and then the Officer a puzzled look.
What father, look at the grubby little thing. He is obviously a bastard child? And a lying bastard child at that. Pass him over Officer. I dare say I could put him to work in my saltpetre mines.
The Police Officer sighed deeply.

Silly old me. It isn't the first time one of these young scamps has played a trick on me. I should have realised milord. Begging your pardon. Here you are, mind and work this lying little bastard hard down them mines.
Anulus took the boys hand before he squirmed away. He was crying and shouting about someone called Daddy.
Of course Officer and rest assured. I will work this one till he drops!
The Police Officer walked off shaking his head and muttering about the cheek of young fellows nowadays.
The boy stopped struggling and hung limply in Anulus's meaty fist. He raised his head to us.
Please sir, where is my Dad? What did you do with him?
I gave the hump of sand beside us a kick.
Young man, perhaps you will learn in time that...