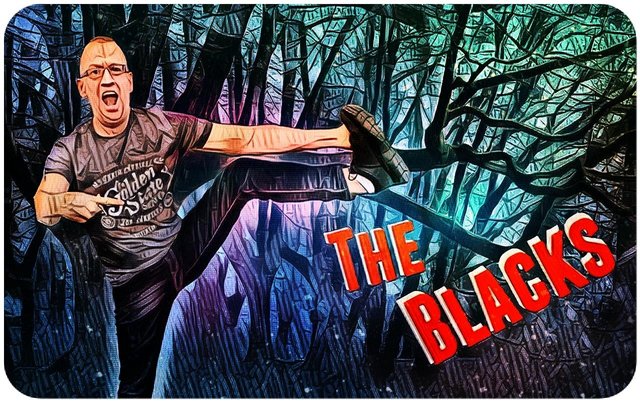 Do you like the blacks?
A voice breathed in my ear as I was perusing the fine beer selection in my favourite beer shop.
I beg your pardon?
I said with no little disapproval. Was someone going full-on racist? Was I about to be dragged from the shop and hung from a tree or set on fire because of my penchant for gangsta rap?
I like em. I love a bit of black I do.

I turned to see who was uttering such awful bile.
Oh. It's you.
It was the Bear-Man. He was smirking bushily through his survivalist's beard. He had a fearsome gleam in his eye and my brown eye clenched shut in terror as I realised that perhaps with all the sun this summer, the Bear-Man thought that I was black and he was angling to angrily insert his penis into me.
Was I doomed to be the Bear-Wife?

Aye, it's me. And today, am all about the BLACK!
The Bear-Man did a strange little jig in the middle of the shop floor, ending with what might have been a twirl on a lesser bellied person.
I stared at him aghast.
I don't think you can really go about saying things like that?
I said tentatively.
Eh? Aye, I can?
Grizzled the Bear-Man with a puzzled frown.
Yes, I know you can but I don't think you maybe should?
I raised my voice up at the end in the way of young Australian's.

The Bear-Man lurched toward me and I was reminded of how fearsomely huge he actually was. I scanned for a big can on the shelf that I could grab and throw like a cannon.
Are you telling me you seriously don't like the blacks?
Ah, he was trying to turn this whole debacle on me. Well, I was more than equal to the task.
I love black people. I love ALL people, the colour of their skin matters not a jot to me. This world has enough problems without all that shit.
I stated proudly, one of my hands sneaking out from my side and placing itself satisfyingly on my hip as if I were a statue of some swashbuckling figure of old.
Eh, what you talking about? I mean Black IPAs? You like em?
Ah.
I felt my face redden and whipped my hand off my hip.
Erm, yeah. I sometimes like them.
I muttered, refusing to meet his eye.
Aye, well. I've got a couple of crackers if you want to have a look...
He paused.
Not everything's about race you know?
Aye, indeed.
I took my beers and hightailed it out of the not-racist Bear-Man's shop.