Well, it didn't get as cold as the weatherman predicted but it's still pretty darn freezing here in East Tennessee. We did get snowed in for part of the day on Tuesday and the bitter has cold kept us from leaving the house until tomorrow (Thursday). I'm glad I did all my prep work to keep us and our critters warm in the low temperatures.
9:00 AM Tuesday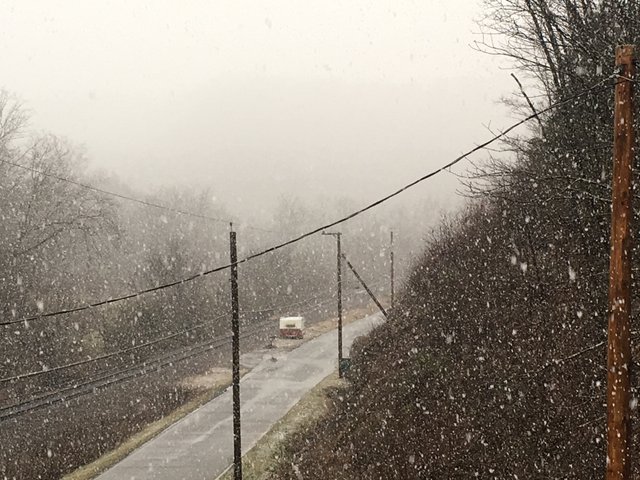 To be honest, the big freeze didn't get as bad here as it did elsewhere in the US. The newscasters acted like it would be horrible snow and single digit temps. We had an inch of snow and last night it was in the 20s so not too terrible. It was an interesting weather period. The temps on Monday were nice. I was out working outside and it felt great. Then, at 7 am on Tuesday the temperatures dropped and dropped like was predicted. It snowed hard for a few hours but it all melted by 5 PM.
2:00 PM Tuesday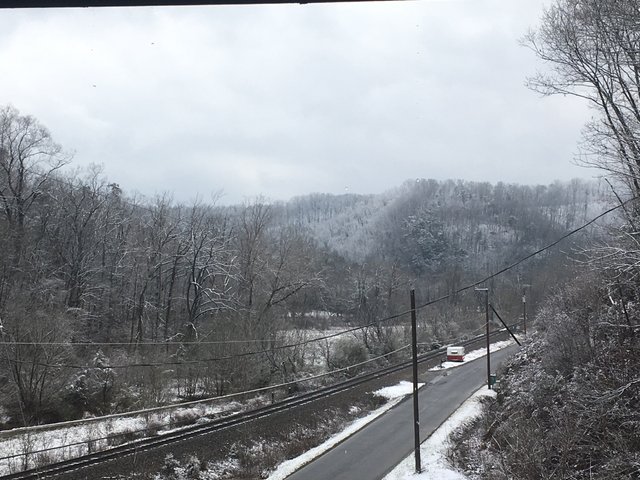 As I write this, it is midnight and it's 18 degrees (F) outside. The thermometer I have in my duck coop says it is 55 degrees in there so my little duckies are nice and comfortable. I did have to add a second heather to their coop today. Last night the one heater did well but then as the temperatures outside got into the 20s, the duck coop temp dropped into the 30s. Tonight it's suppose to get all the way down to 15 degrees and I feared the one heater would only be able to keep it in the 20s in there.
Inside The Duck Pen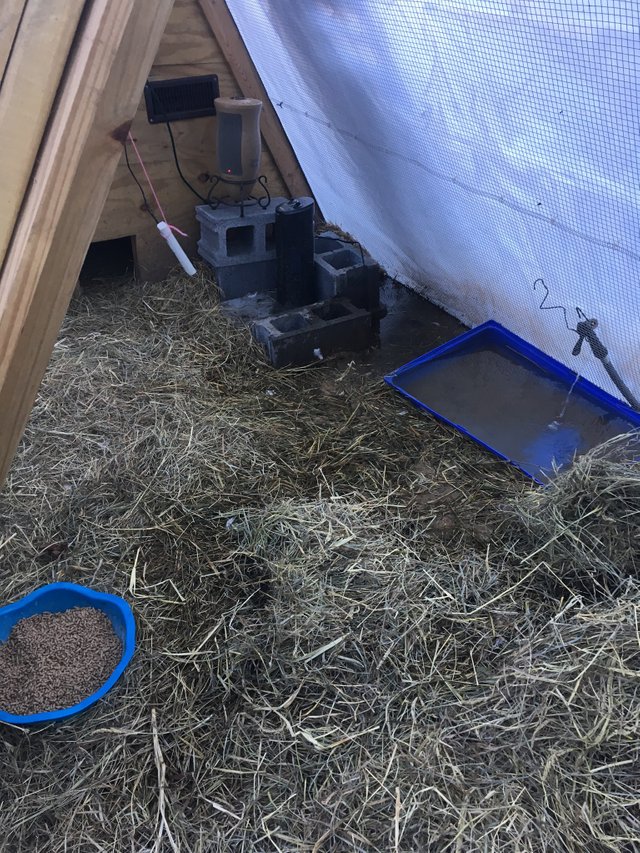 The two heaters are small ones that were cheap to buy. One has an automatic shut off if it gets knocked over and I got specifically for the ducks. The second in a nicer heater I keep in the kitchen that I dearly miss tonight because the kitchen floor is freezing to walk on without it. Tomorrow I will bring it back in because things will warm up again.
Staring A Me Like It's My Fault It's So Cold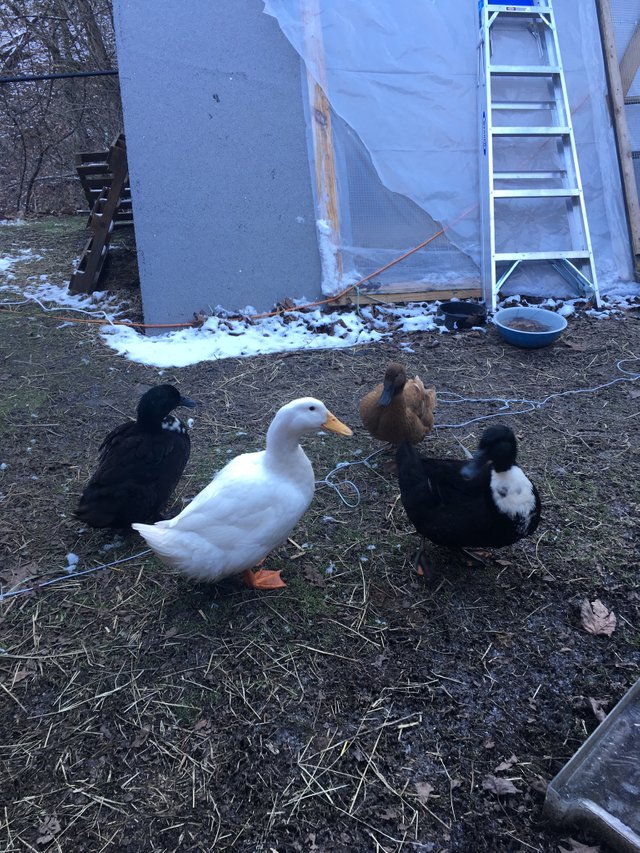 I let the girls out for a few minutes while I did some maintenance in their coop and they weren't too happy it was in the 20s outside. At first they were quacking and happy to see me thinking I was there to let them out so they could have some fun. Then, the door opened and they felt the icy cold air and they realized how miserable it is outside. Their swimming pool is frozen solid and the ground is icy. They wanted nothing but to go back in their coop and Cheerios. They really wanted treats so I loaded them up with some Cheerios.
I put down some fresh hay and threw Cheerios into the hay so they could root around for it and it would entertain them for a while. My ducks will do anything for Cheerios so its a great treat to train them with. I'll be glad when this bitter cold is over so I don't have to worry about them as much. I hate having two heaters in there but I don't want them or their water to freeze. Having the heaters and a small stream of water coming from the water hose in their pool giving them filtration and fresh water helps me not have to go out there as often while its so cold. I'm still not feeling good and I think another visit to the doctor is in order soon. sighs...It's been a rough winter...