One thing most people don't know about me is that I love sitting on the floor rather than on couches or chairs. I'm fairly short for a female and sitting in most chairs, my feet don't touch the ground unless I'm sitting near the edge. If I sit in a chair I always end up pulling my legs into the chair to sit cross legged. It's my most comfortable sitting position.
My New Table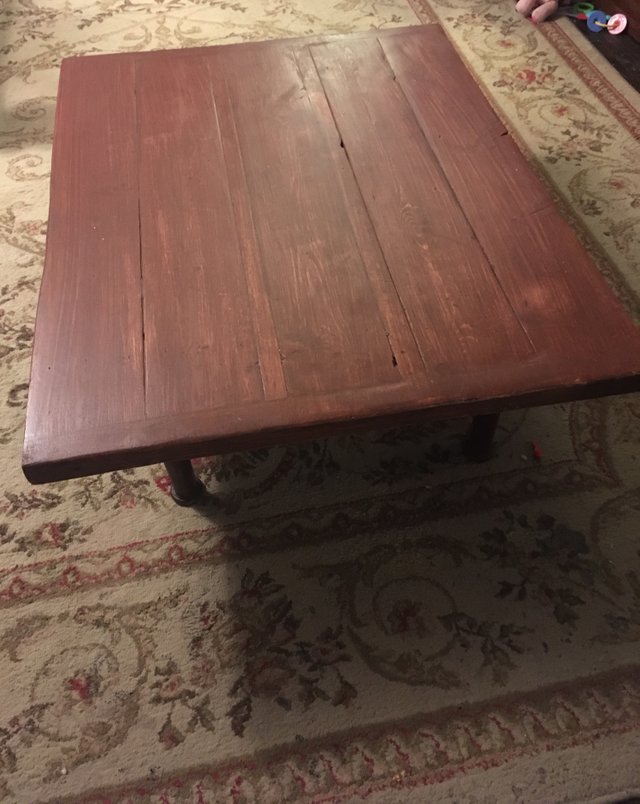 My dream dinner table has always been what I think is called a Japanese "chabudai" table which is basically a short legged table. Most might call what I want a coffee table but to me there is a difference. Most coffee tables are taller and skinnier. My dream table has always been a dinner table but only about twelve inches tall and big enough my family can sit around it and have dinner with food dishes laid around the table. Unfortunately to purchase a chabudai table that is really really pretty would cost around $300 because I'd have to buy it online and furniture is costly to ship. Short legged dinner tables aren't something people have where I live. I'm sure I'll get a lot of weird looks for having one in my house.
The past few months my husband and I have been in the business of buying liquidation pallets from stores and reselling the goods within the pallets. One particular pallet item helped me barter for my dream table. One pallet had a box with unassembled bar stools in it. The stools were brand new and pretty nice. I put them together and priced them at $90.
I love my blue and white kitchen floor.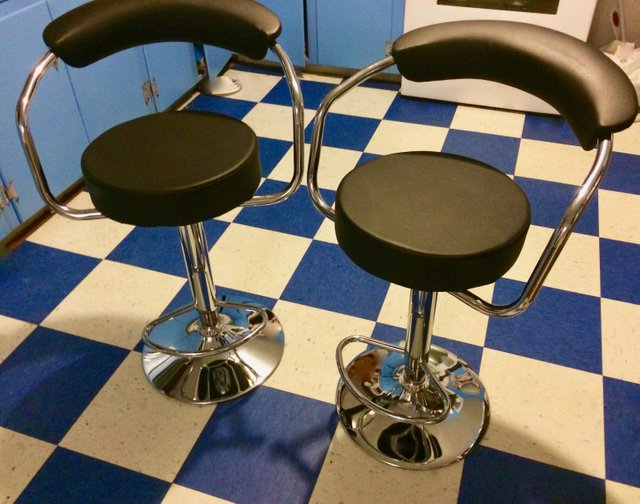 When selling items, the right picture can get you lots of attention. These stools with my blue and white checkered floors got me ten offers to buy them the first day. One particular person said he was a custom woodworker asked if I was willing to trade. I decided to ask him if he could build me a short legged table in exchange for the chairs. I sent him a picture of a chabudai table and he agreed to build me one. He built it fast and we did the exchange today.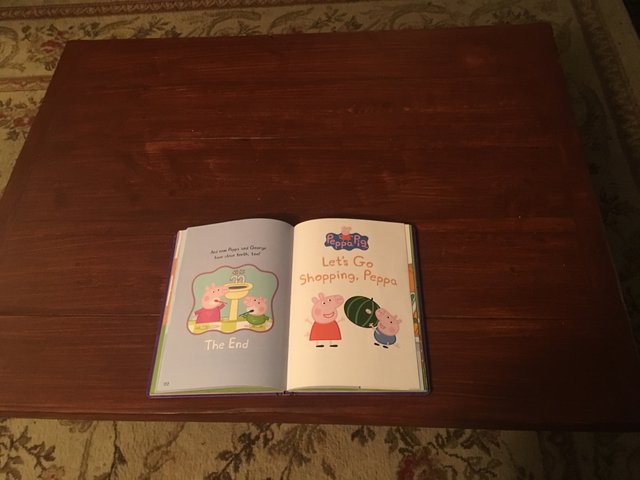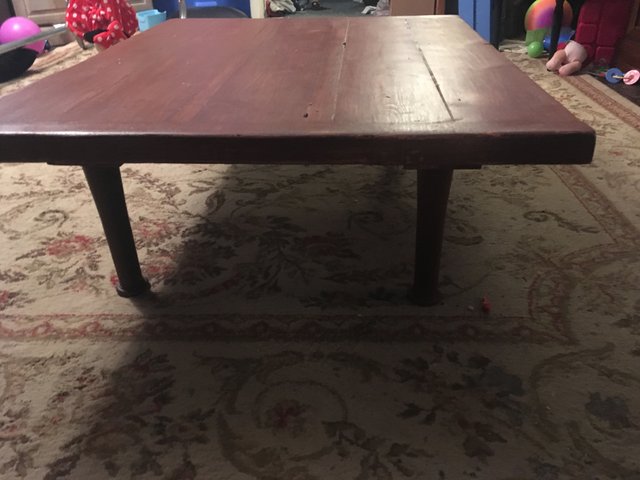 I will admit, it's not the prettiest work I'd expect from someone who makes custom furniture. The guy built it very fast and I can tell he didn't spend a lot of time on it. At least I only traded some bar stools for it and didn't pay a lot of money. That being said, I am happy to finally have a short legged dinner table. My husband and I haven't owned a dinner table in three years since our house is small and we don't have room for a big table. I just eat dinner on the couch with my toddler which is messy. It's hard to feed a toddler spaghetti on a couch without spills happening.
I'm happy now I have a table that I can comfortably eat at. I can also set up my laptop on it and work or could put my sewing machine on it to quilt. I've got some nice thick fabric I might use to make some cushions to sit on for it. Since I sit on the floor a lot, it's nice to have some space to work at and a table to eat and play with my toddler at. It'll be nice to have dinner with my toddler for the first time at our very own dinner table.
I think when it's summer I'll sand it down and put a prettier color of dark stain on it and fix some blemishes the builder missed. I'd like to also put a clear epoxy over the top to protect it and make it easier to keep clean. I offered to give the builder cash if it cost more the build than the bar stools were worth. I wish he would have taken more time and used better wood than just throwing it together. It was a good barter though and we both got what we wanted.