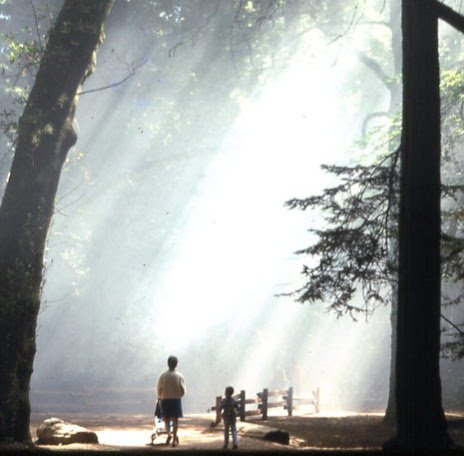 [NOTE: I took the above photo in 1968.
It is of my young son and my wife who was
pushing a stroller with our infant daughter in it
during a stroll in Muir Woods, just north of San Francisco.]
Many and varied are the thoughts one has when looking at pictures of family and friends from times long past. Most of us have pictures of ourselves as children, of our own children, of our parents, and perhaps there are even pictures of friends now dead.
It is interesting to note that seldom, if ever, have these old pictures been taken during sad times. No, we generally take pictures only of our finest moments. Is it any wonder, therefore, that more often than not these old pictures bring on a most melancholy frame of mind? Frequently, these pictures, long forgotten, lie in ambush on the bottom of a drawer, waiting to stop our hearts for a moment when we stumble upon them.
At times we may think it better to not have taken those pictures at all, for they somehow seem to increase the pain of suffering through another day that is now different from the days when they were taken. If we allow ourselves to indulge for even a short moment, it may take weeks to recover from the voyages of memory they send us upon. What, then, are we to do, throw them anyway? I think not. There is a way to handle them, you know.
We must always keep in mind that a picture is no more than a single second of frozen time. Not only are we different people now than when we were when the picture was taken, but we were also different on that 'picture day' than the way we remember ourselves to have been. It is easy to perceive the changes that have taken place during the time that elapses between pictures of our own youth and the face we see in the mirror today. We know that we have changed. What causes the nostalgia, however, is the mistaken idea that those other people in the pictures have somehow remained the same as they were on the day the picture was taken. Or ever worse, we are saddened by a desire to have those people return to the way they were on that day.
Why is it, do you suppose, that we sometimes wish to go back in time? The primary cause of this desire is that we have conveniently forgotten the sad hours on either side of the moment in time when we were joyous enough to take a picture. Do you really believe that you have never been as sad as you may find yourself today? And do you really believe that you will never again be as joyous as you were when those pictures were taken? What you believe, and what you constantly think about, will become true for you.
When you look at those old pictures, it is important to not hold on to the memories that they bring to mind. Much joy can come from a picture, but it should be joy, which comes from the knowledge that happiness is as much a possibility in life as is sadness. You do not have to try and think about the sad times on either side of that 'picture day'; sad times and happy times always balance out. That is the way this world works.
So, if you are having less happy times right now, keep in mind that what you are really doing is saving up to pay for the good times that are not far ahead. The fact that you were modestly happy once before is proof that you are, in fact, capable of being happy. It is a skill you already have. Use these old pictures, therefore, not to produce melancholia, but use them instead as a springboard to bounce you up to new and different happy days. Let go of the old memories as quickly as they enter your mind. Instead, allow the feeling that these pictures evoke, to lift your attitude today.
The time and the people in your old pictures are both gone. Whether living or dead, the people whose images are frozen in time on that little piece of paper, are no longer with us. They are as removed from today as the little child you see in your baby pictures is removed from you. You cannot recreate the past; you can only use it and let it go.
Listen, for a moment, to the words of Jean Dubuffet as he speaks of moving forward through life:

Unless one says goodbye to what one loves, and unless one travels to completely new territories, one can expect merely a long wearing-away of oneself and an eventual extinction.
Looking backward, therefore, is important, but only for one reason: to remind us that there once were happier times, and that if we allow it to happen, there will be happy times yet again.