A New Orleans Adventure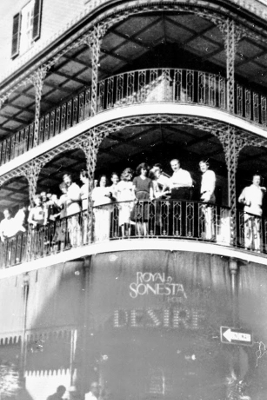 [I took the above photo when I rented that corner suite
at the Royal Sonesta for a weekend party in New Orleans.]
Pete Fountain died last week. I can still remember his appearances on our old black and white TV. (In fact, all of the TVs were black and white back then. It wasn't until I'd been practicing law for a few years before we bought our first color TV.) Pete Fountain was featured on either the Lawrence Welk show or Ed Sullivan's. I think it was Welk. He had a full head of black hair at first, but on each appearance it got thinner until he was bald. My dad loved the way he played what dad called "the licorice stick."
Years later, during the summer of 1963 I think it was, my brother came to visit me at the Houston Yacht Club where I was the head sailing instructor. At the time, my mentor, Ray Bell, was having a financial crisis of some kind, which triggered his old impulse to go on a drunken tear to New Orleans. His wife, Edie, thought it would be best if Mike and I accompanied him. He agreed to pick up all of our expenses. It was Mike's second flight, ever! We were in an old DC-3 flying from Hobby to NOLA. As we were taxiing for takeoff, Ray pulled out the arm rest between us, which was normal in most planes back then, but Mike didn't know that. Ray held it up and exclaimed, "This damn plane is falling apart!" which totally freaked out Mike.
We did a lot of wild things over the next few days. At first, we stayed in a two room suite at the Roosevelt Hotel, and one morning Mike and I heard Ray calling out from the next room. We rushed in, asking what was wrong. "Nothing's wrong," he said. "I just want to know where I am."
At that time, Pete Fountain was still playing at his club on most nights, but the night we went wasn't one that he was scheduled to play on, which is probably why we got in so easily and had a table right up front. In the corner there was a big, rowdy party taking place. We learned that the table was for Phil Harris and some of his friends who were in town to celebrate Harris' daughter's wedding. Eventually, the revelers at the big table got Phil to come up to the bandstand to play a drum solo. He did and was soon joined by one of his guests, Pete Fountain! A couple more people came up and joined the playing, and for over an hour we had ringside seats to watch and listen to Pete Fountain jam with Phil Harris.
Eventually we made it over to Biloxi and the underground gambling clubs. In one of them Ray thought that he'd been cheated and got Mike and I to create a disturbance at the bar for refusing service to Mike, who was only 15 at the time. When we did, Ray grabbed his money back and ran out while Mike and I were being thrown out. After that we went to a big club with a Vegas-like show at which Mike won a magnum of champagne. I had to go up on stage and claim the prize because I was 21 at the time. The show girls shared it with us.
The next morning I was driving our rental car back to the New Orleans airport, Ray was riding shotgun, and Mike was in the back. We stopped a a red light where an old drunk came up to Ray's window and asked for some change. Ray said, "I don't have any change. Too bad you didn't want this though," and he held up a half-full pint bottle of booze. The sad old drunk got down on his knees and said that he only wanted the money to buy some booze. So Ray gave him the bottle and a few dollars as we drove off.
That was the last of my boyhood adventures with my little brother. We had very little time together after that. Both Miguel and Ray are gone now, and it's only me here, talking to this piece of paper. I miss them both, dearly.
[NOTE: This is one of the stories from my new book, The Chronicles of Lorenzo - Volume 1. You may download a free copy of it at https://lorenzohagerty.com/freebooks/, as I have placed this book directly into the Public Domain.]