Mindfulness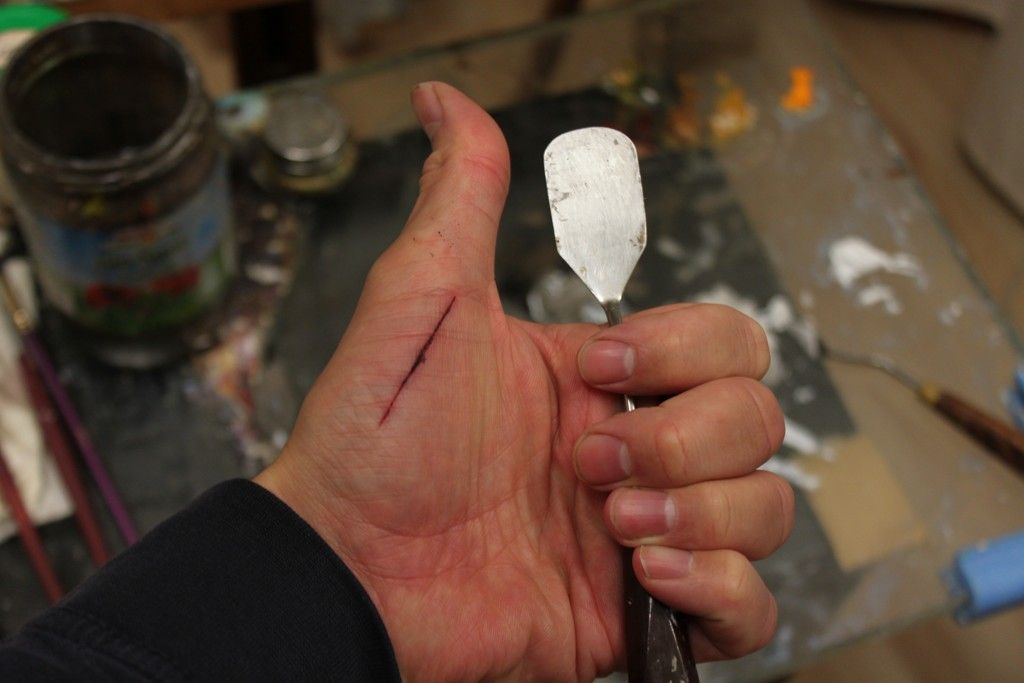 Mindfulness is one of the current trend words in self-development circles. But really, it is nothing new. It has always been around, but most of us in this modern age seem not to practice it. The aim is not to divide our attention amongst other things and be wholly present with are current activity. We do so, we are more efficient with our time and effort and ultimately get more done than by multi-tasking. It also has the added benefit of mitigating mistakes or accidents.
So I present to you the result of my lack of mindfulness. The funny thing was, I was only 10 minutes prior, musing over how relatively sharp the edges of my palette knives have become with prolonged use. Then as I was scraping down a small object, my thought processes were busy elsewhere, and... whoops! Arggg! I was bleeding a very nice shade of crimson. I only had myself to blame.
Almost without fail, anytime I have any sort of similar accident, it is because I am no fully present in the moment, and my thoughts are elsewhere because I am multi-tasking. When will I ever learn? I have also on occasions had close calls, and that has been enough for me to wake up and then continue with my full attention on the task at hand.
The technology, the gadgets, the toys that pushed upon us today by our digital dealers are specifically designed to keep us hooked. Beep! Oh, there's another message come in, I have to check it right now. I don't want to miss out. While not so bad as some of the Millennials I've seen with their noses glued to their screens, I was in the beginning, a relatively well trained monkey.
But after a time, banality saved me. I became disinterested checking so frequently. Then, this year, when I had short errands to run, I started to leave my digital shackles at home. A funny thing started to happen. I noticed that I did not miss it. In fact I revelled in the freedom. It was akin to walking naked down the main street and nobody noticing. It was just so natural.
I now only take my smart (ADHD) phone out with me when I know it will be required. I have given up on the compulsive habit of having my digital pacifier at the ready should I face any sort of boredom. Rather I am engaging with the present moment I am in, even if, not much is happening.
You see, the idea we have been sold since the beginning of the millennium, is that successful people are always busy, always networked and never have a moment of stillness; they're always multi-tasking to get more done. So, you too need your digital key to success and also need to keep up.
But you couldn't be any further from the truth.
Mindfulness, does not come automatically, ever. It requires a conscious decision and will. It is like an instrument, or a sport, you need to regularly practice it for you first master it and then derive any benefit out of it.
So the short of it is, I am going to continue with my practice of mindfulness and save myself pain. I may slip up again, but it will again be a timely reminder, to keep my mind on the task at hand.