I practiced Jiu Jitsu at about 6 years, during that time I already broke the knee ligament (both), my fingers are skinned and the pains on the body are terrible ....
You may be wondering, "But if it's so bad, why do you still train Jiu Jitsu?" After a tiring day at work, it's certainly much easier to watch a show on Netflix and get some rest, right? Not for me. Getting home, picking up my kimono and going to the mat, is what motivates me every day. Even with all the difficulties, I return to learn and I leave the training always a little better than I entered.
This is Jiu Jitsu! It is this disturbing search for evolution. Success, whether on or off the mat, will only be achieved with much effort. Each day that I take my life with this ideal, I am one step closer to my dreams. And just as in everything, my will and dedication are the ingredients that will make these dreams come true.
The reasons why I still practice this sport that I love so much are many. Today I will talk about what makes me get up every day and go back to training. Regardless of the outcome, we all have good and bad days, but it is the persistence that will lead us to achieve the impossible.
Search for perfection
Among the main reasons why Jiu Jitsu training, I believe that perfectionism is one of the things I like most in sports. When we see a technique that we want to perform, whether through a video lesson or a post on Instagram, we begin to understand its movement to apply in training.
Many times, until we understand how to adapt that position to our body, we hit our heads and come to think that the technique is simply not right. But that's not quite the story. By practicing a few more times, we see that the scraping is easier to do or the passage is fitting.
This study of the technique, to apply it in the "roll" (That's what we call a fight), will take us beyond the black belt. The quest for perfection, however with the awareness that it is only an ideal, is what inspires the Jiu Jitsu practitioner to return every day. With great will and persistence, we look at this dream, knowing that we will never reach it. Perfection must serve as a north, but we can not be frustrated by not achieving it.
My body
When I started training Jiu Jitsu I had 96kg. Upon reaching that weight, I decided that in the 100kg I would not arrive. Since I already knitted and in my gym had Jiu Jitsu I went to do some classes. What began as a quest for a more beautiful body, has given rise to a concern for a healthier body.
Quite unlike my motivation to work out, gentle art caught my eye right from the first classes. I started to feed myself better, to have a good performance in training. I also decreased the number of times I quit drinking alcohol (I do not drink any more today). All this to "catch less in training". But over time I got used to Jiu Jitsu lifestyle, and this lifestyle is what motivates me to get out of bed every day. I joined Jiu Jitsu to improve my physical form, but when I realized this sport changed my health.
My mind
Through the course of my walk in gentle art, I gained confidence to face the challenges of life. This sport gave me a strength that I never imagined I would have. That does not mean I'm not afraid of anything. I just started to see the problems with other eyes, beating head-on and believing that I can overcome them (after all, having someone trying to strangle you every day causes us to reassess what is difficult).
On the mat there is nowhere to run. Either you sit and cry or you try to improve. And it is at that moment, at the height of weariness, that you must make the decision that will make a difference in your future, be it in the gym or in life.
My family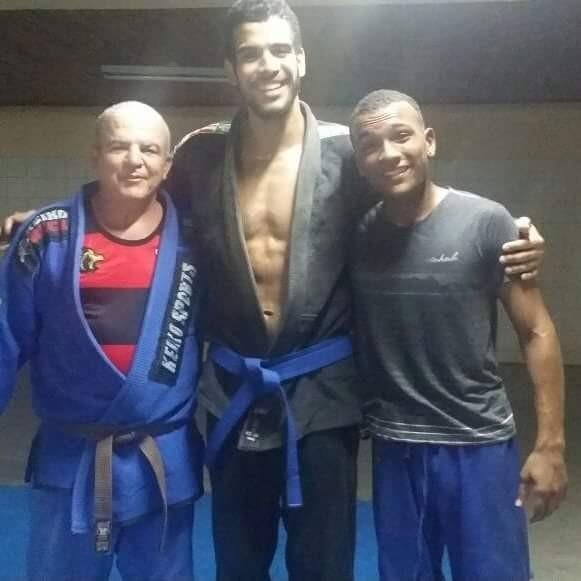 This is my family. Not the one I came from, but the one I chose. Participating in this Jiu Jitsu community is a great honor. I live far from my hometown, so I end up having more contact with my training partners than with my parents. Knowing that I have these brothers, who beat me thinking about my evolution, gives me the strength to continue and move on.
Whether it's training or not, getting to the gym after a stressful day and starting the "review" helps anyone. This escape valve that Jiu Jitsu has made lighter, ready to face tomorrow. And that would not be possible without my brothers. I have great gratitude for every practitioner of soft art, for together we will go further!
By me
I certainly do this sport for myself. Jiu Jitsu saves. From experience I can say that it is true. The gentle art changed my life and I am eternally grateful for that friend who took me to the first class. This was the first step of a long journey.
I traded the college bars for the gym mat. The weekend parties for another kimono to train. And Netflix by Flograppling. Now, if you ask me, I do not regret it for a second. Jiu Jitsu helped me find my way, and yes, today I do it for me!