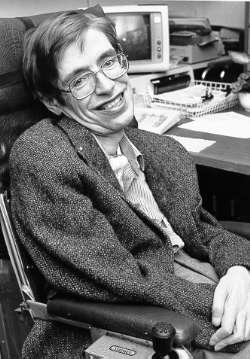 However difficult life may seem, there is always something you can do and succeed at. It matters that you don't just give up.
-Stephen Hawking
Stephen Hawking passed away peacefully at his home in Cambridge today. Renowned as one of the greatest minds of our time, his work in relativity and black-holes will forever change the world of science and cosmology. That isn't all that he's left behind though. His family, friends, and colleagues have always spoken to his witty humor and his bright outlook on life.
Being diagnosed with a rare motor neuron disease at the young age of 22, Hawking was only given a few years to live. Through this illness, he eventually found himself bound to a wheelchair and lost his ability to speak. Still, he persisted. He persisted through the illness, and made breakthroughs in science that were decades ahead of their time.
If we learn nothing else from him, it's that outlook on life matters. It matters that we work to the best of our ability. That we push through the difficult times in our lives to live our best life. Not all of us will be capable of making scientific breakthroughs that will forever change the world.
But.
We can all push to be the best versions of ourselves and leave a positive impression on those around us.
"So remember, look at the stars and not at your feet." - Stephen Hawking