A day full of firsts with a extra special surprise that shocked us all. 😯😯
Today has been one interesting day, WOW still in shock...
As i have mentioned in my previous post me, hubby and Nichola were off to meet my oldest daughter Jessica today for a meal out for her 27th birthday, we were also going to meet her boyfriends family for the first time. I never thought i would get there as i woke up in a lot of pain, everything hurt with having a few busy days, i had to push myself to do it and so glad i did.
We met half way, 30 minutes for us and the same for them, we met in Chiquito's a Mexican restaurant. It was a day of first times as none of us had tried this restaurant either. There was a lot of chat getting to know each other with everyone getting along.
We had a lovely time, we all got a long famously with lots of laughs with plans to meet up again. When we were starting to get our things together to leave Jessica said Mam we are engaged I nearly chocked, my first thoughts were she was winding me up, she meant every word, she had been really nervous trying to find the courage to tell us, I haven't a clue why as she usually tells me everything. Still in shock i didn't know what to do with myself, his mum Sue looked at me with the same shocked face. I then managed to get myself together to go give them a cuddle and congratulate them both.
Once the shock was over with we were all hugging each other happy with the news. We managed to get a photo of us all to celebrate the occasion.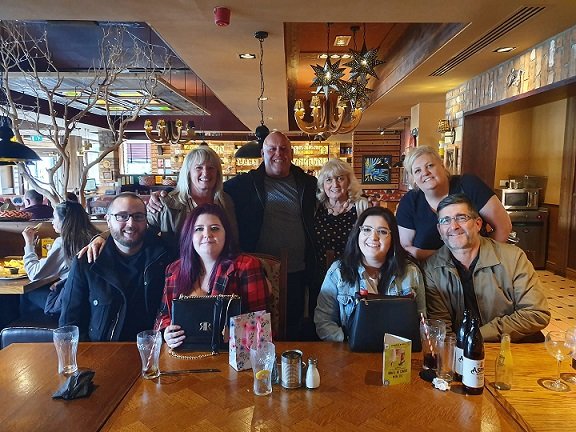 I have never seen Jessica so happy and she has never told me she loved someone, she is totally taken with him as he is with her, they both say lovely things about each other which is lovely to hear. All us mummy's want is to see our babies happy.
On the drive home we were still talking about the surprise, i never thought Jess would ever settle down, she is even talking about marriage and children but i am not going to be holding my breath. Thankfully he would like children. His family love my daughter to bits, she has fitted in really well, I am really proud of her and how far she has come and the beautiful young lady she has become. Now all i need is find someone for my youngest daughter and see her happy too.


Thank you @son-of-satire