Many people let themselves pulled in a routine, working intensively, but at the end they realize they didn't earn anything important. That's why anything you do needs to be driven by a purpose, a goal that means something for you.
Find what you're passionate about and build your activities around it.
Famous athletes, successful people and innovators are always guided by a goal, and this allows them to focus all of their power into one cause. When you have a clear goal it's easier to see your personal evolution and to avoid difficulties.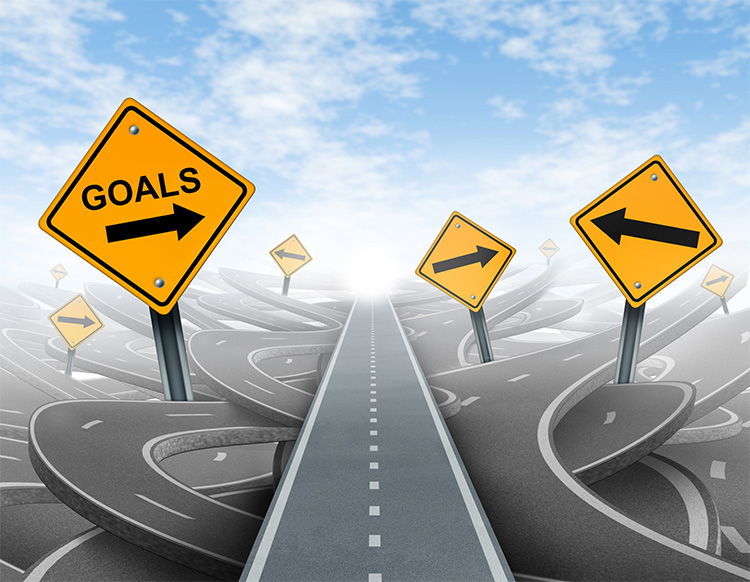 source
Setting a goal has 3 steps. Firstly, create an idea about what you want to do. Secondly, divide that concept into practical ideas that need to be materialized step by step. Lastly, make a plan for you further actions.
There are two types of goals: those on the long term and those on the sort term.
In order to establish long term goals, the first thing you have to do is to analyze the domain that you are going to follow. Ask yourself questions and give answers in time. Here's an example.
Career: What level am I on and where do I want to get?
Financial status: How much do I want to earn?
Studies: What information do I have and where do I have to fill in blanks? Which are the abilities that I need to develop?
Family: Is family a priority for me? How to become a better son/daughter, a better husband/wife or a better father/mother?
Way of thinking: How flexible am I in accepting others' opinions?
Utility: Do I want to be useful for others?
Regarding short term goals, if you have already found out what you want to do, you have to establish a deadline for executing the component actions of your goal.
Based on your own personality and your way of working, choose between one year, half a year, a few months or a few weeks. Take small steps in achieving your goals.
Establish your priorities and follow the necessary conditions for a good goal. It has to be clearly formulated, measurable, achievable and to be framed in time.
---
Thank you for reading! The best comments will be rewarded by steem-bounty!