It can't be a DIY day everyday, even though that does sound like a good idea to me :wink:wink. Life can't be all work and no play, all business and no pleasure, all inside and no outside, all... you get my point. Even though it is tough for me to do sometimes, I have to downshift the brain a few gears and enjoy what is already around me. I'm always looking for something to do, there is always something to do, really there is. If you are a homeowner you know what I am talking about. Especially when you are an ADD - DIY - Handyman type of guy. I don't consider sitting on the couch watching TV as doing something, that is, in my mind, doing nothing. I just look around the house, and see things that I could be taking care of. Like cleaning the garage or shed, washing cars, pulling weeds, sanding the picnic table on the deck, paining the front porch railings and this that and the other.... But not today!!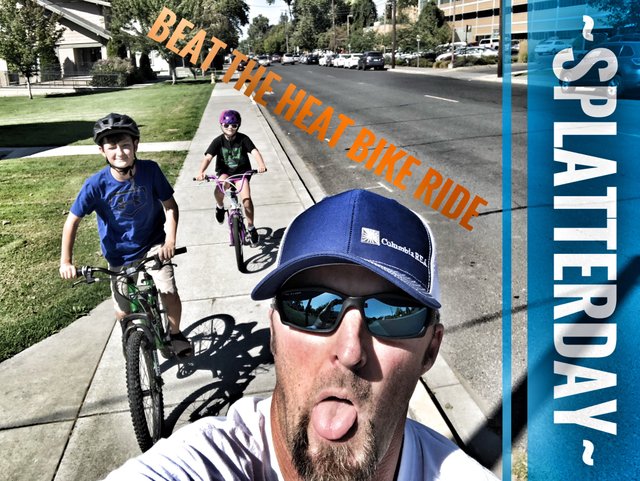 It's my Holiday weekend to be on standby for work. So if the lights go out... I have to go and see what has happened and fix it. Just like this transformer that got hit on Friday. Nobody called about hitting it of course and all the insulating oil leaked out causing a power outage of around 100 people.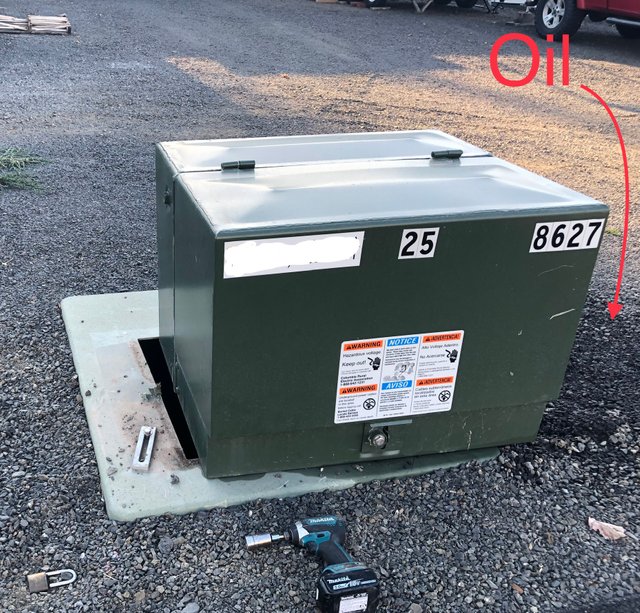 Being on standby I don't really want to get to involved in any sort of project, plus I need to kick back a touch and enjoy the fruits of my labor a bit. Now it is Splatterday (Saturday for you non-Splatts folks) and after a quick outage call this morning at 7am to replace a blown fuse, (Thanks Birdies!!) getting some grub and taking care of our 5 runner ducks, we hit the road on a bike ride.
When the temps are going to be this hot, we try and get out early or take an evening ride. Mama-Splatts was taking care of some stuff, so the kids (@lil-splatts and @kuku-splatts) and I took to the streets on our bikes for a little exercise and some fresh morning air. It is suppose to be 95 F today, I'm just glad it isn't 100 F!!
With a college campus and a couple other schools close by we planned a route that would give us a few watering holes to stop at. I know, I know... get some water bottles! We haven't quite reached that level of bike riding yet. I believe the water bottles come when you start sporting the spandex and have those fancy click in shoe deleos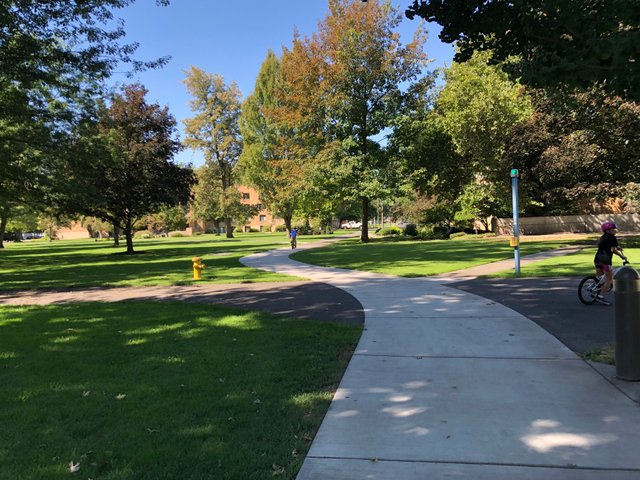 Through the college campus first, in and out of the shade left by the huge trees. This campus is super nice and well kept. In the evening it is so nice and relaxing to take a stroll down the different walking paths. Let me see if I have an old photo, hold up.... There is one with our dog Sadie and some weird sailor guy statue thing...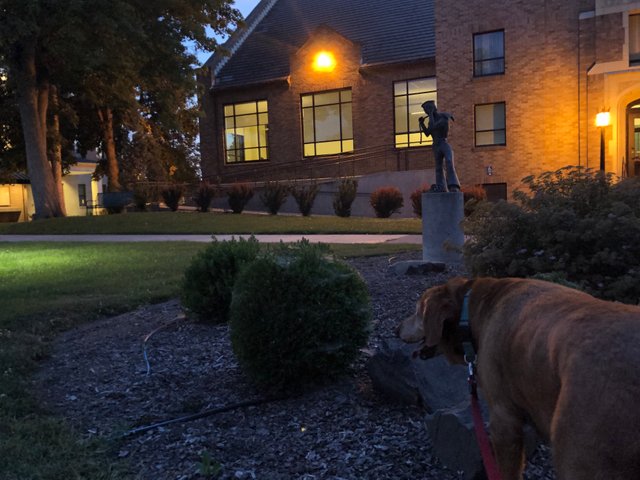 After going down some stairs and playing some follow the leader, we hit the new bike lane they built. We just couldn't help it and we started weaving in and out of the reflectors. Seeing how fast we could go without hitting them. I think @kuku-splatts' glasses were starting to fall off a bit, don't you?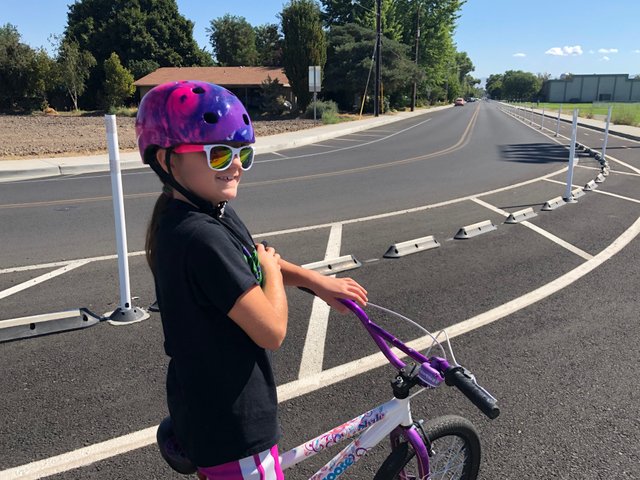 Just a few more blocks to go and our first watering hole will be in our sites. Man, it takes me back every time we go for a bike ride. My friends and I would ride all over town all summer long. Kind of like those kids from the movie The Sand Lot hitting the public swimming pool, playing baseball and getting into trouble having a ton of fun. When we needed water we would just use the hose bib on the front of someone's house. Hey, we were thirsty and it was blazin' Hot outside and nobody cared back then. Shoot I don't even remember if we actually sat down and ate lunch. We had stuff to do, it was summer break!!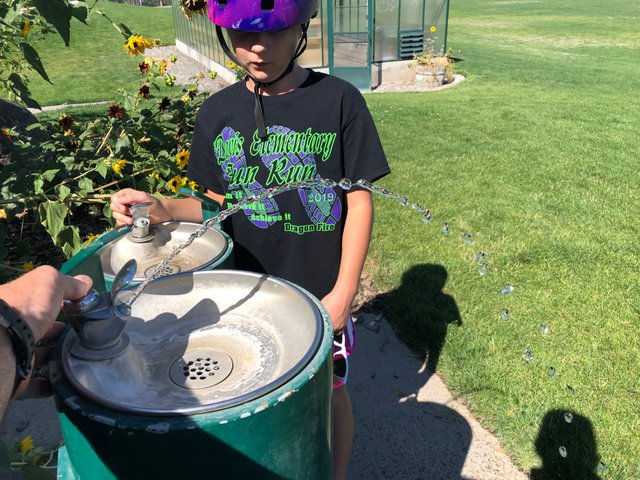 A little extra pressure never hurt anybody. Better than having to suck the water out of it.
After giving out butts a break from our seats and getting a good drink of water, we hit the bike path toward our next watering hole. By this time we did manage to get a little complaining going on but with a little encouragement we arrived and everyone was alive and well.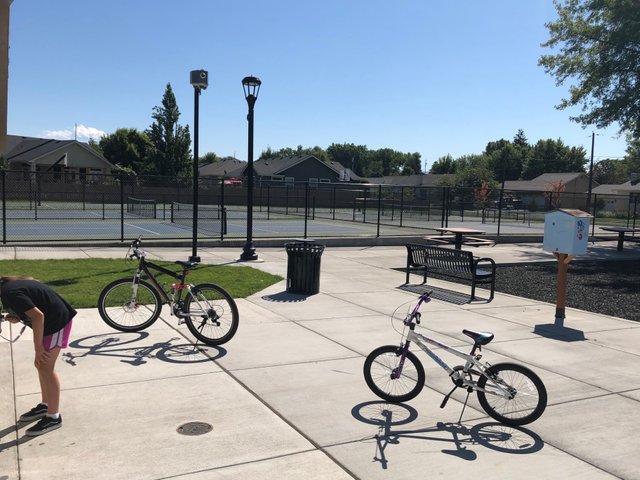 The boy was chilling in the slide in the shade. He bombed his bike into the grass and gave it the ghost ride and laid down in the slide. He was hot LOL.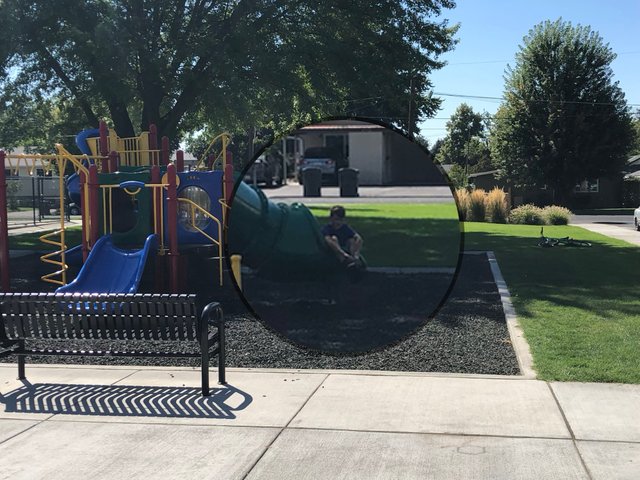 Now we are headed on the home stretch. I bet we have probably traveled about 150 miles at this point. I really don't understand why these kids are complaining. HAHAHA Then it was back through the college campus headed towards the house.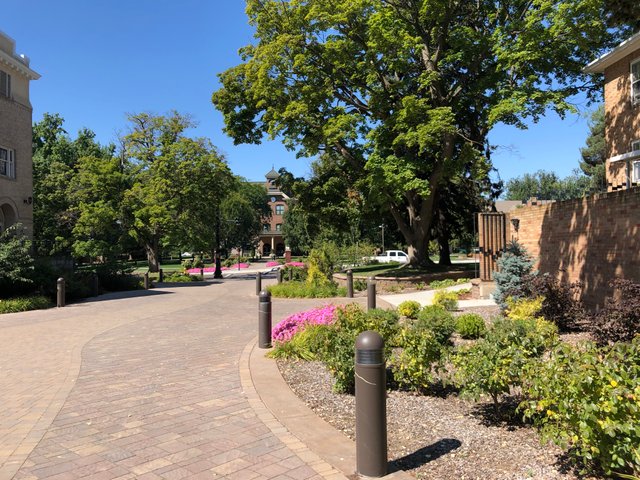 Well Well Well looky who we ran into....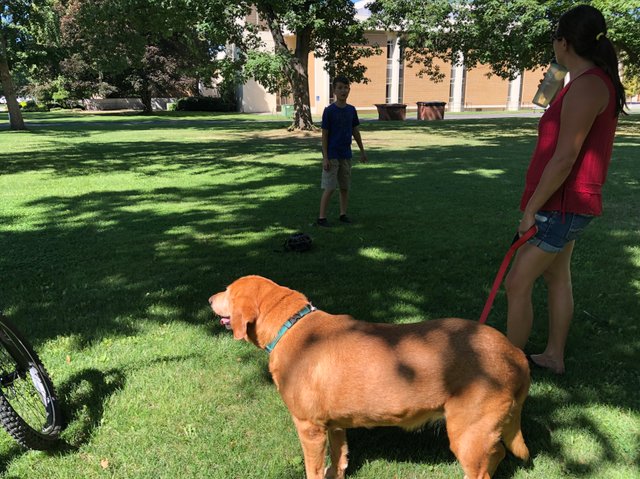 Mama-Splatts and Sadie... "Hey Fancy seeing you here"
It's starting to heat up by this point. I'm beginning to think we should have hit the road earlier. At least we only have a fire more block to go. Then there is something nice a cool waiting for us there. *OOOHHHH
Dump the bikes in the garage, and like Superman POW in the swim trunks and in the pool!! Now that is what I am talking about!!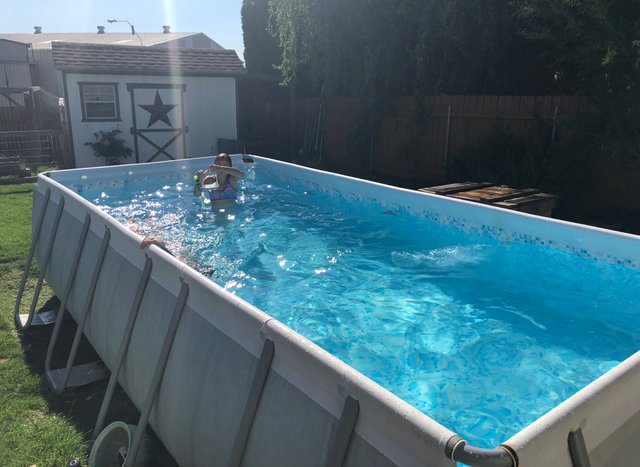 Life is Gooooooood
We played a little game to who could gather the most pennies from the bottom of the pool. I tell you what, it's a lot harder than you think. Especially with my construction worker hands. I couldn't hardly pick them off the bottom of the pool. So ya, I might be able to hold my breath for a while but I could pick up those pennies worth a shhhhh.......
So let's move on to a game I am a little more familiar with... something old school... classic... brings back childhood memories...
Super Mario Bros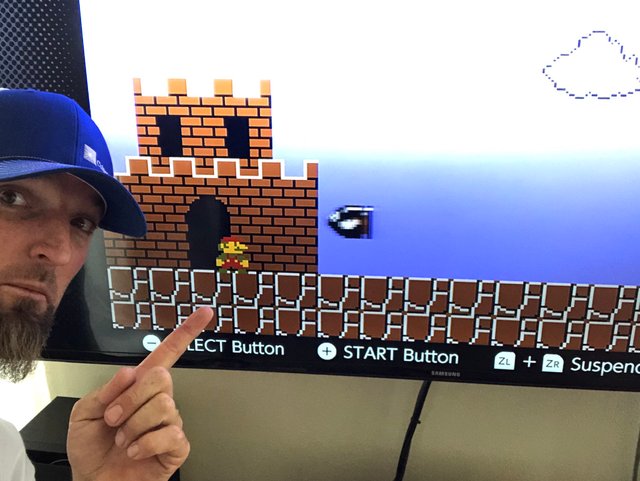 The original is still alive and well!! I had to demonstrate my skill and show the kids what video games used to be like. Ya, when you die... you start over at the beginning. Duuuhh Fortnite... Minecraft... let's get real... real old school. They watched me play and take a few short cuts hitting those warp zones. You know what I'm talking about. Hahaha my son was like, "Hey that's cheating!!" I was like, "Dude, you don't even know the lengths we would go through to find cheats for games" Gamepro Magazine Helloooo... I never got those but I knew someone that did.:wink:wink
For some it may be Thursday, but for me it is Wednesday night. This all happened on Saturday... so ya, it takes me a bit to get the time to put this stuff together. A little here... a little there and Ta-Da there you have it folks. A day way from the DIY always busy stuff, to a 150 mile bike ride, some swimming and a little Old school gaming with Super Mario Bros. Now that is tough to beat right there.
Until Next Time...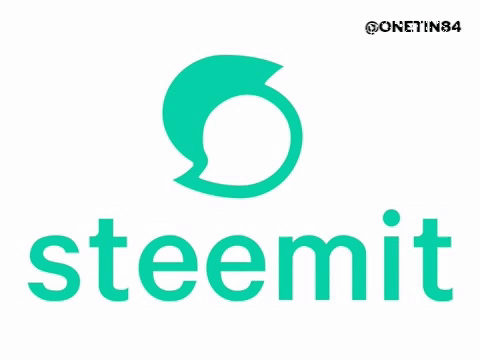 Steem On
and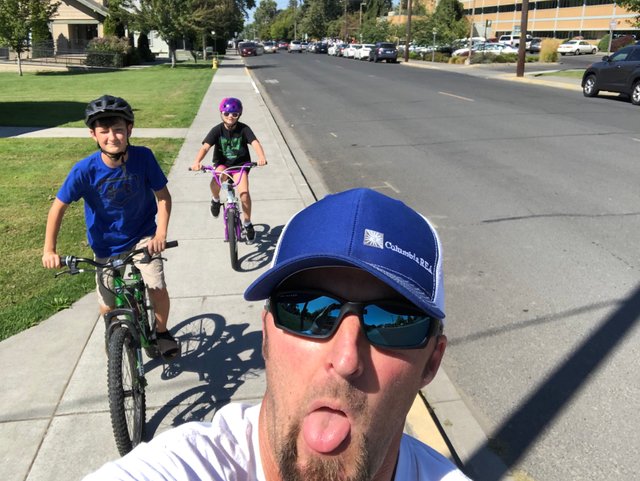 Relationships are more important
Than
The Task or Project




Don't forget to mention @splatz
when you encounter a post that deserves a good Splattin'
by the @splatz trail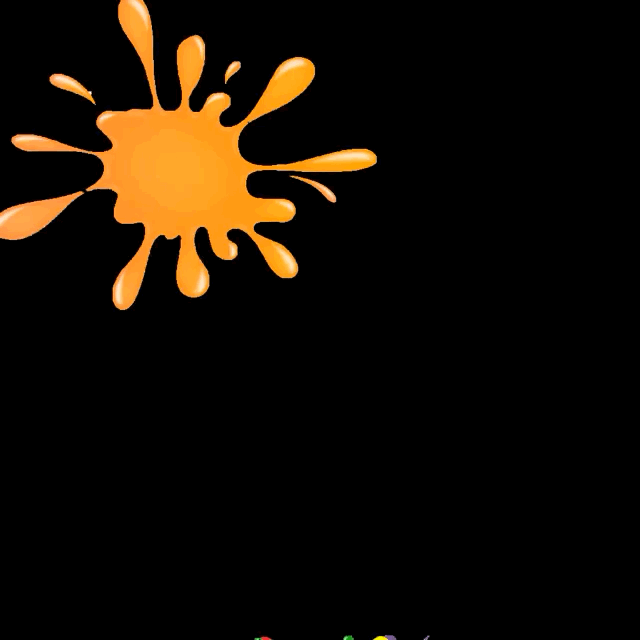 Don't forget to
Join the @splatz trail
On Steemauto.com