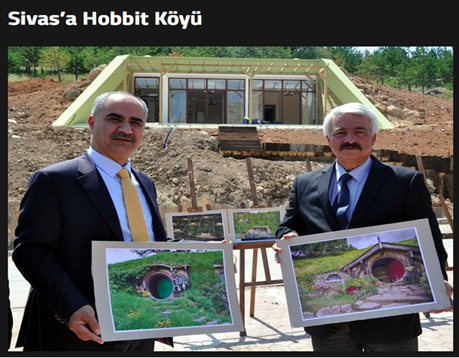 ADI 'HOBBİT YAMAÇ EVLERİ' OLACAK
Sivas belediyesi, dünya genelinde John Ronald Reuel Tolkien yazdığı, Peter Jackson tarafından sinema filmi olarak çekilen ve izlenme rekorları kıran "Yüzüklerin Efendisi" ve "Hobbit" film serisindeki hobbit karakterlerinin yaşadığı evlerden ilham alarak Paşabahçe Piknik ve Mesire Alanı'na yamaç evler yapmaktadır. Henüz inşaatı bitmemiş bu dağ içine gömülü evler şimdiden halkın ilgisini çekmeye başladı. Belediye Başkanı isteğe göre dağ yamacına 50-100 "Hobbit Yamaç Evi" yapmayı planlıyor. Bu dayalı döşeli evler, haftalık ve aylık olarak kiraya verilmektedir. Bu küçük tepeler içine gömülen evler kent merkezine 5 kilometre uzaklıkta inşa edilmiştir. Yapılmakta olan yamaç evler 65 metrekarelik olup, mutfak, banyo, tuvalet ve yatak odası bulunmaktadır.

TATİL KÖYÜ HAVASINDA OLACAK
Konutlar tamamlandı ve alanda peyzaj çalışmaları devam ediyor. Şimdi ortaya o harika asıl görüntü çıkmaya başladı. Göründüğü gibi çok otantik, çok ferah evler. Buranın ciddi şekilde ilgi göreceğini düşünüyorum. İnanıyorum ki başlı başına Sivas'a bir değer katacak. Turizm noktasında ilgi çekecek bir alan. Bu evler 1 ay gibi sürede tamamen bitmiş olacağını düşünüyorum. Bence önemli olan güzel şeyleri ortaya çıkarabilmektir. Burası insanların 3- 5 gün doğa ile iç içe ve her türlü şehir stresinden uzaklaşacağı, kafa dinleyeceği, kitap okuyacağı, şiir yazacağı mekan olacaktır. Tam da projenin hedeflediği bu olsa gerek. Bu alan ayrı bir tatil köyü havasında olacaktır. Şimdilik 17 adet ev var ve özel bir bölüm oldu. Projenin diğer bir hedefi ise; ileride farklı bölümleri de buna ilave etmek.

THE ADI 'HOBBIT PUBLIC HOUSES'
The municipality of Sivas is making slope houses in the Paşabahçe Picnic and Recreation Area, inspired by homes written by John Ronald Reuel Tolkien, hobbit characters from the series "Lord of the Rings" and "Hobbit" filmed by Peter Jackson as a motion picture and breaking records. The houses, which have not yet been built yet, have already begun to attract the attention of the people. The mayor plans to build 50-100 "Hobbit Hillside House" on a mountain slope at will. These paved houses are rented on a weekly and monthly basis. The houses buried in these small hills were built 5 kilometers from the city center. The slope houses being built are 65 square meters and have kitchen, bathroom, toilet and bedroom.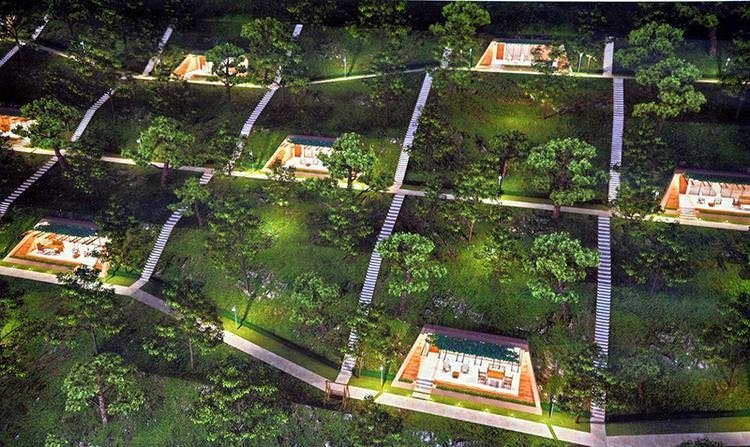 "HOLIDAY VILLAGE WILL BE IN THE AIR"
The dwellings are completed and the landscaping work is continuing. Now that wonderful real image has begun to emerge. Very authentic, very spacious houses as you can see. I think this is going to be of considerable interest. I believe that it will add value to Sivas in itself. It is an area of interest in tourism. I think these houses will be completely done in a month or so. I think it's important to be able to reveal good things. This will be a place where people will be away from nature and all kinds of city stress, listening to their minds, reading books and poetry. That's exactly what the project is aiming for. This area will be in the atmosphere of a separate holiday village. Currently there are 17 houses and a special section. Another goal of the project is; to add different parts in the future.