I'm writing this so we don't have to hide behind our computer screens and think... we're different.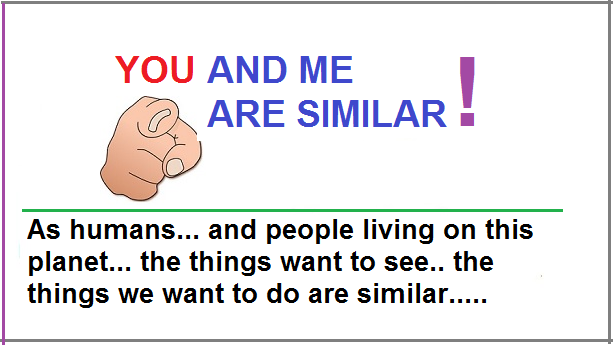 Tell me I am wrong in any of these points:
---
You work hard, more than you wish you had to...

You worry more, than you want to...

You don't feel comfortable yet in life... for one reason or another...

You want to get to a point, where you wake up in the morning, and that day, is a day to be enjoyed... in a relaxed state... with no worries about life, bills, society, family, the world in general.

Being old, and retired, still has its fascination. One day I won't have to work. One day I can read all the books I want. One day I can eat my breakfast and not worry about where my next meal will come from. One day I will be fully retired... to enjoy life, and no longer worry about life...
---
SEE?
That is how you and I are similar. I work hard today, so I can enjoy that point in my life (still to come) where you and I can both live and enjoy life... and not work or worry about anything. Afterall, that is what the gift of life is suppose to be.... to enjoy yourself.
Someone might ask me... are you enjoying life? Having fun? Smelling roses?
Sure... sometimes I have memorable life moments that I treasure. I just want more of those.... and more often.
...and so do you...
...however, while the economy and world is in turmoil, and cash is scarce... happiness today seems to be this:
paying your rent or mortgage successfully

being able to afford food and groceries

Keeping on top of your bills... staying connected to the internet, and have your phone work.
NO! NO! NO!
Life is not suppose to be about paying rent, mortgage, groceries, food bills, or internet and phone bills...
...but as long as those things are intact... we often think... "at least we can strive to get those done".
Fine.
I do the same.
I've had moments in my life, where I've had to buy expired food at a discount. Showered in cold water because the gas bill wasn't paid. Points where my internet was cut off. Points where I couldn't afford my phone bill... and points where I didn't know how I'd live the next month.
....each month can be a challenge. Each year can be a challenge.
I'm not a sob story... neither is yours. To prove that... people I meet in person, when we're talking about current events, I'll pose an innocent question "How is the economy treating you or those you know these days?".
That's when they unload. The truth comes out.
You can walk beside someone. You can meet someone for the first time. Everyone acts like the world economy is not affecting them. It is.... The world economy is affecting everyone in some way.
Know of, or heard of someone that had, or is dealing with cancer before? YES

Know of, or heard of someone that had, or is dealing with tough financial times? YES
That's right! You can have physical cancer, or you can have tough economic times. Neither one is better than the other... because tough economic times is not an easy situation.. It breeds stress and disease... and heartache.
So...
Most people are good, and want the same things in life.... is a true statement.
We all do... and that's the way we work and live our lives everyday.
You and me, are very similar.
We all want a better tomorrow. We all want a better next week, and we all want a good year.
We just want to enjoy life. We want to get to a point that we can do that...
So while you go through what you do, and I go through my own struggle... maybe one day when things get easier.... for us both... you may never know this....
One day some person may walk up to you and chat about steem... and introduce themselves as @intelliguy
You will never expect when that could happen, but if it does... and we'll smile and talk... and we can enjoy life together for that moment. :)
I like that idea. I hope you are open to it.
Cheers friends -- from afar....