In tough financial times, depression is easy. AVOID THAT - BY DOING SOMETHING DIFFERENT -- WATCH THIS!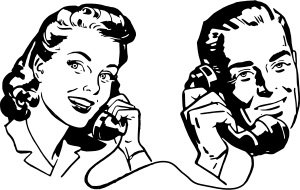 I had a bad day today
Started the day with checking my bank account balance
Next, I checked my cryptocurrency account balance
I then looked at coinmarketcap
I then looked at my steem earnings...
.
....yeah... the happy days of everything coming easy, going up, and up, are stalled at the moment.
.
If you have been in crypto for a long time, you've felt the wave of "happy times" where everyone is making money. You've also felt pullbacks, corrections, and just waited a few weeks, and things became "happy times" again.
Right now, crypto, the economy, and your life, the way you remember, might be in turmoil right now.
HAVE NO FEAR - A PHONE CALL IS AVAILABLE TO YOU

What does that mean?

How is a phone call going to fix anything?
OMG. The fact I need to even write this... and know someone will gain a benefit from reading this... makes this one of the pink elephants in the room.
It is true.
YOU KNOW
AND I KNOW
ABOUT 20 PEOPLE that we haven't talked to in the last few months...
....and we don't talk to them....
Unless we have super exciting news....
Or super dreadful news....
To prove that...
Ever get a phone call in the middle of the night, by a cousin, a relative you haven't talked to in such a long time, and they say "Just calling to let you know XYZ just died"
Or in the same way...
Ever get a phone call, unexpectedly by someone who says, "I am calling you to tell you XYZ has just been diagnosed with this...."
See? People seem to know "who to call", and "what to say" in times of severe trauma...
What doesn't happen is people knowing "who to call" and "what to say" in times of depression.
Depressed? Even slightly? Look at your phone. Study your contacts...
Who have you not talked to within the last month?
CALL THEM.
Not to tell them someone has died, or someone has been diagnosed with something.
JUST CALL THEM.
You might be wondering right now "Why would I call them?"
Here is why I want to slap your daze back into existence...
Could it be?
They want to hear from you? They've been thinking about you too?

You genuinely haven't talked in a long time, and don't need a reason to know how they are doing?

Death and disease shouldn't bring people out of their shelters. Even time passed of not hearing from someone should...
OK @intelliguy -- I haven't heard from my cousin/friend/brother/relative/co-worker for a very long time. I'm going to call them now.... do what you said.... what may result?
OMG -- BELT YOUR SEATBELT ON. GET READY.
You get a great conversation for "free". A smile on both your face, and theirs too.
...the only cost was....
You initiating the conversation. That's it.
...and after you hang up the phone... you both will walk away from a great experience.
The person you called will say "wow! I didn't even think they were thinking of me"
You will say "I'm surprised they were so happy to hear from me"
...and it is this exact disconnect in life - every single person on your street, in your neighborhood is guilty of... all of the time...
People -- while we are here to enjoy life... Go ahead, and use the phone system to call those people you haven't called in a long time. After all... what is the point of having contacts in your phone you never, or rarely, use?
---
I'm @intelliguy who runs @intelliwitness as a steem non-top50 witness node -- I write for my readers, and I witness for the steem blockchain itself. I can't go very far without your votes for my posts, or votes for my witness...
...at the end of the day, it is YOU, who reads this... that decides how much of me, or how little of me you want to see.
Cheers friends!