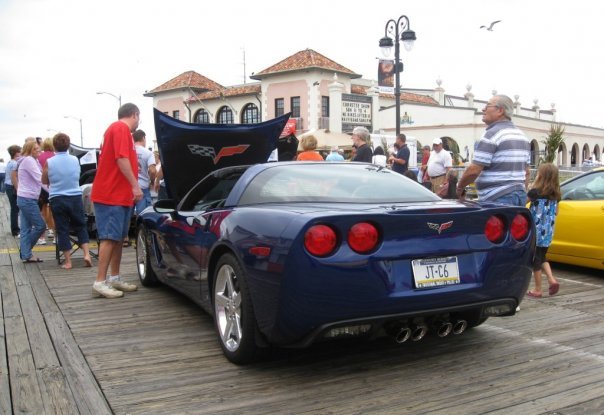 Anyone from the New Jersey or Philly area should recognize the scenery in the background on my beautiful ex-car on the Ocean City, NJ boardwalk for the Boardwalk Corvettes car show that they hold annually. It is a nice show because the town is family oriented (to an extent). It is a "dry town", which means there are no bars and you can't buy alcohol anywhere. It is also a small town and you can go buy alcohol is any neighboring town in less than 10 minutes though and bring it back into Ocean City, NJ.
Once a year, they have a whole parade of car clubs come up on their Boardwalk. For those who don't even know what a boardwalk is, it is wood decked wide sidewalk of sorts either layed directly on the sand of a beach, or elevated above the beach for high tide purposes. One side gives you access to the beach and ocean, the other has shops for ice cream, arcades, clothing, souvenirs. It is fair to say that the boardwalk and beaches are the busiest places in OCNJ.
Over 300 cars were allowed to drive up onto the boardwalk where people normally walk and show their cars for the day. The nice part about this show is that they don't give out trophies for things that other car shows traditionally do. Those usually end up being award to a club member of the hosts of the car show club or to simply someone who did the best job washing their car that morning. Instead, they choose funny prizes and they don't tell people in advance what the categories are. If you recall the TV show, "Let's Make a Deal" with Monty Hall and now more recently hosted by Wayne Brady, prizes are awarded for just about anything.
Some of the categories are things like spookiest car, ugliest car, most stuffed animals car, most stickered car. I think you get the idea. People end up showing up with all sorts of crazy themes from the past or that are original in hopes of winning a trophy. The might decorate their car with all sorts of Hawaiian things, and there will turn out to be no tropical themed prize. It's all in good fun. You are definitely NOT ALLOWED to drive your car on the boardwalk at any time, except for a show like this.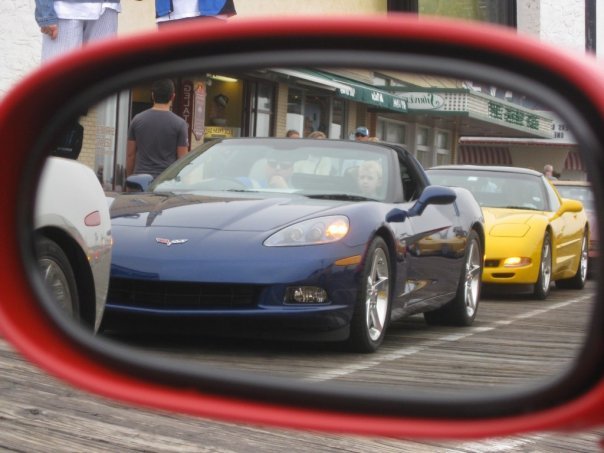 This was me, as viewed from one of my friend's, who was in front of me in their rear view mirror as I drove up on the boardwalk to my final assigned resting place for the day.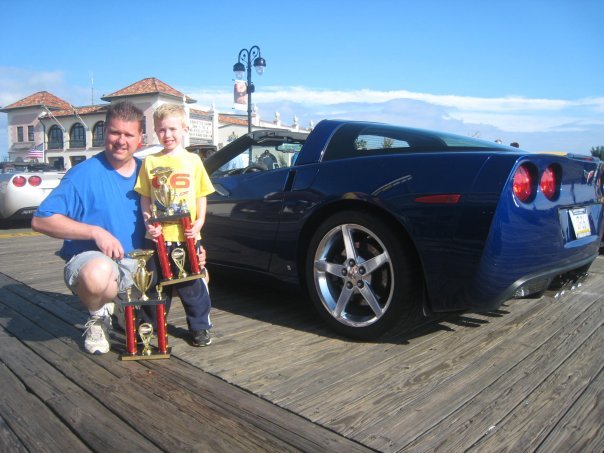 I ended up getting a trophy, quite by accident, as my cars are usually adorned this way all of time with police logos. I am not a cop but most of my family is. I ended up winning a trophy for having the most police stickers or emblems to avoid getting a ticket. It was funny. It is the only car show trophy I've ever won. I never did them to win a trophy. I just did them to talk to people.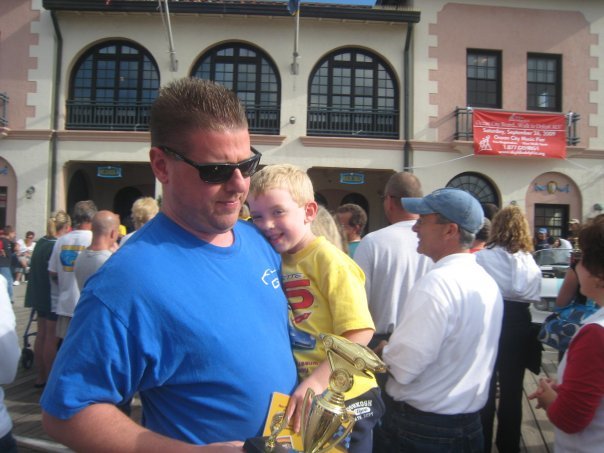 My son also got a trophy as you can see, for being "cutest boy co-pilot". This means he drove up onto the boardwalk with me during the parade portion and waved to people. Apparently, they do this prize every year and lots of people put their child in the passenger seat to try to win. I didn't even know that. He was very shy about walking up get it, so I picked him up and took him up to the front of the crowd to get it for him. He still has the trophy in his room, many years later.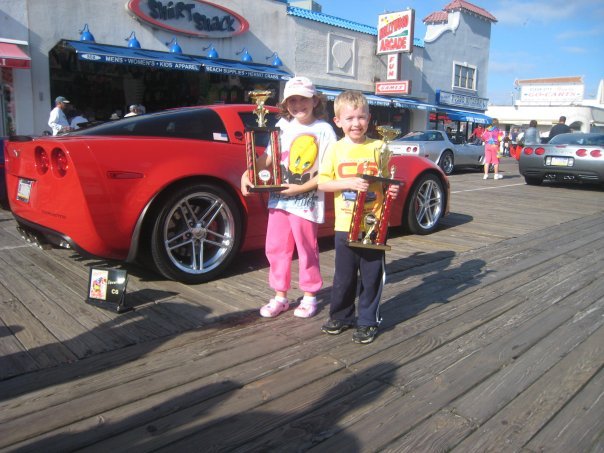 This is him with the girl "cutest co-pilot" standing next to my friend's car. This also gives you some background perspective of what the boardwalk looks like with shops and stuff.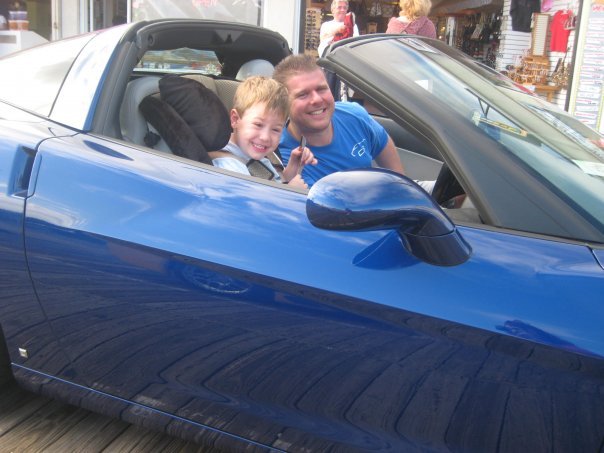 I had to give my other son the honor or driving off the boardwalk when the show was over. I think you can see from the smile on his face how happy he was.
This is a follow on to my other 2 related posts this week about stuff like this if you care to have a look:
https://steemit.com/blog/@inspire1/corvette-days-are-gone-but-not-forgotten-for-me-due-to-divorce-crypto-was-one-of-my-ideas-to-help-rescue
https://steemit.com/life/@inspire1/more-pocono-raceway-corvette-days-gone-but-not-forgotten-photos-and-memories-my-financial-demise
I welcome any questions or comments. Thanks for looking.