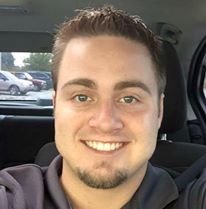 Image used with permission from personal file
Dear Ben,
It's been three years. Three years since we lost Jackie. Three years since we lost Daniel. It's also been three years since we lost you. All of this within a four-month time span. It sometimes feels so surreal to not have you call me on FB instead of my cell to ask me a silly question. There's so much that we need to catch up on. So many things have happened, yet stayed the same. Words can't describe what your friendship meant to me and still does to this day. I sometimes still find myself having casual conversations with you.
I remember that today also marks the anniversay of frontman Scott Weiland's death and how I couldn't wait to get to work that night to talk to you about it and watch episodes of The Walking Dead during the slower parts of the night with you and Paul. Instead, I remember getting a phone call around 4 am asking me to come down to work because I was needed. I hesitated at first because I had a gut-wrenching feeling something was wrong. I wasn't expecting it to be you.
So many questions have crossed my mind about that night. Why did you decide to go to that party? What exactly happened? Everyone has heard so many stories that we honestly do not know what happened except that some guy murdered you during an altercation, but we all know that wasn't your style. So what happened?
You were so young. You were like a younger brother to me, but you still taught me so much. You taught me that it was okay to have fun and let my hair down, literally. Today, in your honor, I wore it down, in a low ponytail, slightly to the side instead of pulled up. I remember you always told me to let my hair down and wear it different ways and thought I was being lazy by just pulling it back or up. I also remember telling you that I was there to work and not find a husband or boyfriend and you would laugh at me so hard.
I remember how you would give me money and send me to the store when it was someone's birthday and I would make everyone a birthday dinner in the small kitchen at work. I remember that even when you were suspended from work, you still showed up with your fried turkey as promised so we would all have something to eat on Thanksgiving while we had to work. You were so kind-hearted but never wanted to admit it.
I also remember the many morbid conversations that you, Shawn and I would have, like songs we would want to be played at our funerals and how we would want things played out at our funerals. I am so sorry that I did not attend yours. I tried. I really did. I was dressed, in my car, and sobbing, but I just could not bring myself to go. I couldn't see you in that state...lifeless when you had so much life in you.
Your love for The Rolling Stones still lives on. And while I know you said you wanted "Beast of Burden" played at your funeral when we were all talking, I'm sure they didn't play it. But I assure you that I listened to that song on repeat all day that day as I weeped over you and how much your friendship meant to me. You are truly missed by so many and so many people loved you and just being around you. You were never a burden, my friend. You are missed and thought of very often by so many.
I miss you and miss our crazy conversations we had at work. I left not long after because I couldn't take the heartache of losing so many people all at once. Too many people in such a short time and my heart just wasn't in it. I'm not strong like you were. I feel weak because of that but I think it was a good decision for me mentally.
I miss you. I miss the good and bad times. I miss the hectic and slow times. I know that you had a rough patch with your ex-wife and best friend, but you survived that. You survived so much and your life was going so well for you. We were all so happy for you and your new girlfriend. I think she still misses you quite a bit. I don't think she has moved on since you left.
I feel like I'm writing a novel here and you would tell me to be quiet already, so I'm going to say "talk to you later" for now. But I am going to leave you with a song from your favorite band.
Ilsa