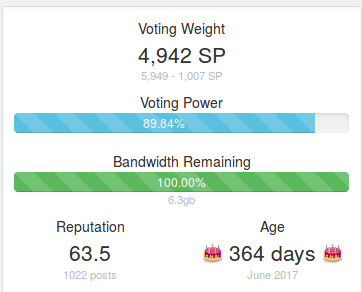 One year ago I arrived on steem. If you want to dig through my old articles, I first came on steem just to try to make articles about tutorials on various things namely technology, personal development gaming and other things. This kind of failed pretty hard because I foolishly thought that people would just notice me without me doing any marketing or talking to anyone.
I was still extremely motivated and tried to push articles daily. But I am a programmer, not a writer and so this was not exactly what I liked doing.
I came pretty close to stoppping just because earning 0 to 10 cents an article with like 0 comments and views (that was a thing at the time) felt like a waste of time. So I went over a big overhaul of my blog :
https://steemit.com/introduceyourself/@howo/changing-my-account-core-subject-to-machine-learning-programming-bots-and-blockchain
Tl;dr I stopped being a random writer and wrote about what I'm good at : programming.
Which was met with a relative success. At the same time I started to be more social, I met @fredrikaa for some beers around that time, and discovered the @steemstem initiative which is basically one of the reasons why I'm still here because I would have given up if it were not for them. I also met a lot of folks on steem.chat on various channels (rip gen2 :'( ) Which truly gave me the "social" part of steem. I still talk to them regularly today and if you guys read me, I love you :)
Then suddently utopian arrived and programmers like me were now praised and eligible to massive rewards which motivated me to actually start to dive into steem programming using steemjs (I did a bit of steem programming with piston steem before that), which was not an easy ride at the time.
It led to a lot of projects, one of the first ones was steemgifts which was my first big collaboration with @fredrikaa around december : https://steemit.com/christmas/@fredrikaa/introducing-steem-gift-cards-a-fun-way-to-give-someone-steem-for-the-holidays
After realizing how annoying it was to learn steem programming, I went and created steemsnippets : https://steemit.com/programming/@howo/introducting-steemsnippets A collection of snippets to provide easy examples for novice programmers to find how to do x or y. Repo which is still maintained today.
And after working on various projects and trying various things we struck gold with a simple idea : What if it was extremely easy for wordpress bloggers to come to steem via a plugin ? And there was born SteemPress
I'll quickly skip some details but now after month and thousands of hours of work put into it, we got a sizeable support in the form of a delegation from steemit inc which means that we can now actually live from steem. And suddently my well traced path of "oh I'll just continue to work at my company or perhaps move to another one". Changed to "Now I am going to work full time on steem"
And I would have NEVER EVER thought even for a second that this would be my reality today. But it is now, I am quitting my job in august and will be full time starting september working on steem.
I could never have done it without all of you people that I can now call friends and that I have even met in real life for some of you over multiple events all over the world including a meetup at the CERN with steemstem.
So thank you a lot :
@fredrikaa @fukako @acidyo @m31 @tarazkp @reggaemuffin @suesa @mobbs @zest @pharesim @eveuncovered @escapist @beercake @geekpowered @rubencress @elear @anarcotech @ashtv @starkerz @anarcotech @lemouth @planetnamek @elliotjgardner @scipio @JulieNBH @apsu @zonguin @crimsonclad @kingswisdom @foundation @erodedthoughts @futurethinker @gtg @lemony-cricket @saywha and a lot of others (don't feel bad that I didn't include you I started to make this list and I realized how many people I actually needed to include and I was like "oh my god fuck that")
Steem has been way more than just a blogging platform for me, it has quite litterally been a life changing place for me and I would like to thank you all for being there and being so awesome :)
Steem on !