I usually don my Realtor hat and work all weekend, but I decided to lay off this weekend because my spouse is out of town and I have a cold (thanks, daycare kids!), so I have enough on my plate as it is.
Baby D took a super long morning nap, during which time I finished reading Mean by Myriam Gurba . I don't read nearly as many books as I'd like to, especially non-academic books, and Mean did not disappoint.
I even read it in physical format. Hella anachronistic, and totally pleasurable.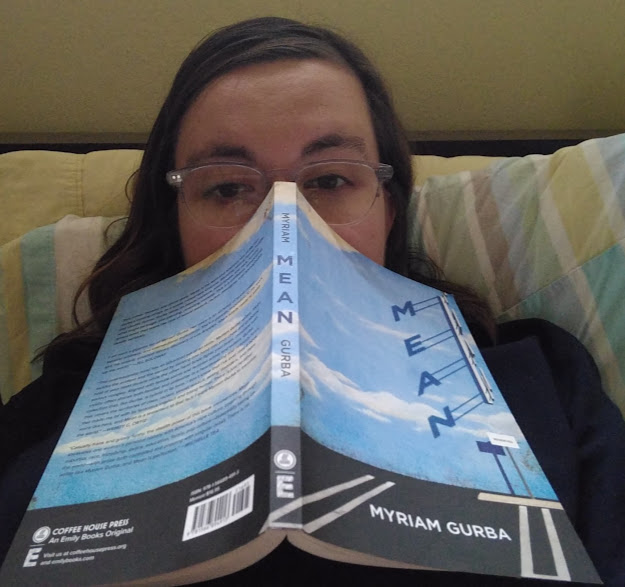 me, in all of my clear-frames glory. my eyes were more symmetrical before i was a parent, but my eyebrows have always been this bushy and always will be
Inspired by my good feelings, I cooked up a plan to procure another recently-published physical book: Girls Like Me by Nina Packebush. It's a novel about a queer, pregnant teenager. I'm usually not into plot-driven ficton, but hey, that's enough to get me intrigued. There are so few compelling queer parent narratives out there, plus, being 26 when I gave birth, I often felt like a teen mom amongst the wealthy, white Brooklynites I encountered at prenatal yoga and postpartum coffee dates.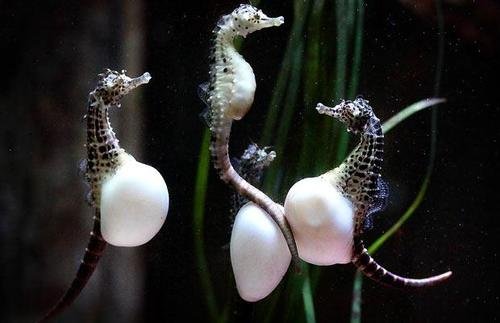 When Baby D woke up we took a walk to the incredible independent bookstore Walden Pond. It's a well-stocked, well-curated store with a broad range of intellectually rigorous trade books and academic presses. New + used, and while the used books are often dated they are treasures unto themselves. Bonus: there is an epic kid's section, full of progressive and bilingual books, PLUS a baby-suitable play space. I mean honestly, this store is so good that it makes me feel ashamed about all the money i spend at ye-online-behemoth-who-shall-not-be-named.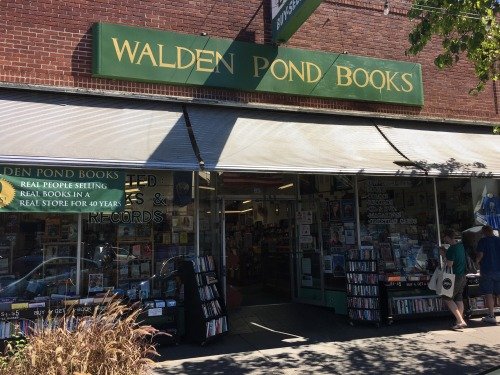 Sadly, Walden Pond did not yet have the book about the queer pregnant teeanger because the book is so recently off the presses. So I browsed the shelves and found a used copy of Chris Kraus's Where Art Belongs (2011). She's a feminist artist, writer, and critic whose most famous monograph is I Love Dick, which is now--unfortunately--a TV shows produced by Jill Soloway (no, i am not a fan, if you like, I can write more about why not at a later date). Anyways, I've never read I Love Dick, and I probably never will but I have deeply enjoyed a lot of Kraus's other works, especially Aliens and Anorexia.
Meanwhile, Baby D got a Spanish language board book. We've got a whole orange theme going on.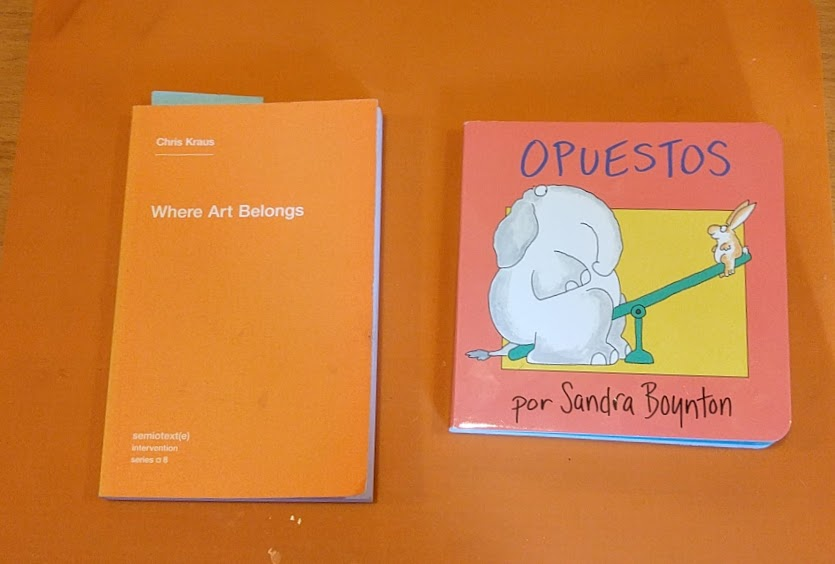 The whole outing was pretty much a total win because it addressed many things i've been trying to work towards lately:
Directing my spending away from multinational corps and towards small, local businesses
Getting a little bit of exercise
Doing low cost activities with Baby D that we both enjoy
Reading more in general, and especially reading more physical books. I love the internet as much as the next nerd on here, but I think there's something very restorative about laying in bed and fingering paper.
Speaking of which...I'm off to go read ;)
& for when I return: What's the most recent book you read? Would you recommend it?