Do we really have nothing better to do than to crucify people for things they said nearly a decade ago?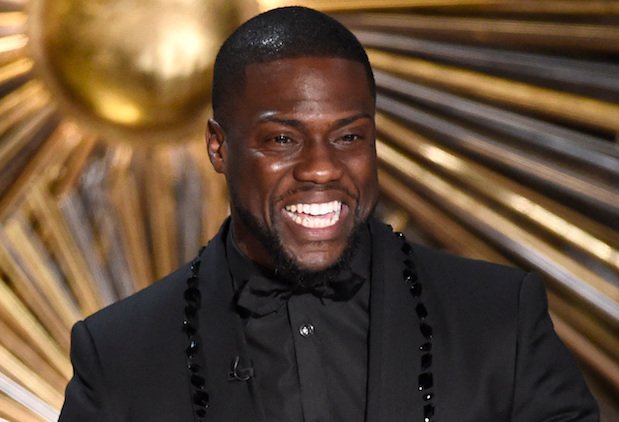 So in case you haven't been paying attention to the SJW's ruining of anything fun Kevin Hart was meant to be hosting the Oscars, a show that diminishes in viewship every year because 1. It is boring and 2. It's a room filled with millionaires using the television show to lecture common people about how to live their lives.
The Kevin Hart "controversy" stems from him being announced as the host, which might have actually been fun, and some Social Justice idiots though it would be a good thing to go through his past with a fine-tooth comb and found some tweets that could be perceived as being mildly homophobic.
Let's get something straight here: Kevin Hart is a comedian and comedians will at times say controversial things in order to get laughs. Sometimes this humor might be insulting to some people and just because it is a group like homosexuals shouldn't make it off-limits.
Here is one of the comments in question.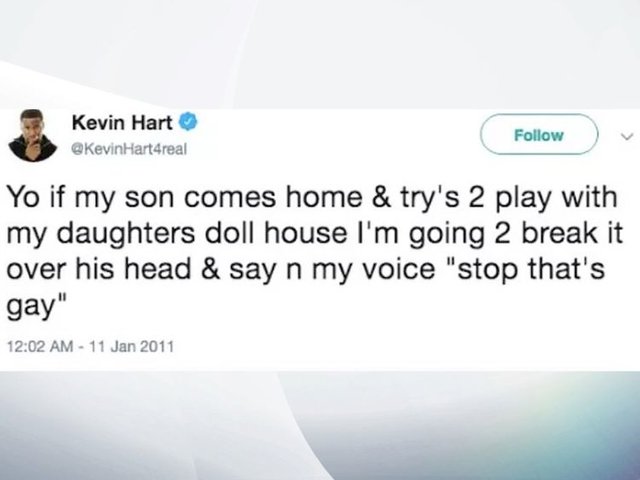 Now does anyone think that he, or anyone else who is sensible would actually do this? Of course he wouldn't. Also, the values that he decides to instill in his kids is entirely his business IE. not your business.
So due to pressure it was demanded by the Academy that he apologize or they were going to withdraw their invitation for him to host the event. I actually admire Kevin for refusing to do so and instead quit before he could be fired.
This very issue is the reason why some of the best comedians won't do shows in certain places, especially college campuses where there are going to be an extrordinarily high percentage of virtue signaling social justice warriors. The comedians that immediately come to mind (and you can look this up) are Jerry Seinfeld, Chris Rock, and Larry the Cable Guy.
I honestly believe that the SJW's wont be satisfied until everything is condemned and there is no fun left in the world. People joke about things, many comedians joke about lots of controversial topics on a regular basis. If we are to eliminate all controversy and all hurt feelings in the hopes of creating a sterile, safe for everyone, definitely not going to hurt anyone's feelings sort of environment I think entertainment, and especially comedy is going to become extremely boring. Everyone is going to be so afraid of being labeled as a (insert whatever here) phobic, that they are not going to say anything amusing at all.
I, like most people, wasn't going to watch the awards anyway for the 15th year in a row. Mark my words, this year's ceremony will break last year's record-setting low viewership.
and that's why this is