I Had Skin Laser Surgery Today!
I have been procrastinating having this laser surgery done for about six months and I decided last week to just make an appointment and have it done.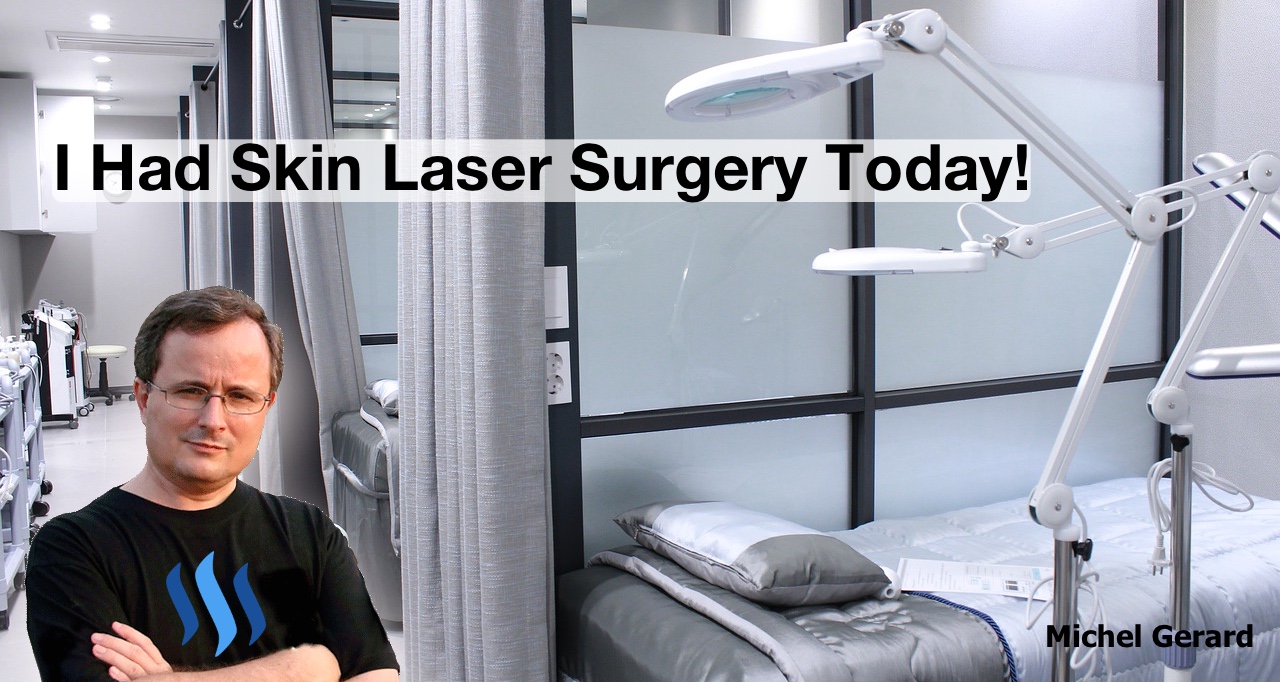 Four years ago I got my first laser surgery for a couple of moles on my back and I wrote a blog post that you may be interested to read: I Got Laser Skin Treatment Done Today!
I Had Skin Laser Surgery Today!

This time I had a mole on my back at the left that was not painful, but was bothering me. I also had some non-aesthetic kind of excess of skin near it and one rounder mole on my belly, which was removed in the last procedure 4 years ago, but came back.
So, I went to the appointment at 9:00 a.m. at the BCare Hospital in Bangkok to meet a dermatologist, who was not the same I consulted four years ago.
Upon learning I was French he proceeded for 5 minutes to talk about how he went to France to study and how he loved France, which was the perfect country... 
Then, I showed him the moles and he explained what he could do, which was what I wanted. He also informed me that the Thai insurance wouldn't cover for this, which I already knew and I said I was willing to pay by myself. As there were a few spots to treat he announced me 4,000 Thb, around $130 or 30 STEEM and that was fine.
He sent me to the nurse room at about 9:20 a.m. where the nurse applied an anesthetic cream and I had to wait one hour for it to be effective. At 10:30 a.m. I returned in the doctor's room and he proceeded with my back first.
"If you feel pain, raise your hand," he said.
This reminds me of the dentist I saw last time.
This is what I described about the procedure in my post 4 years ago:
During treatment there was the smell of burned skin just like when you burn a chicken's skin to eliminate all the small feathers and hair still sticking on it. The smell is the only indication that the procedure is being done with a low intermittent clickety-clack sound when the laser is actioned, as it is completely painless.
That's exactly the same impression I had, except that this time I felt some pain. Last time I had an injection and this time only the anesthetic cream, which seems to be less effective.
The doctor heard me making sounds and as I was trying to raise my hand he said something like, "courage, nearly done!" The pain felt like sharp needles and the doctor told me later that it was a bit deep inside the skin and I guess the cream didn't go that far.
After my back was done, he attacked the one on my belly and I also experienced some pain. During the whole time I was trying to think about the baby skin I will have after that.
All in all, it was not that painful, and I still think that a tooth extraction is much more painful and traumatizing than skin laser surgery.
The nurse applied something on each treated area and put plasters on it.
After that, the doctor explained what he had done and how to take care of the treated area with some medicine to apply morning and evening. He gave me an appointment to check on it next week.
Then, he started again to talk about France for another five to ten minutes. I thought I was on a tour visiting Le Chateau de Versailles, Notre Dame, and other monuments. Only compliments about French people and I was wondering when he was going to release me!
It was about 11:20 a.m. when I paid the bill at the cashier and received the medicine.
Laser Skin Treatment: Mole removal
I found this video on YouTube, which shows how the laser procedure is done for mole removal. The video is for a clinic in Malaysia, but I've got the same thing done here in Thailand. It's not me in the video!
Mole Removal at MJ Skin + Laser Clinic
Mole removal using RF surgical method at MJ Skin & Laser Clinic, Shah Alam, Malaysia. Done by aesthetic physician, Dr Chin Shih Choon under local anesthesia.
I hope that this video is educational and that if you need this kind of treatment, you will be less apprehensive of having it done. I didn't have any idea about it my first time four years ago and this would have helped me to seek treatment earlier if I had watched it.
Please upvote this post if you'd like me to write more health posts like this one.
Would you please help @jerrybanfield become a top 20 witness because you can help funding projects to build Steem as explained here? Vote for jerrybanfield as a witness or set jerrybanfield as a proxy to handle all witness votes at https://steemit.com/~witnesses. Read the 5 reasons why I'm voting for Jerry Banfield as a witness and how to vote in my post.
Michel Gerard