Fitness Challenge - October Report
Would you like to read my October fitness challenge report, which is my twelfth monthly report to celebrate my one-year fitness achievements with me?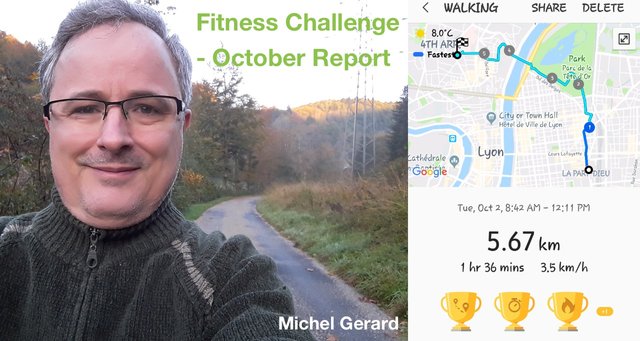 October was the month we went to Europe for three weeks and my daily routines were completely shattered. I did not write any post for Steem, even though I planned to, I didn't have my daily veggie juice, and I did not exercise nor walked as much as usual.
I wrote my fitness report for September just a week ago, and I still have lots of photos to write blog posts about this Europe trip later.
But let's get back to this October report.
I started this personal fitness challenge on the first of November last year, and I have continued each and every month thereafter. I do the best I can to lose weight or at least maintain it now, and I feel much better in my body than when I started a year ago, without too much effort and food restriction.
I use my Samsung smart phone and the Samsung Health app to track and record my fitness progress daily.
I started to write these fitness challenge reports on Steemit in November 2017 and I have published one each month. I document my progress, see at the end of the month my results, so I can be motivated to continue, and be accountable to you and myself.
This challenge consists in doing a 2-kilometer walk and exercising 30 minutes daily (I started with 40 minutes the first six months), I eat healthier and more balanced meals now with less meat, and drink veggie-fruit juices daily.
You may be interested to read my eleven previous fitness reports:
That's the first time in my life that I am committed to exercising, and I congratulate myself for doing it a full year.
If you do what I do, I believe that you will see good results in your health for you too.
Let's see my results for October.
Fitness Challenge - October Report
I have not walked as much this October as the previous months according to the app, because I didn't walk on a schedule daily, but I certainly walked more than usual because of the places we visited with my family and where we walked without using the app.
I also did not exercise for three weeks because of lack of fitness equipment and I hope the results will show that it doesn't matter because I exercised in other ways. I had much less desk time as ordinary and carried several water containers to refill the motorhome on many occasions, or carried the toilet container for clean-up, during the trip.
In the last week of October I resumed my daily walk and exercise routines.
Let's see what the app is saying for "Walking."
This is when I started in November 2017 and up to July 2018.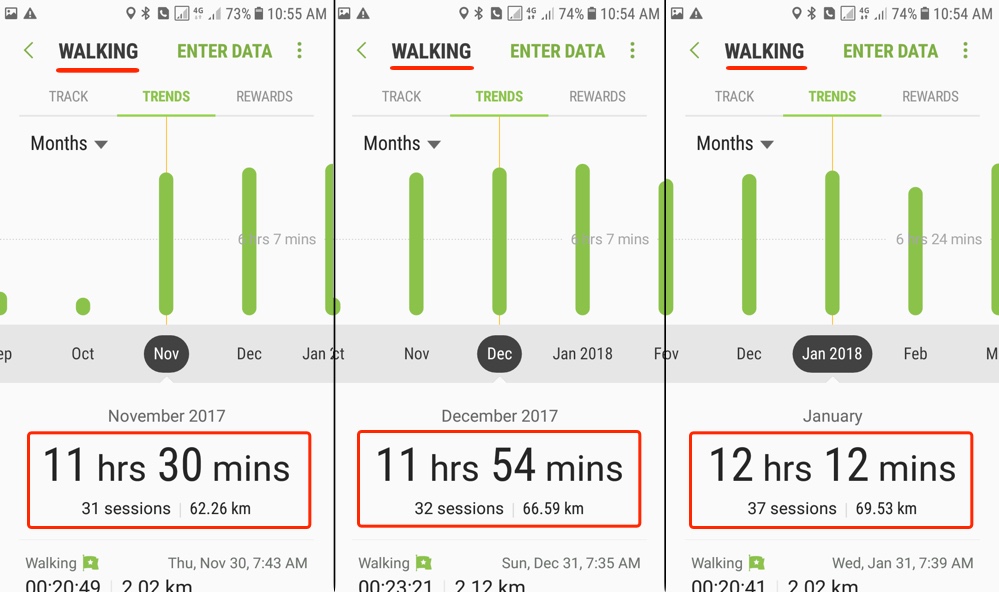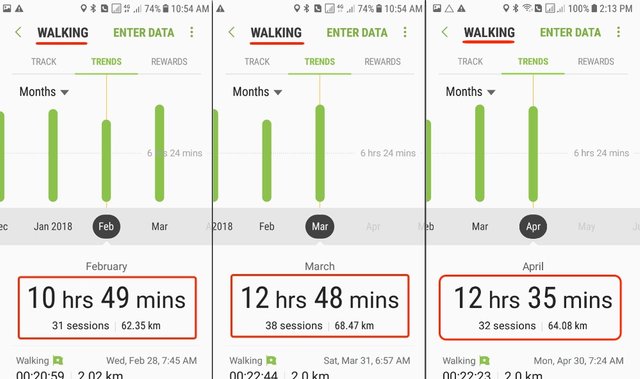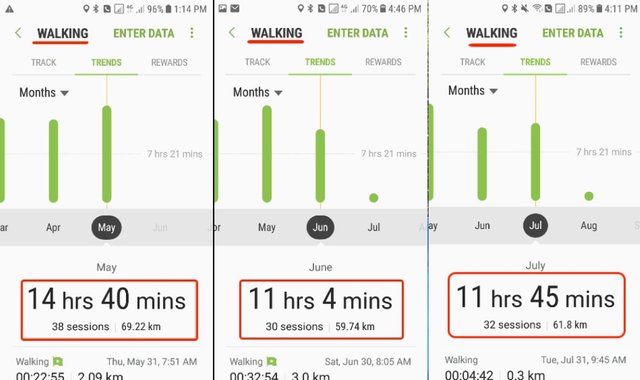 This is for August, September and October 2018.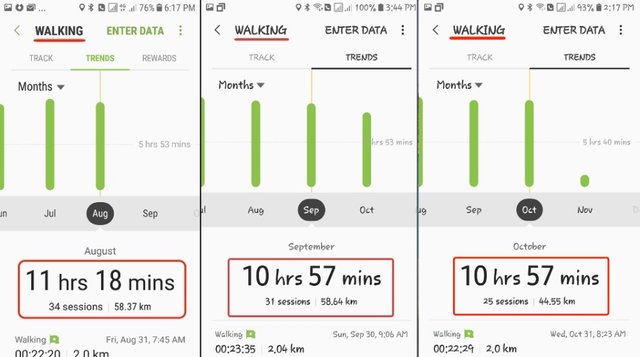 I walked 17 days in October in 25 sessions, for a total of 44.55 kilometers in 10 hours and 57 minutes.
In September, I walked 58.64 kilometers, in August I walked 58.37 kilometers, in July I walked 61.8 kilometers, in June I walked 59.74 kilometers, in May I walked 69.22 kilometers, in April I walked 64.08 kilometers, in March I walked 68.47 kilometers, in February I walked 62.35 kilometers, in January 69.53 kilometers, in December, 66.59 kilometers and in November 62.26 kilometers.
What's funny is that I walked for the same duration as September, which is "10 hrs 57 mins" with much less kilometers. This is because I didn't walk alone most of the time as we were all together exploring.
This is a photo of a rare walk when I was on schedule and alone, early in the morning. It was taken on a path close to the campsite in the forest near Zurich in Switzerland.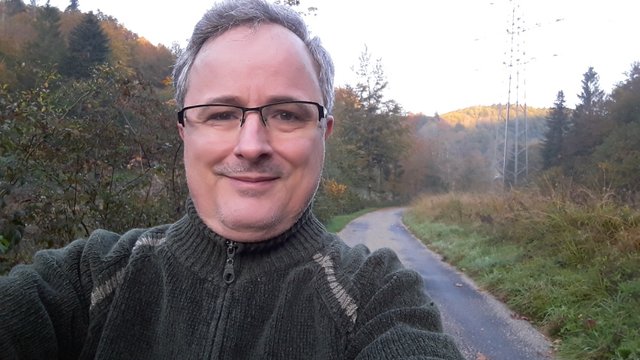 It was freezing cold!
These were some interesting walks in French cities.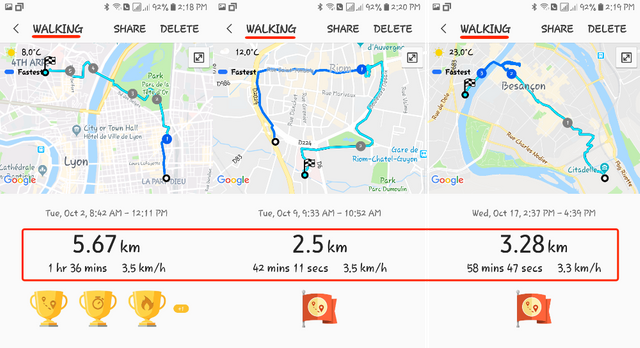 This were family walks in Lyon, Riom and Besançon.
In 12 months I have walked 745.6 kilometers in total and I am amazed!
Let's have a look at my exercise this October.
These are for the 9 months since November 2017.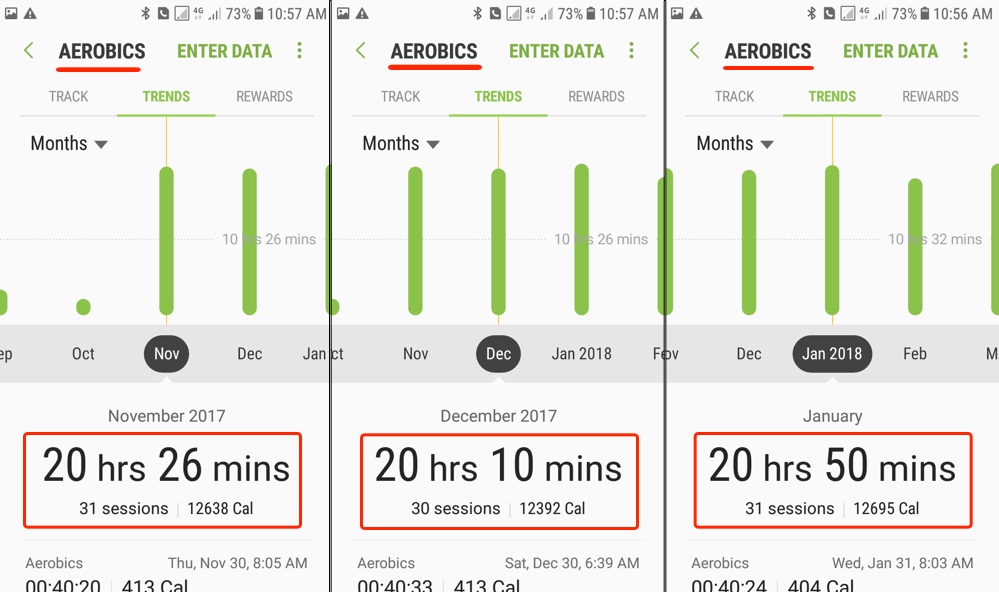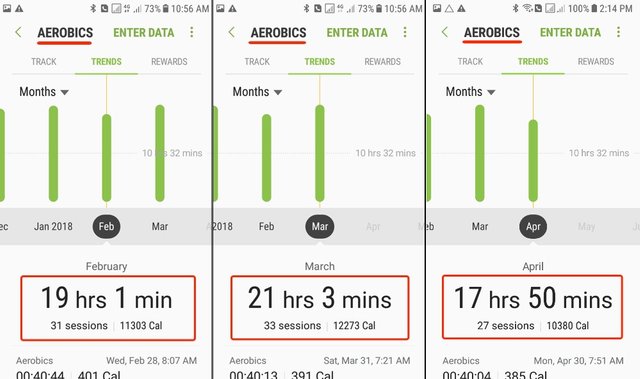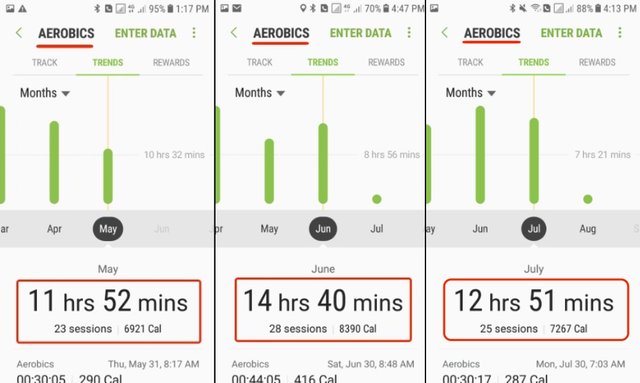 This is for August, September and October 2018.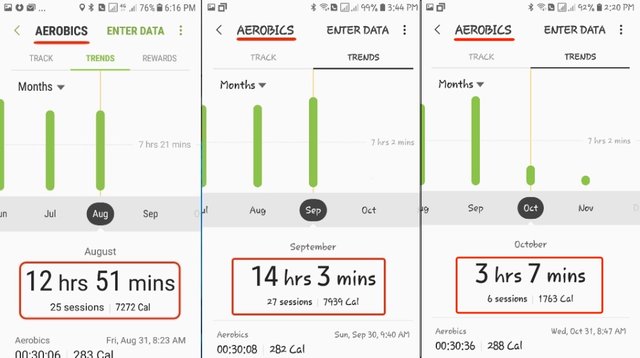 As you can see, I did not exercise, except for the last week of October.
Hopefully, November will have better results than this.
My weight loss results.
Let's see if I successfully lost weight in October.
These are for nine months from November 2017.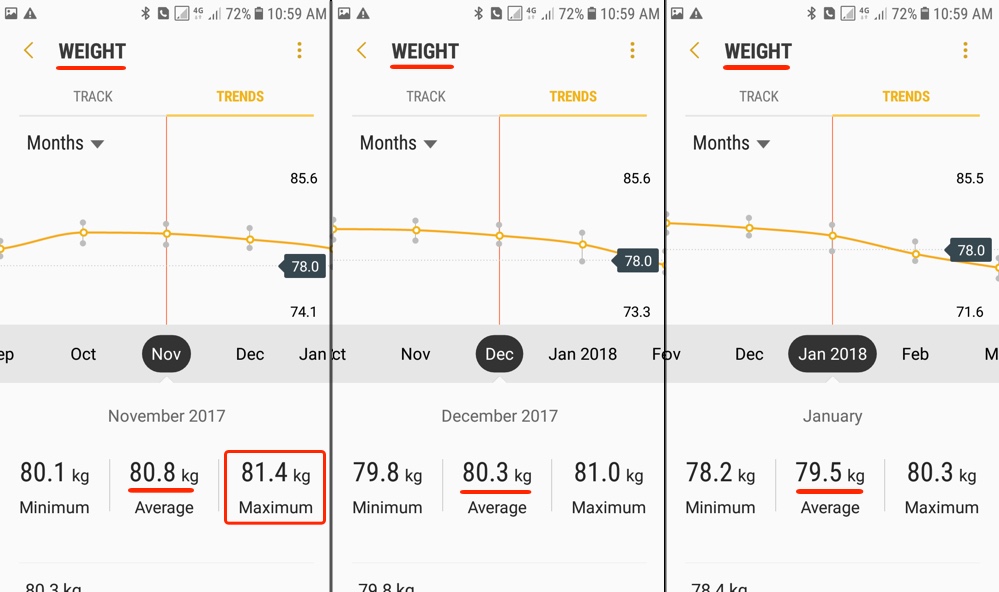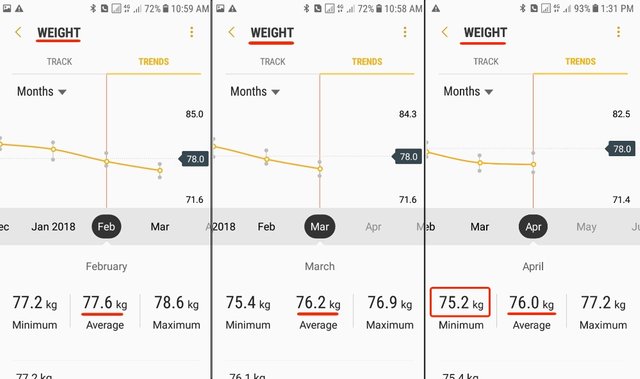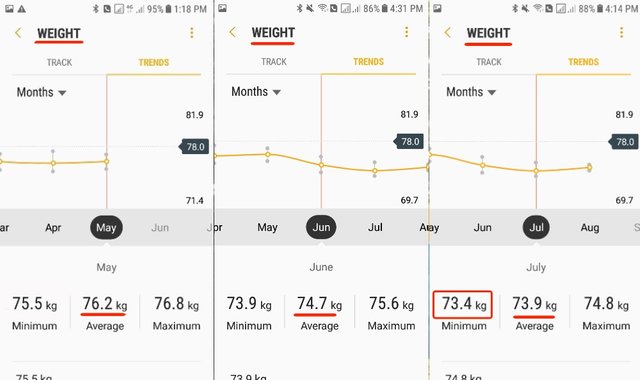 This is for August, September and October 2018.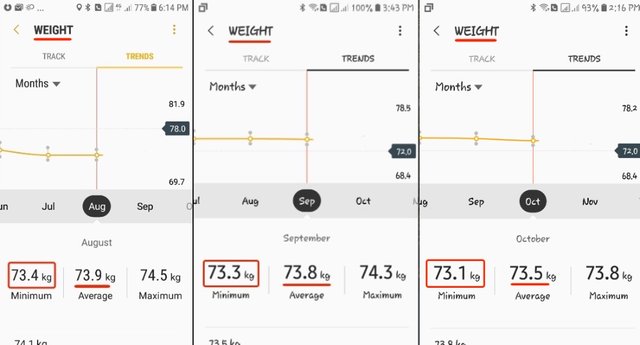 This October my minimum weight is lower than last month, 73.1 kilograms. My average weight is also lower than last month, 73.5 kilograms. In fact, I successfully lost weight even though I didn't do my fitness routines properly.
I thought I was to gain at least 2 kilograms in France, especially with the change of food and I'm glad I didn't.
Now, if I look back from where I started in November last year.
Average weight loss: 80.8 - 73.5 = 7.30 kilograms
Weight loss: 81.4 (max) - 73.1 (min) = 8.30 kilograms
I am very pleased with my results for October because I felt a bit guilty not being able to keep up with my fitness routines during my trip to Europe.
It is good to know that when you exercise regularly throughout the year, then you can miss some of it in certain occasions without affecting your results too much, or ruining your weight loss efforts.
I hope that this October fitness report is useful for you and I welcome your feedback in the comment section below.
Would you like that I continue to write these fitness reports for another year?
Would you upvote this post and follow me for more because this will encourage me to continue this challenge and the reports that go with it?
I have categorized my posts on Steemit for easy access:
Steemit tools | Steemit strategies | Steem economics | Steem on WordPress | Blogging on Steemit | Steemit posts I curated | Cryptocurrency | Cryptocurrency trading | Mac computer tutorials | WordPress & online marketing | Self-development & motivation | Travel in Thailand | Travel in Japan | Travel in Europe | Life in Thailand | Fitness challenge | Fruit-veggie juices & smoothies | Education | My answers on Quora | Fundition tutorials & projects | Miscellaneous writing
You may prefer to go to my Steemit Posts Directory.
Want to learn a new skill? Visit MG Course Discounts where I have lots of online courses you can take for only $9. Sign-up for the newsletter to get one free course and coupon codes.
Want to learn about Bitcoin and Blockchain technology? Click here for free ebook.
Would you like to learn how to trade Bitcoin and cryptocurrency with daily profits and grow your money with a simple, but effective strategy, because this beginner-friendly crypto trading course, that I am taking myself, might be your opportunity to finally be a winner in crypto?
You might want to read this post: My First Impression of the "5 Trades Money Machine!"
The most important votes you can make on Steem are for Witnesses. The top 20 witnesses can influence the addition or removal of features in future Steem hard forks. Read my post: What is a Steem Witness, How to Vote and Why?
Michel Gerard