This thing my parent taught me...
My dad has taught me a lot of lessons about money.
Don't attach any value or emotion to it ~ was his main one.
Don't do an activity because the outcome is money. Don't chase a friend or a relationship because there is a potential financial gain in the end (we all know the rich kid at school which has constant stream of kids wanting to visit)…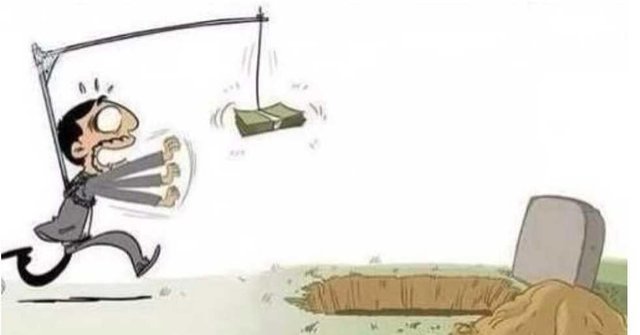 Don't stay in a relationship simply because of financial security. If you are unhappy, you should get out. If the pursuit of life is money, you'll live a wasted life and years will flash in front of you.
Better live a short life worth living, than a long life in misery. The majority of people I see, follow the path of studying, pursuit of educational success (which is very costly), the first 10 years working your butt off in a corporate office before you finally hit a position where you make a lot of money.. You'll be over 30 by then, if not older…
Unfortunately, you did things you didn't like doing in order to go on living. You buy materialistic stuff to cope with the stress of every days life. It's sad. I lived my 20s to 30s on full speed adrenaline. Seen the world, worked my butt off, made more money than I could spend, but had fun, every year.
In case you lose money, forget money, got in a lot of debt, it's not worth worrying about. Crying or a restless night because of lack of cash is an empty life. I hear you think, well, you need money to survive right? Of course, but my dad always taught me that if you pursue what you enjoy, you'll eventually reap the benefits. Through this, you enjoy life because of the pursuit of a certain activity, like becoming a scholar, librarian, baker, rather than the financial security you seek at the end. Extract your happiness out of friendships and yourself, like a walk through nature or your kids. You can give your kid all the money in the world, pay for his education, but that won't make him love you, or make his or her life any easier.
Don't attach value to rich goods or services. A house is a house. A car is car. Whether you have 15, or an old French brick..
You can get fun out of both. The core essence should be happiness. Nothing more. The world has so much to offer, widen your horizon, try what you think is cool. And do exactly that. I traveled through Europe with a friend sleeping in only the cheapest hostels and cheapest means of travel. It was more fun than traveling with a RV through Europe which I've also done.
My dad comes out of a poor family. My grandfather was a baker and had a lot of kids to feed. My dad always has a strong sense of curiosity. He was really good in mathematics and logic and he became an electrician in his 20s. Luckily the library was free. He was really good. Because he enjoyed his work, he earned good money. The drive to become good in his profession was to satisfy his curious brain. I'm his only kid. My curiosity was the world of finance. I have a roof over my head, I have food in the fridge, I'm healthy. I do a job I like, what else do I need?
My dad's sister on the other hand married a millionaire. She never had to work a single day in her life again. She has complained for decades about the misery, shallow lifestyle they've had. She now feels stuck, and too old to make a move on her own. When my grandparents (my dad's parents) passed away, my aunt wasn't allowed to take certain belongings back to her home. As it was all cheap old crap. I still remember her entering the door, full in tears, because her husband didn't allow her to take my granddad's belongings… I felt sorry for her.
The storm between how she was raised - in contrast to the extreme wealth she was living in now, caused her to live a life of misery. All the money in the world. Yet I have never seen someone so unhappy.
If you wake up, and you realize you aren't happy with your life. Don't wait. Change today.