Tonight I spent well over an hour patching an old pair of blue jean shorts with some fabric taken from an old button-down shirt, to give them an extra inner pocket on the leg. I'm not really sure how much I'll use this pocket, and it can definitely be argued that my time would be better spent doing something else, especially to earn money so I can just go out and buy a new pair of blue jean shorts...but I don't care.
These are some of my most comfortable blue jean shorts. They are almost completely in tatters though. I have patched and repatched them so many times that they're almost more patches than blue jeans.
So isn't it about time that I just throw them away?
No.
If I lived in a sane society I could probably pay someone a small amount to patch them for me, and I might choose to do that.
I like these shorts. I want to keep them.
I could get a new pair of blue jean shorts for under $10 made in some country, likely in southeast asia, or maybe China, and they wouldn't have a single hole in them. Holes cost extra.
I like these shorts though. Tattered and faded with holes happening all over, and patches galore, they have character. They're mine! I made them mine with my years of wear and the patches that I carefully cut out, folded the edges of, and stitched, often by hand. I actually like the look of them. Everyone has blue jeans and blue jean shorts...but no one but me has these ones with these patches. Few people these days even have patches on their jeans. Now days everyone just throws them out when they get worn out here, or they wear them for a bit with the patches until their junk is falling out.
They don't take the time to carefully sew on patches like I have.
The only people that do are punks and hippies.
Well, I'm a bit of both...so...
More people should though. It might not always make financial sense to take time out of your day to sew a patch on some raggedly old clothing...but we all have extra time occasionally. What's more productive, watching TV or playing a game, or recycling some old cloth to get a few extra months or years out of some clothes that you really love?
Don't just throw out your old clothes, give them a new life. Especially if they're so far gone that a resale shop is just likely to throw them out themselves.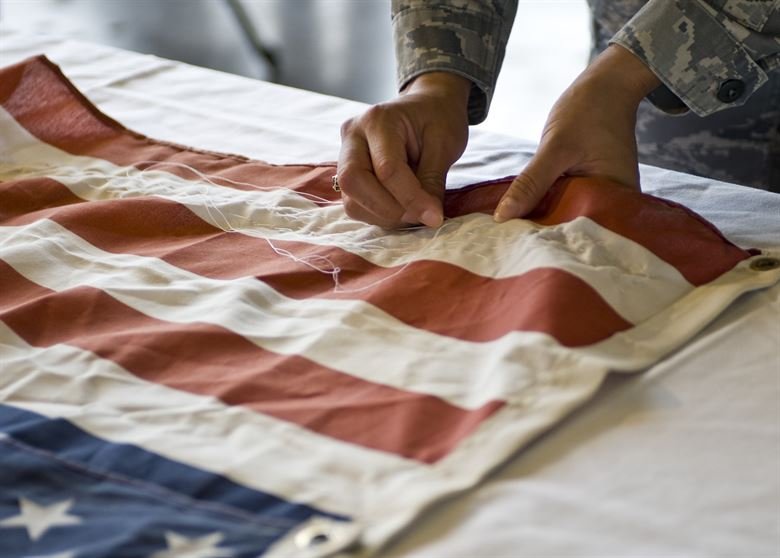 9/11 Flag Stitching Event
Senior Airman Francine Leyva, 28th Aircraft Maintenance Squadron debriefer, puts her stitch in the American flag during a special 9/11 flag stitching event at Ellsworth Air Force Base, S.D., Aug. 4, 2011. More than 150 Airmen and family members had the privilege to put a stitch in the flag. (U.S. Air Force photo/Airman Alystria Maurer/Released) (source)