Going green means different things to each of us depending on circumstance, age and probably location. There's benefit from doing so though, for the planet and for us as the custodians of it. I guess the major one is that we have the chance to create sustainability and longevity; Longevity in having a plant to live on I mean. Still, many do not give the least thought to sustainability and going green and I suppose that's their prerogative.
I would not go as far as saying I am a planet-crusader or anything quite so spectacular however I try to do my bit. I deposit rubbish into the appropriate bin when out and about, limit pointless trips in my vehicles, recycle at home and make sure I get the most from an item I own prior to replacing it. We re-purpose what we can, collect rainwater, use rechargeable batteries for appliances and streamline-processes around the home to conserve resources where possible. Yes, I know that's not a lot however it's something at least. So, we're not environmental-crusaders at all; Just normal people trying to leave a smaller footprint.
One thing I mention above is rechargeable batteries. As with most homes we have a lot of things that require batteries and they either come with rechargeable ones or we fit them in. But using the power socket to recharge batteries is a little wasteful and somewhat contradictory in my assessment. That's why we had a solar array installed on our roof a couple of years ago.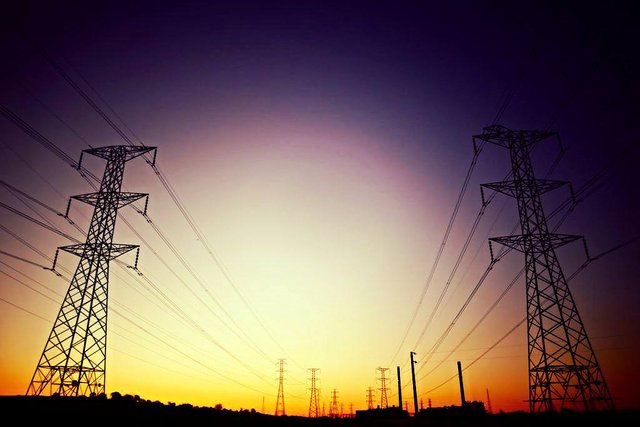 We have had the array feeding solar energy into our house for a couple of years now and have noticed a dramatic reduction in our power bills because of it. Our bills have reduced by around 60-75% depending on the time of year and I think that's a pretty decent saving! We also have the benefit of being able to recharge our batteries during the day from solar energy, turning on appliances during the day when the sun is producing energy for us and of course we get a financial rebate from the power company for feeding energy back into the grid when we produce more than we use. It's a pretty good way to go in our estimation. Sure, the feed-in tariff isn't huge but it all helps to reduce our energy bills. Image by me, taken on Garden Island, near the Torrens Island Power Plant. Adelaide, South Australia.)
Our solar array is connected to WIFI and so I have the ability to monitor the output, efficiency of the panels and view our figures as far as consumption, production and overall history right on my phone. It's pretty neat.
Below you can see a snap of one of the pages in the app. You can see the day (Sunday 2 December) that this graph relates to. Down the bottom of the snap you'll note the time as 1230-1245 and a light grey line extending upwards into the blue metrics above identifying that 15 minute block. At the upper left of the actual graph you can see the words net energy and 805Wh in blue. You with me?
That means in that 15 minute block we produced a net of 805Wh of energy which went back to the grid. So I get paid for that.
On the upper right you'll see 821Wh and 16Wh respectively. That means the array actually produced 821Wh in that 15 minute block and my house used 16Wh. 821 minus 16 = 805Wh net. Simple right?
We were not home at the time and the only power being used was clocks, small LED lights (off indicators on appliances, WIFI router and the like.)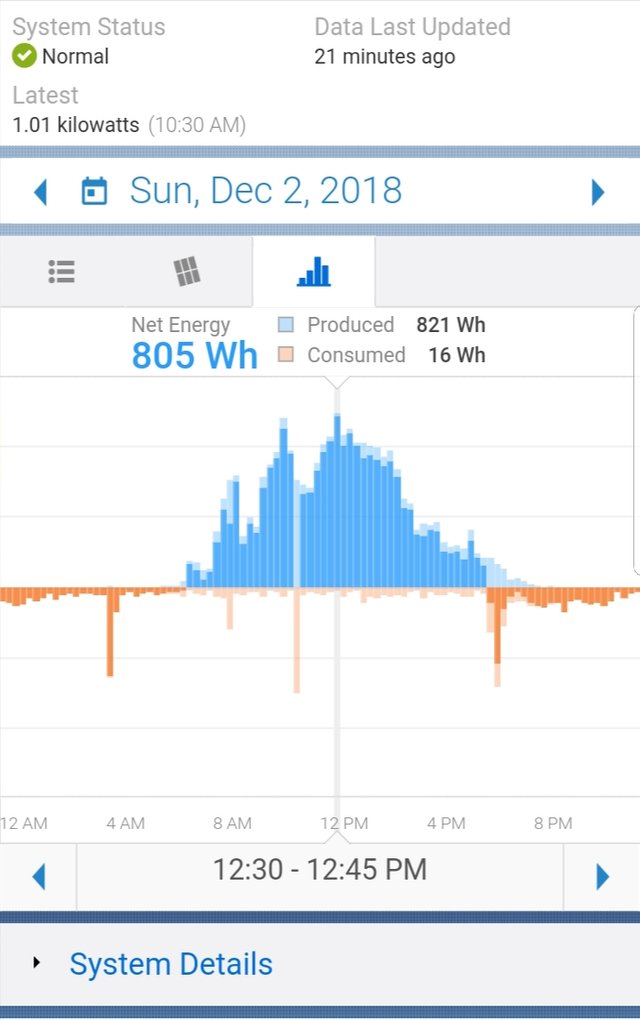 The image below is from the same day only it refers to a different time being 1100-1115. In it you can see a -3Wh in orange. This means my house used more energy than the solar array produced. See to the right that my house used 503Wh but the array only produced 500Wh. Firstly the lower production value was because the day was partly cloudy and the system won't produce at its peak in cloud-filtered light. Secondly something in my house used 503Wh of power. (My air conditioner).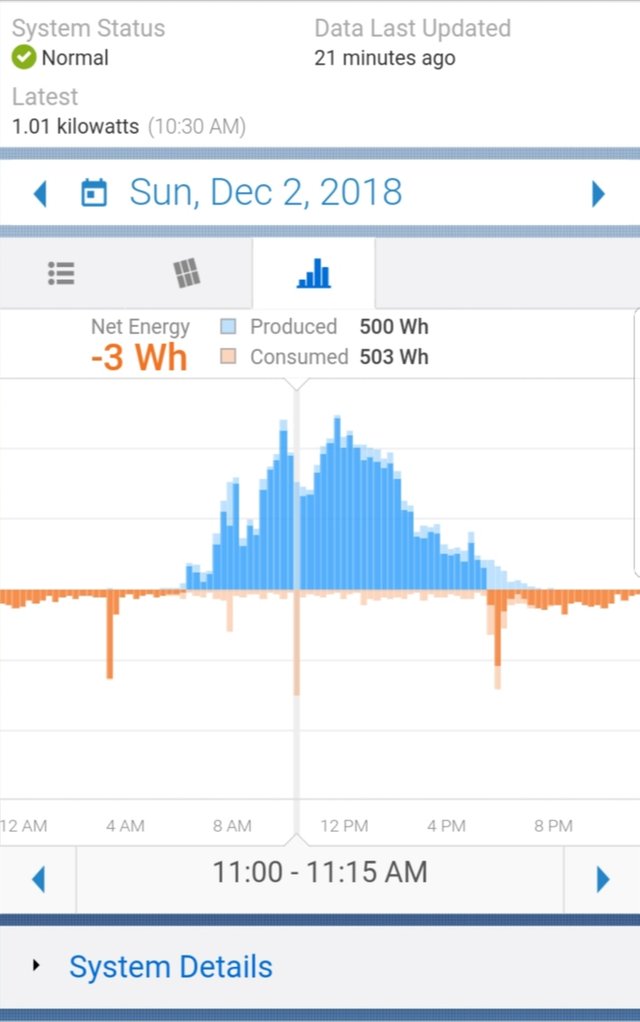 Below is another screen from the app. This one shows the kilowatt-hours of energy the system produced and that my house used in the 24 hour period of Sunday 2nd December.
You can see:
20kWh produced and 17kWh (approx.) sent to the grid.
6.36kWh consumed (by my house) which has come from the grid.
13.4kWh (net) to the grid for which I will earn my rebate.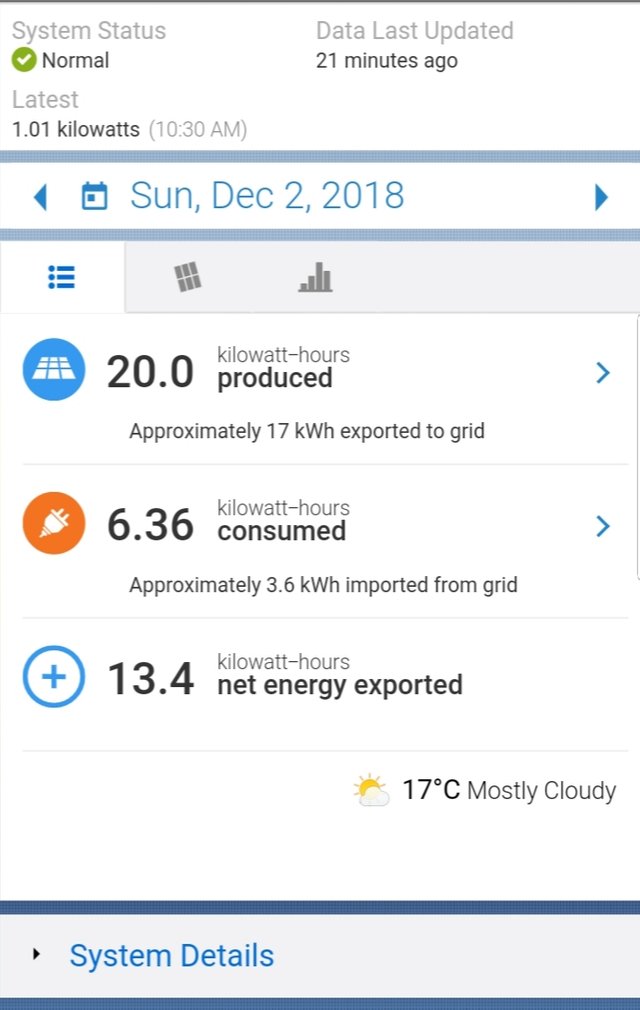 Lastly the image below shows production for the month of November 2018. I can run reports like this on a daily, weekly, monthly and annual basis.
You can see:
607.21kWh of energy produced (Nov)
550.44kWh previous month (Oct)
5,182.01 YTD (Year to date 2018)
12,836.70kWh lifetime production
925lbs carbon offset (Nov)
These are not massive figures however it's something at least and we feel a little better knowing we have done a little extra for the the environment and to offset our footprint.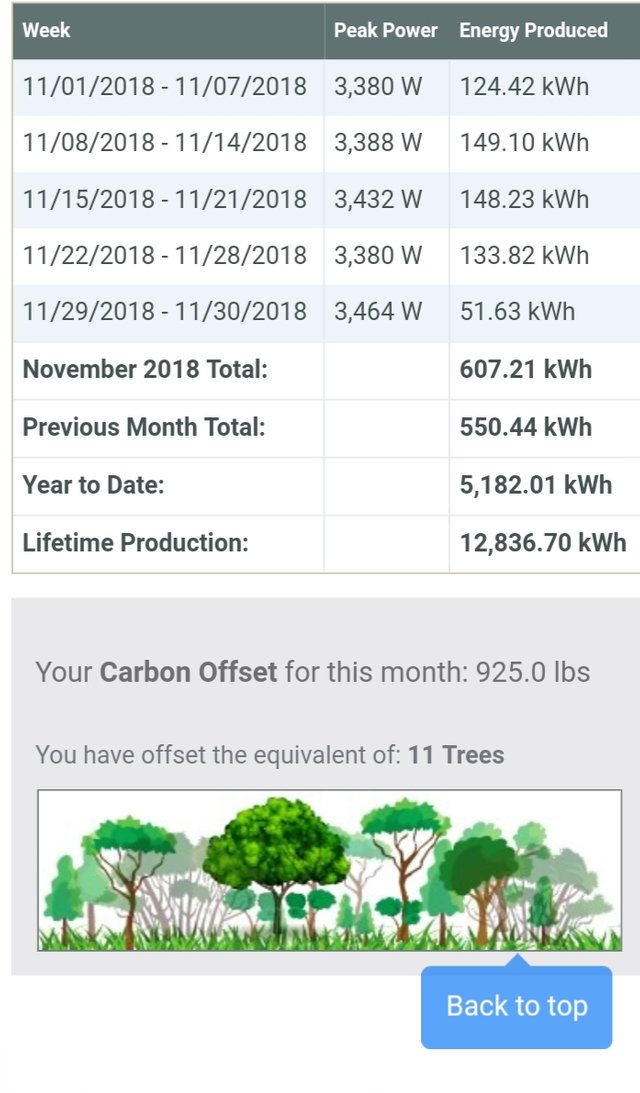 Our solar array and system cost us about $7,000 to purchase and install. It's a fair whack of cash I think, but we got a good system as far as quality goes. It is upgradable so we can add panels and even batteries to store the energy. It has preformed flawlessly so far and we are pleased with the savings we have made and the fact we have done our little bit towards sustainability.
We have had to adjust how we run our household due to the solar system. well, we haven't had to, we wanted to. It allows us to get the best from the system. It wasn't that difficult a thing either.
We simply use our electrical appliances during solar energy production hours. So, the dishwasher, clothes washer and dryer go on during the day. We also recharge all our batteries in the day time. We even run our air conditioning in the day time more and less in non-production times to make use of solar energy. Sure, there are times this is not possible but we try. Keeping the house cool from earlier on hot days makes cooling it later more efficient.
Having solar energy production on our roof hasn't changed our lives dramatically, nor will my solar array heal the planet; It's a start though and we feel happy to be contributing. We will have the system paid for (meaning it'll pay itself off in energy-bill-savings) in another couple of years and then we will start to see some solid financial gains.
Anyway, as I said...Going green means many different things. Some protest in the street about meat production, some put stickers on the back of their car in support of Greenpeace, some have food producing home gardens like @minismallholding and @biffybirdcam and others do nothing. For me, I just do what I can when I can, try not to be wasteful and to have some care when it comes to leaving a smaller footprint on the world.
Note
Sorry for the slightly poor image snapshots from my solar app. They looked really clear on my phone and then came out a little off. My apology.