We live in a world where we seek instant gratification all the time. Apps like Facebook, Instagram and more recently TikTok help everyone accomplish just that. It gets addictive to a point that social media addiction has become a real issue worth debating.
But there is no easy way to cut out social media from our lives. I recall a few friends asking me my whereabouts a couple of months ago when I decreased my social media activity. I was busy with some aspects of my life and not posting as frequently. They thought maybe I was unwell or something because I wasn't active on social media.
Social media is opt-in for everyone but has become borderline necessary for survival for those who depend on it not just for their income but mostly for social recognition, fame and popularity.
Platforms like FB and Instagram have several uses but they are also known to cause depression, loneliness, anxiety amongst other issues.
I came across this video on social media about an instagrammer with 113K followers who's account was deleted after users reported it. I'm not sure why it was reported but there's more info here if you are interested about the particular details.
Internet trolling is a real thing. People troll each other at every conceivable platform they can, including Steem. In case of this Insta user the biggest loss is perhaps the follower base that helped boost her self image? I don't have a crazy following anywhere and i'm not dependant on a massive following for anything in life so maybe it's hard to relate directly with the person.
But, it does come across a little stupid to me. Are IG or TikTok users with thousands of users or millions in some cases, celebrities? I guess this is subjective. People who have these numbers might take offence to the ridicule and while those that don't have this following may feel envious about those who do.
What's crazier is that I've been testing TikTok last couple of days and understanding why people are so gaga over it. Here's a Google playstore review from a kid using TikTok. I'm baffled to say the least. Do kids really need to be on any social media let alone TikTok?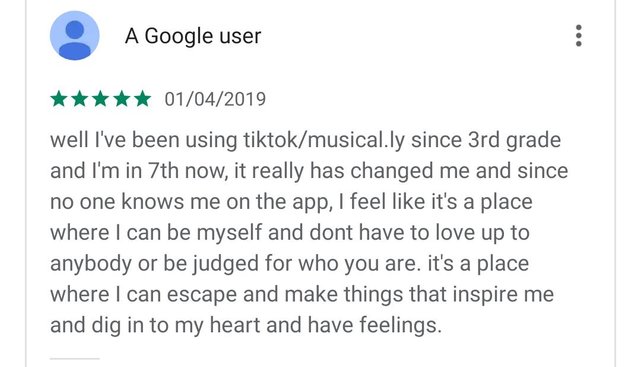 As someone born in the late 80s, computers and all the current technology made way into my life in a progressive manner. It wasn't something I was thrown into as a child. But for the current generation of kids even as young as 5 years old, they are exposed to everything. All they need is a parent that is careless enough to give them a device with unlimited access.
This is a topic that can be debated endlessly. But I think in the next 5-10 years we'll see many users reeling under the pressures of being a celebrity or from not being successful in their so called "IG, TikTok careers."
But for teenagers and even for adults the issues caused by social media usage is real and it's high time we accept that an overuse of social media is unhealthy for us.
What is your view on this? Have you or someone you know encountered this issue?
---
If you like my work kindly resteem it to your friends. You may also continue reading my recent posts which might interest you:
---