I'm a huge tennis fan. Have been for many years now and follow the sport pretty closely on television too. But this recent "woo-haa" regarding the "better" half of the Williams sisters, has got people talking overtime. But who is right or wrong, as the case maybe?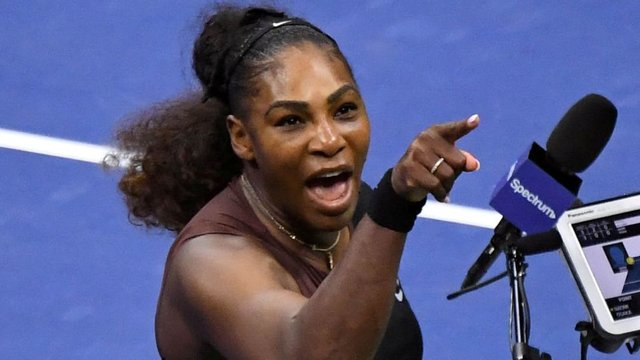 ---
Firstly, the facts. It was the final of the US Open and, it must be said, Serena was already seen to be struggling against her opponent and long-time fan, Naomi Osaka. At one point in the match, it looked as if her coach was gesturing to her on-court, implying giving her advice during the game. This is under strict violation of the rules and was caught out by the eagle-eyed umpire. He issued her a warning, to which her verbal assault began. Screaming and shouting was the order of the day from Serena, as well as alleging discriminatory accusations his way. The frustration only grew as moments after, she even smashed her racket on the floor in an fit of rage.
Her rant resumed shortly as she called the umpire a thief upon him docking her a point, which culminating in her getting a whole game docked too. It was a car crash, if I ever I saw one, in the world of tennis. So, eventually, Naomi won her first title ever but under the shadow of controversy that took place on-stage. It's all there to check out on YouTube. Now, my take on this?
Well, as much respect as I have for Serena Williams, that was nothing more than a disgruntled player throwing a hissy fit. The fact that she even brought sexism into it, is laughable. I mean, regardless of how much men or women have been reprimanded for such behaviour in the past, it certainly does not give Serena a free pass to act like a spoilt brat on centre stage. Gender does not play a part in conducting yourself in an aggressive, loud and abusive fashion. One's own social morality should intrinsically prevent such occurrences. Especially when you're suppose to be a role model for millions. Tempers can flare, of course. But outbursts like this should not tolerated in today's sporting culture, under any circumstances.
Not only that, but she single-handedly ruined a truly defining moment for her opponent, Naomi Osaka. So embarrassed by it all that she even had to cover her face in shame on the podium. I feel for that girl. One should "always" try to stay in control. Time and maturity normally teach you that. And all this was anything but. This was magnified tenfold when it was later revealed that her coach did indeed signal to her on court! All it took was her to be the bigger person and shrug it off. Take the warning and get back to actually playing the game. Case closed. This was a ridiculous spectacle that took the spotlight and focus off the final itself.
Anyways, these are my personal feelings about the current "buzzword" concerning tennis right now. In a world that's fast becoming "man vs. women" in almost every facet I can think of, this is the last thing we all needed.

Hope you enjoyed this post, please look out for more on the way... (author: @ezzy)
---