A present that completed my 20th year of journey.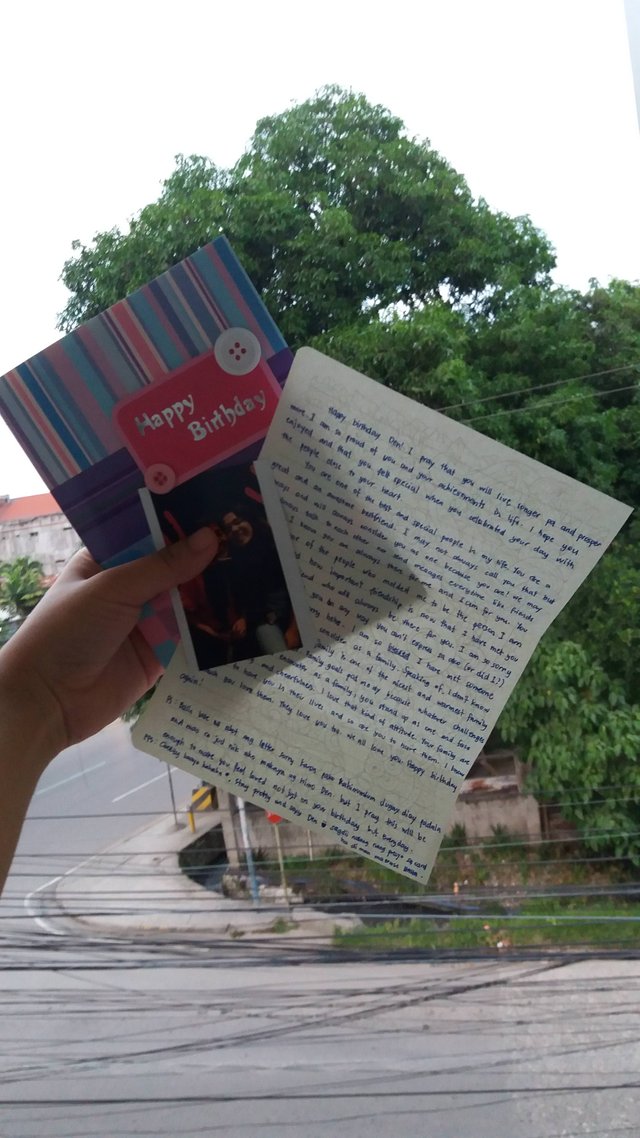 It was both usual and an atypical day for me. A day that was suppose to make me feel great, for a reason being as it was my birthday. I was walking home thinking it was just gonna be my usual way of celebrating. Then suddenly I was approached by my landlady and gave a letter from someone. I was so intrigued by the identity of the the person who sent it that it even overshadowed my curiousness on what is inside the letter.
Upon knowing who sent it, the surge of mixed feelings immidiately shifted my emotions. The person who sent the letter happens to be my bestfriend way back in highschool.
Here is the full content of the letter:
Happy Birthday Den! I pray that you will live longer and prosper more. I am so proud of you and your achievements in life. I hope you enjoyed and that you felt special when you celebrated your day with the people close to your heart.
You are one of the best and special people in my life. You are a great and an awesome bestfriend. I may not always call you that but always and will always consider you as one because you are! We may not always talk to each other nor send messages everytime like friends do but I know you are always there for me and I am for you. You are also one of the people who molded me to be the person I am now. I realized how important friendship is now that I have met you and to be a friend who will always be there for you. I am sorry if I have offended you any way you cant't express to me (or did I?). I am sorry hehehe. I am so blessed I have met someone like you whom I always consider as a family. Speaking of I don't know of you know this but your family is one of the nicest and warmest family I have ever met. Promise. Really a family goals, because whatever challenges and circumstances you encounter as a family, you stand up as one and face it with humility and cheerfulness. I love that kind of attitude. Your family are so blessed to have you in their lives and so you are to have them. I know how much you love them. They love you too. We all love you. Happy Birthday Again.
I pray this will be enough to make you feel loved not just on your birthday but everyday.