A Flower In My Backyard 4.21.2022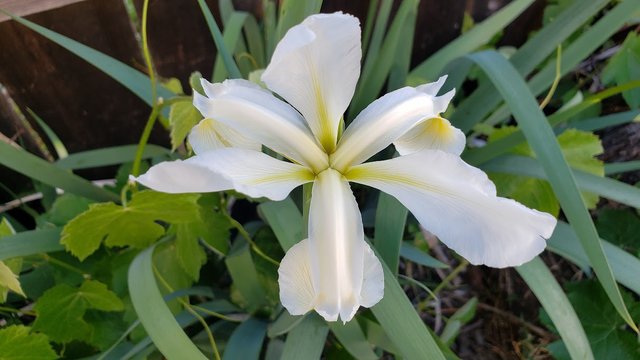 It is a flower that I did not plant, yet here it is. I do enjoy them when they come up. When you look harder, you will see the leaves of a purple grape vine.
The purple grape vines grow like weeds in my backyard and I guess this flower grows like weeds too. Yet what is a weed, but a misplaced plant?
People think dandelions are a weed, yet this same dandelions maybe used for medicinal purposes. Now I am not one to use herbicides in my front or backyards. So knowing this I may actually eat a dandelion flower. The taste is not bad.
Now I am no plant expert, so don't be eating your dandelions, if you spray stuff like Roundup on your weeds.
That reminds me of one of my neighbors, we were talking between our backyard fence, so I couldn't see him, but he was telling me how he had a headache and how he felt sick.
I asked him what he was doing in his yard. They he told me that he was spraying Round Up in his yard for his weeds. I told him to stop spraying and I told him that Round Up is poison that can kill weeds. Then he told me, yes I know that is why I am spraying my weeds.
Then I told him that if it kills weeds, then it may even kill you. It is like spraying agent orange in your backyard. I don't want that. People got cancer and died because of agent orange, another thing to note is some of the ingredients of agent orange is also in Round Up.
Best to stay away from poisons when you can.
So plants grow in my backyard and some I did not plant, but they are there just the same. I find that my backyard can be relaxing and I guess cats and dogs find it that way too.
You may ask what do you mean? I mean, other peoples dogs find their way to my backyard. I tell the dogs to leave when I see them and they leave, but sometimes come back when they can. I don't have a proper fence to fence off my backyard.
I see other cats come to my backyard also. Now I don't mind cats coming to my backyard as I know that these cats that hangout in my back yard are also looking for rats and mice.
I don't mind the cats that come by, but my cat is pretty territorial and chases the other cats out sometimes. I would rather my cat not fight other cats, but what am I going to do?
If I hear cat fights I call my cat into the house. I think she is getting too old to get into cat fights. I believe she is about 12 years old as I write.
So this flower that I did not plant is now in my backyard, it seems to return every year about this time. I think it is a pretty flower.
Let's end with a scripture, as it is written, with Jesus speaking, I am the vine, ye the branches: He that abideth in me, and I in him, the same bringeth forth much fruit: for without me ye can do nothing. John 15:5.
If you enjoyed this blog, please upvote and follow.
Thank you, David.
Image is mine, taken with my Samsung Galaxy Note 9.