Music Soothes The Savage Beast Which Is Why We Needed Music You Devils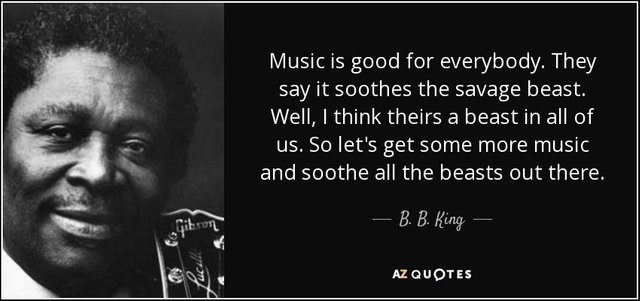 Source
»»——-———-————-——-—- ༺❀༻ ——-———-————-——-—-««
I have a wide-array of music taste, sometimes I would like Jazz but not all. I am not liking all rock Music but a little from Death, Alternative, Grunge and almost all from the past. I do not have the current music that we are hearing now, as for me, music quality had gone down for good.
But I have my favorites and I am glad that I never get tired of listening to them. When I am feeling a bit blue, a bit of coffee and a dose of high quality sounds that my trusty Laptop is delivering from merely streaming from YouTube is enough to uplift my spirits.
Music keeps me in not sliding to depression given the fact that I have one of the most terrible conditions one has to suffer because it had limited my mobility and doing what normal people does and living normally, I just need some patch to at least keep my sanity in check by having a form of entertainment and distraction for my thoughts and make me feel better even for a moment.
If I would buy another Laptop I will make it sure that it has a very good sound processing system to get integrated with a sound application that I am using right now and I am never will be more happier.
Sound is half of my good experience from my Laptop otherwise my online experience will not be good. That is why all Linux and majority of computer and mobile users do not know what they are missing because sound can be enhanced for us to get more out of if especially when we use music and movie.
This is what I am enjoying to listen right now, Dubstep!
Source
Some Classical especially from Vivaldi "Four Seasons"
Source
It will take a long list of songs if I will post it here and there is a whole lot of them. A few songs from every Genre and I am never been more happy to enjoy them with a high quality sound especially if I will be using a good earphone which are also now had been developed to deliver better frequencies for a better sound enjoyment.
»»——-———-————-——-—- ༺❀༻ ——-———-————-——-—-««
▂▅▇█▓▒░ ⎛⎝(•̀ ‿•)⎠⎞░▒▓█▇▅▂
‿︵ʚ˚̣̣̣͙ɞ・❉・ ʚ˚̣̣̣͙‿︵ 𝔗𝔥𝔞𝔫k 𝔜𝔬𝔲‿︵˚̣̣̣͙ɞ・❉・ ʚ˚̣̣̣͙ɞ‿︵

Nᵒᵗᵉ: ᴾʰᵒᵗᵒˢ ᴬʳᵉ ᴹᶦⁿᵉ ᵁⁿˡᵉˢˢ ᴵⁿᵈᶦᶜᵃᵗᵉᵈ ᴼᵗʰᵉʳʷᶦˢᵉ.