In Paris, President Trump told the French president's wife: 'You're in such good shape'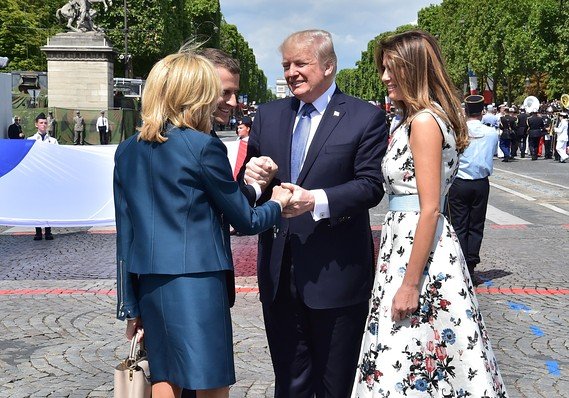 President Donald Trump might have been trying to pay a compliment when he told French First Lady Brigitte Macron,  "You're in such good shape. She's in such good physical shape.  Beautiful." But it was seen as an objectification of the French  President's wife by many people on social media. The president made his  remark while on the job and, had he made that comment in a more typical  workplace, experts say he would likely have been marched up to the human  resources department. It became one of the most memorable  moments of Trump's whirlwind trip to Paris to meet with newly elected  French President Emmanuel Macron and celebrate Bastille Day last week.  On Twitter, some commentators saw Trump's remarks to Brigitte Macron as  part of a pattern of lewd comments he previously made about — and to — women. Last year, Trump apologized for the comments, which were dismissed by his wife Melania as locker room "boy talk." Others disagreed. 
There's a workplace lesson therein  no matter the level of professional stature, experts say. "The motive  of the person matters little, what matters is the conduct," said Fatima  Goss Graves, president and chief executive officer of the National  Women's Law Center, a nonprofit women's advocacy group in Washington,  D.C. An employer has to respond to any allegations of misconduct or  inappropriate behavior to ensure the workplace is one where everyone can  thrive, she said. Whether it's a man or a woman, think carefully  before complimenting someone on his or her physique, said Denise  Dudley, author of "Work It! Get In, Get Noticed, Get Promoted."  Telling someone they're "beautiful" is a no-no. Friendly co-workers may  exchange compliments about their clothes and physical appearance, but  comments about a person's looks or weight or figure are exactly the kind  of thing that are often cited in sexual harassment lawsuits.  Don't miss:  More wacky attire is now acceptable at work  On  the subject of being friendly, some people confuse the faces on their  company's website with those on dating site. "When are you and I going  to have dinner?" a publisher asked Chris, a New York-based advertising  executive, when she walked into her magazine's office party. "His wife  was standing not more than two feet away," she recalls. This, she says,  is the kind of clumsy pass a female employee may have had to endure on  Madison Avenue in 1960. 
Here are 10 less obvious things NOT to say to colleagues or employees:  1. 'Do you and your wife go to church?'  Some  topics, like a person's religion, sexuality and marital status, are  best avoided in the workplace. A colleague may not want to be invited to  church on Sunday and may have their own place of worship and/or may be a  humanist or an atheist. If in doubt, leave it out, Dudley said. Don't  always assume a man is married to a woman or a woman is married to a  man, she said. Swap "wife" and "husband" for "significant other" or  "partner," she added.   2. 'You're having a 'blonde' moment!'  "It's  just a joke" just doesn't cut it. "There are a number of cases which  focus on the off-handed comments made in the workplace," Robert Gregg, a  lawyer with Boardman & Clark in Madison, Wis., writes on his blog.  "These comments have, in fact, come back as evidence of discriminatory  intent or harassment by a manager. Almost all harassers in such cases  claim that they were 'just joking.'" Gregg cites a manager who made  jokes like "you're being a blonde again."  3. 'Are you going to have more kids?'  Even  if this exchange happened between a female manager and her direct  report, it could be interpreted as a judgment on taking maternity leave.  For some people, that might sound overly cautious, but perhaps not when  seen in a larger context. Nearly two-thirds of American workers don't  take paid paternity leave, research shows,  as they fear their job will be in jeopardy. "Do you have kids" has long  been used as code for determining an employee's sexuality.  4. 'You're only taking the elevator one floor?'  David,  a New York-based marketing executive, said he was once asked this  question by a colleague. What his colleague didn't know: He had a  neurological disorder that attacked his body's peripheral nervous system  that prevented him from walking up even one flight of stairs. Health  issues are often unseen. "There are all sorts of disabilities and  illnesses that are invisible to people," he says. An employee could have  anything from bad joints to heart disease or circulation problems.   5. 'You seem down — are you depressed?'  A  better question if you are concerned about a co-worker: "What can I do  to help?" The Americans With Disabilities Act of 1990 prohibits  discrimination based on mental health, which includes depression, and  prevents companies asking applicants about their mental health. It's  also a private matter and an increasingly important one in the  workplace: Some 41 million Americans experience some type of mental  illness in any given year, research found.   Also see:  Want to buy happiness? Spend your money on these 4 things   6. 'You're lucky you don't want a family'  Nor  is it not appropriate to assume that a colleague — a gay man or woman,  or even a single or married man or woman without children — is happy not  to raise a family, experts say. An estimated 37% of LGBT-identified  adults have had a child at some time in their lives and some 6 million  American children and adults have an LGBT parent, according to studies  by the Williams Institute for Sexual Orientation Law and Public Policy  at the University of California.  7. 'Here's some free dating advice...'  Sexual  harassment can also come in the form of over-sharing. Assume your  co-workers don't want advice on their personal life, unless they ask for  it, and even then tread very carefully if they do. Abby, who works in a  college admissions department, once had a director who was liable to  say just about anything. 'She once told me to be careful about dating  married men, because she dated a married man who gave her syphilis.' I  replied, 'Thanks for the tip,' ran out of her office and called my mom."  8. 'You're just being a fuddy duddy'  Age discrimination is rife in the workplace, studies show, and using terms like "an old fuddy duddy," "slow," "sluggish" and "not culturally fit" don't help, as happened in this 2010 case  in Wisconsin when a 50-something manager who was terminated by an  executive 20 years younger who had used these phrases. Even casual or  "stray" remarks made by an employee who was not a hiring manager, "may  be used to bolster claims of discrimination," according to the law firm  Reed Smith.  9. 'What are you? I can't figure you out'  Sorcha  Loughrey, an Irish makeup artist with a a pulp-fiction 1950s Hollywood  look adapted for the social media age, has dealt with odd comments. A  former department store manager where she worked asked her, "What  exactly are you? I can't figure you out. I saw your husband  once, he is strange, too." Her husband has a grey handlebar mustache and  a dapper mid-20th Century style. In another context, however, a  person's dress could have religious or cultural significance.  10. 'Should you really be eating that?'  Loughrey  attributes such thoughtless comments to a lack of both managerial  training and emotional intelligence. Such remarks, she says, can be  damaging to a young person's confidence, especially early in a career.  She, however, is not so easily flummoxed. Case in point: Her former  department store manager approached her one day in the company's  cafeteria and said, "Sorcha! Ice-cream? What about your figure?'"  Loughrey replied, "I've had a busy day. It's either ice-cream or gin.'"