PRiVCY Coin Round #12 Community Newsletter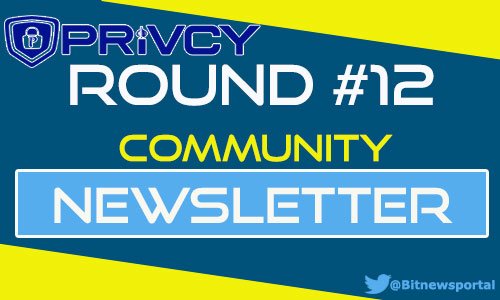 This article originally appeared on Bitnewsportal.com
http://bitnewsportal.com/privcy-coin-round-12-community-newsletter
Hello Everyone! Its time for another weekly community newsletter for PRiVCY Coin. Its been a nice and full of goodnews week for privcy community.
550,000 PRiVCY Coin airdrop has been successfuly distributed to a total of 686 approve participants. The low participants turn around is due to some users missing important rules to qualify for the airdrop. The airdrop has 7 more rounds remaining and we should be careful and we should always pay attention to all announcment and rules update made by the development team. Missing an airdrop is really frustrating so always give time to complete the requirements by doing more than the required things to do. Don't settle for the bare minimum but instead give your maximum effort for the airdrop requirements.
PRiVCY Gaming is now on its full operation. Promoting different tournaments and entering the gaming market to create a community of PRiVCY Coin user inside the gaming industry. PRiVCY Gaming Ragnarok Online is just one of the supported games of PRiVCY Coin and soon as we start growing our gaming community more games will be launch and announce.
PRiVCY Coin Whitepaper will be available this coming August 31, 2018 and this will be a game changer since most investors are waiting for the whitepaper released before they invest on a project.
The Current price right now of PRiVCY Coin is a good entry point if you are a long term investors. PRiVCY Coin is still a young and dynamic project that still has more room for growth.
That's all for the week and see you again for tomorrow's exciting new week for $PRIV, Don't forget to Like and Retweet! Thank your for Reading.
FOLLOW ME ON TWITTER!
https://twitter.com/BitNewsPortal
Disclaimer
This News Entry is a personal opinion and not directly from $PRIV developer team this is a community initiative news entry, for official news and updates check out #announcement channel via $PRIV Discord.